Progressive Organization Purchases Amy Coney Barrett Domain Name to Criticize Judge's Record: 'No Confirmation Until Inauguration'
Progressive organization Demand Justice has purchased the domain name for AmyConeyBarrett.com to redirect to a web page criticizing the judicial record of 7th Circuit Court of Appeals Judge Amy Coney Barrett. She officially became President Donald Trump's nominee Saturday to fill the vacancy left following Supreme Court Justice Ruth Bader Ginsburg's death last week.
The group is calling for a wait for the Senate to hold off on appointing the potential nominee until after the 2020 election.
When the web address AmyConeyBarrett.com is typed into a browser, the user is redirected to a web page from Demand Justice, which has a campaign titled: "No Confirmation Until Inauguration."
The web page offers a number of criticisms against Barrett, claiming that Barrett has shown that she will likely "strike down the Affordable Care Act" and vote against reproductive freedom. It also critiqued her past rulings.
"Barrett has also ruled repeatedly for companies that discriminate-including one that employed a 'separate but equal' system of sorting employees by race," the page said.
Barrett has argued against the Affordable Care Act on a number of occasions. As previously reported, she'd signed a petition to repeal the act, as well as authoring a journal article in 2017 arguing against a Supreme Court ruling supporting congressional authority backing ACA provisions.
Barrett has also spoken about possible changes to Roe v. Wade, such as restrictions on late-term abortions or regulations for clinics.
Demand Justice's web page called for action from people to block Barrett's appointment. "Amy Coney Barrett would threaten your health care and your reproductive freedom. We have to stop her," it alleged.
There's an option on the web page for people to donate and sign a petition against Barrett's appointment. The petition called for senators to honor Ginsburg's legacy by waiting to appoint a new justice to fill her seat.
In a statement received by Newsweek, Demand Justice Executive Director Brian Fallon called out Republicans and the president for trying to appointment a new justice so quickly.
"Donald Trump and the Republicans are in such a rush to steal another Supreme Court seat that they aren't even waiting for Justice Ruth Bader Ginsburg to be buried before putting forward a nominee. The country already opposes rushing a pick through so close to the election, but in selecting Amy Coney Barrett, Donald Trump has chosen the person most likely to turbocharge the intensity of the opposition to this whole process. Barrett's views may make her a darling of Trump's base, but they will also make clear to everyone else that nothing less than the survival of the Affordable Care Act and Roe v. Wade are on the line in this fight. Senate Democrats need to be prepared to resist this pick at all costs."
Newsweek reached out to the White House for comment, but did not receive an on-the-record statement.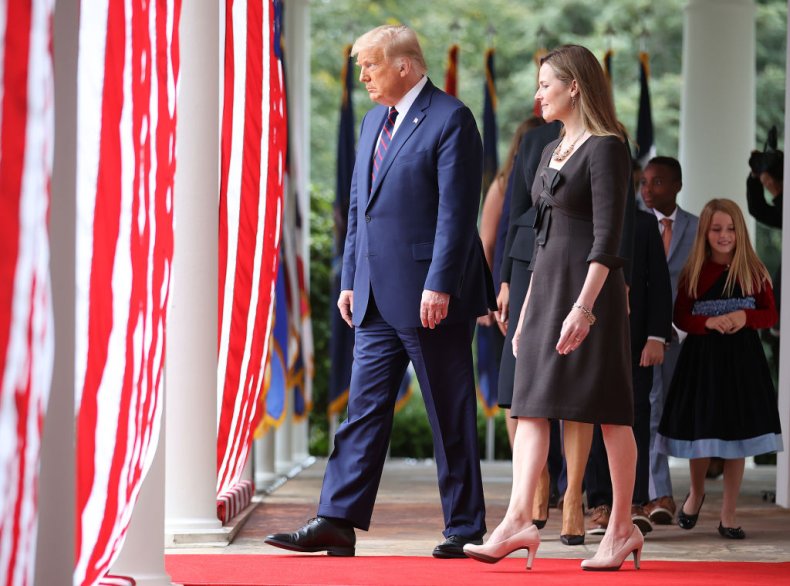 Updated 7:25 PM ET: to indicate Barrett was officially announced as President Trump's Supreme Court justice nominee.