Amy Coney Barrett Clear Favorite Over Barbara Lagoa To Be Trump's Supreme Court Pick: Bookmakers
Amy Coney Barrett has replaced Barbara Lagoa as the "clear favorite" to be Donald Trump's nominee for the Supreme Court, according to bookmakers.
Barrett, a U.S. Court of Appeals judge, is now considered the frontrunner to replace Ruth Bader Ginsburg, who died last week, having been considered second to Lagoa earlier in the week.
Betting website Oddschecker told Newsweek Barrett was now the "clear favorite having seen her odds shorten to -217 over the past five days."
That takes her chance of winning the nomination to 68.49 percent, an Oddschecker spokesman said.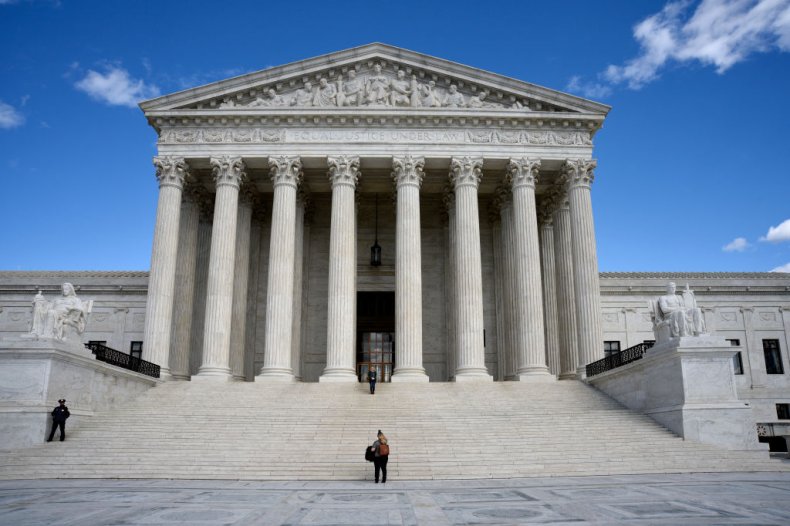 "Her gain in the market has inevitably been Barbara Lagoa's loss, with the latter slipping to +600, or 14.29 percent," the spokesman added.
"At the beginning of the week the landscape was really quite different; Barbara Lagoa was the clear frontrunner with odds of -204, indicative of a 67.1 percent chance, while Amy Coney Barrett was her only real challenger—her odds of +160 were demonstrative of a 38.5 percent chance.
"This significant shift in the odds is likely a response to bettor activity following increased media speculation that she would be Trump's pick."
On Thursday CNN and Fox News reported that Barrett had spent a second consecutive day at the White House.
That, the Oddschecker spokesman said, "will have prompted plenty of betting observers to put their money behind her."
Barrett, 48, is a devout Catholic and popular choice among religious conservatives, having written in a 2013 article that she was not opposed to overturning court precedents in defence of the constitution. That has been interpreted as an approach that places the Roe vs. Wade judgement in potential peril.
She was nominated by Trump to sit on the U.S. Court of Appeals for the seventh circuit, a jurisdiction that covers Indiana, Illinois, and Wisconsin.
Lagoa, 52, is a judge on the U.S. Court of Appeals for the 11th Circuit, having formerly sat as the first Cuban-American woman on Florida's Supreme Court.
However her fortunes were reported to be fading after concerns were raised that she had not been previously vetted for the Supreme Court and doing so in such a short timeframe would prove difficult, according to CNN.
Either woman would, if chosen, become the youngest justice on the Supreme Court.
They are among five female candidates Trump is considering for the role. He is expected to announce his pick on Saturday.
The president and his party have faced criticism over moves to install a replacement for Ginsburg, who died from pancreatic cancer last Friday, with just weeks to go before the presidential election.
Efforts to fill the Supreme Court vacancy come despite previous comments by senior Republicans that the process of selecting a justice should be delayed in the final year of a presidency until after the election.