As Amy Coney Barrett Hearings Start, Most Voters Want SCOTUS Seat to be Filled by Election Winner: Poll
A majority of U.S. voters want Justice Ruth Bader Ginsburg's vacant Supreme Court seat to be filled after the results of 2020 elections are counted, a new poll has revealed.
The latest survey from ABC News and The Washington Post found that 52 percent of registered voters wanted the SCOTUS seat to be filled after the presidential election winner had been decided and the composition of the next Senate was formed.
Forty-four percent said the current Senate should hold a vote on President Donald Trump's Supreme Court nominee Amy Coney Barrett before election day on November 3. The remaining five percent told pollsters they had no opinion.
When American voters were asked the same question at the end of September, the gap between those who wanted a vote pushed through and those who favored a wait was wider.
Thirty-nine percent said the next Supreme Court appointment should be nominated by Trump at the time, while 57 percent favored a pause until polling day had come to a close.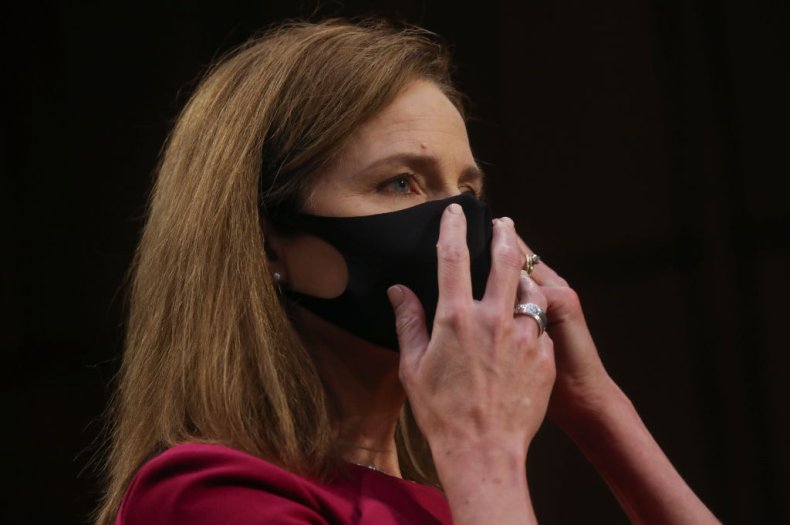 According to ABC News and The Washington Post, falling opposition to Trump picking the nominee among independent voters partly accounted for the shift. A little more than three quarters (77 percent) of voters identifying as conservatives also favored immediate action.
Separately asked whether the Supreme Court should uphold Roe v. Wade as the basis of U.S. abortion law, or overturn it entirely, a little more than six in ten voters (62 percent) said the ruling should be upheld.
A little less than a quarter of respondents (24 percent) told pollsters that the decision needed to be overturned, while 14 percent said they had no opinion on the matter.
ABC News and The Washington Post surveyed 879 registered voters by telephone between October 6 and October 9 for their latest poll. Its margin of error stands at 3.5 percentage points.
The new poll results were released as Barrett's confirmation hearing began in the Supreme Court on Monday, setting the stage for a pre-election battle in the sharply divided upper chamber.
When Barrett last appeared before the Senate in 2017 for her confirmation to the U.S. Court of Appeals, she was quizzed over her Catholic faith and Roe v. Wade. It is expected that Democrats in the upper chamber will touch on similar topics in her SCOTUS confirmation hearings.
But Thomas Gift, the founding director of University College London's Centre on U.S. Politics told Newsweek earlier this week that Democrats might "tread lightly" around Barrett's faith so as not to turn off voters.
"Not only would it galvanize the Christian right, but it could also alienate moderate and left-leaning voters opposed to any efforts that might be construed as exploiting Barrett's religiosity for partisan gain," he said.
Barrett's confirmation hearing got underway this morning in front of the Senate Judiciary Committee chaired by South Carolina Senator Lindsey Graham.