Senator Kamala Harris will play a key role in the confirmation hearings of Judge Amy Coney Barrett with just weeks before the presidential election but Republican accusations of anti-Catholic bias are becoming a concern for some Democrats.
Harris is a member of the Senate Judiciary Committee and the Democrats' vice presidential candidate. This appears to put her in a historically unique position as no vice presidential nominee has participated in a Supreme Court confirmation hearing during their campaign.
One major issue for Harris is the emerging Republican narrative that anti-Catholic bigotry is animating opposition to Trump's nominee. Coney Barrett is a devout Roman Catholic who's spoken openly about her faith.
Harris has been accused of this before. Critics point to her 2018 questioning of Judge Brian C. Buescher, a member of the Catholic group Knights of Columbus. He was nominated to the U.S. District Court for the District of Nebraska.
The Knights of Columbus oppose abortion rights and gay marriage. AsNational Catholic Reporter's Thomas Reese points out, Harris quizzed Buescher on whether he agreed with the organization's positions, not specifically on his faith.
However, Democrats have struggled with this issue in the past. Many in the party are reportedly still furious with Senator Dianne Feinstein's questioning of Coney Barrett when she was nominated to the U.S. Seventh Circuit Court of Appeals.
Democrats questioned Coney Barrett about several statements she had made on faith and the law, including telling Notre Dame law school graduates that "your legal career is but a means to an end, and ... that end is building the kingdom of God."
Feinstein, then as now Ranking Member of the Senate Judiciary Committee, told Coney Barrett "dogma and law are two different things. And I think whatever a religion is, it has its own dogma. The law is totally different.
"And I think in your case, professor, when you read your speeches, the conclusion one draws is that the dogma lives loudly within you, and that's of concern," the California senator said.
Republicans reacted with outrage and accused Feinstein of attacking Coney Barrett's faith. Senator Orrin Hatch, who was then a member of the Judiciary Committee, said she was applying a "religious test" for judicial office.
Democrats are keen to avoid a repeat of the Feinstein controversy, while Harris' performance during the confirmation hearings of Justice Brett Kavanaugh helped boost her standing and could do so again at a crucial point in the election campaign.
So far, Harris and former Vice President Joe Biden have focused on the threat to the Affordable Care Act in their opposition to Coney Barrett. They've also argued the nomination should wait until after the election.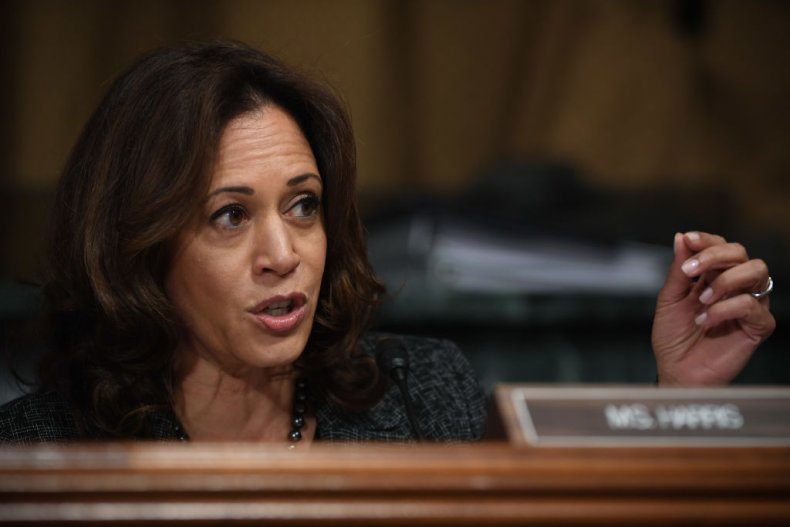 "Just yesterday, I paid my respects to the legendary Justice Ruth Bader Ginsburg, who devoted her life to fighting for Equal Justice Under Law and a more fair and just world," Harris said in a statement on September 26.
"Her passing is devastating, and it would be a travesty to replace her with a justice who is being selected to undo her legacy and erase everything she did for our country," she said.
Republican charges of anti-Catholicism may be an appeal to conservative Catholics who play a crucial role in the GOP's electorate. Biden, the Democratic presidential candidate, is a Catholic.