How Charismatic Catholic Groups Like Amy Coney Barrett's People of Praise Inspired 'The Handmaid's Tale'
Amy Coney Barrett, a favorite to be President Donald Trump's Supreme Court nominee to replace Justice Ruth Bader Ginsburg, is affiliated with a type of Christian religious group that served as inspiration for Margaret Atwood's dystopian novel, The Handmaid's Tale.
Barrett, a devout Catholic, and her husband both belong to the People of Praise group, current and former members have said, according to The New York Times. Their fathers have served as leaders in the group.
The charismatic Christian parachurch organization, which was founded in South Bend, Indiana in 1971, teaches that men have authority over their wives. Members swear a lifelong oath of loyalty to one another and are expected to donate at least 5 per cent of their earnings to the group.
How Charismatic Catholic Groups inspired 'The Handmaid's Tale'
Members of People of Praise are assigned to personal advisers of the same sex—called a "head" for men and "handmaid" for women, until the rise in popularity of Atwood's novel and the television series based on it forced a change in the latter.
Atwood herself has previously referred to the practices of a charismatic Catholic group motivating her to write The Handmaid's Tale, set in the fictional Gilead, where women's bodies are governed and treated as the property of the state under a theocratic regime.
"I delayed writing it for about three years after I got the idea because I felt it was too crazy," Atwood told The New York Times Book Review in 1986.
'Then two things happened. I started noticing that a lot of the things I thought I was more or less making up were now happening, and indeed more of them have happened since the publication of the book."
She added: "There is a sect now, a Catholic charismatic spinoff sect, which calls the women handmaids. They don't go in for polygamy of this kind but they do threaten the handmaids according to the biblical verse I use in the book—sit down and shut up."
While Atwood has not elaborated on which sect she was referring to, a New Yorker profile of the author in 2017 mentions that in a box of newspaper clippings the author collected while writing the novel, there is "an Associated Press item reported on a Catholic congregation in New Jersey being taken over by a fundamentalist sect in which wives were called 'handmaidens'—a word that Atwood had underlined."
The clipping includes a spokesperson for the People of Hope sect based in Newark, New Jersey saying, "We're all Roman Catholics. We differ in the sense that we are a Charismatic group, which would mean that we have prayer meetings, during which there is raising of hands, singing and speaking in tongues."
People of Praise has never had a presence in the state of New Jersey.
What is People of Praise?
People of Praise describes itself not as a church, but as a "charismatic Christian community" on its website. The group has about 1,700 members in 22 cities across the U.S., Canada and the Caribbean, according to the website.
The covenant community is one of many that formed across the U.S. in the 1970s as a part of the Charismatic Renewal movement in American Christianity, which emphasizes direct personal experience of God through baptism with the Holy Spirit.
Craig Lent, the group's overall coordinator, told The South Bend Tribune in 2018 that the organization is officially ecumenical, but its membership is predominantly Catholic.
He has also insisted in several interviews that the group is not a cult, but is about building community and friendships, with members that have a range of political views.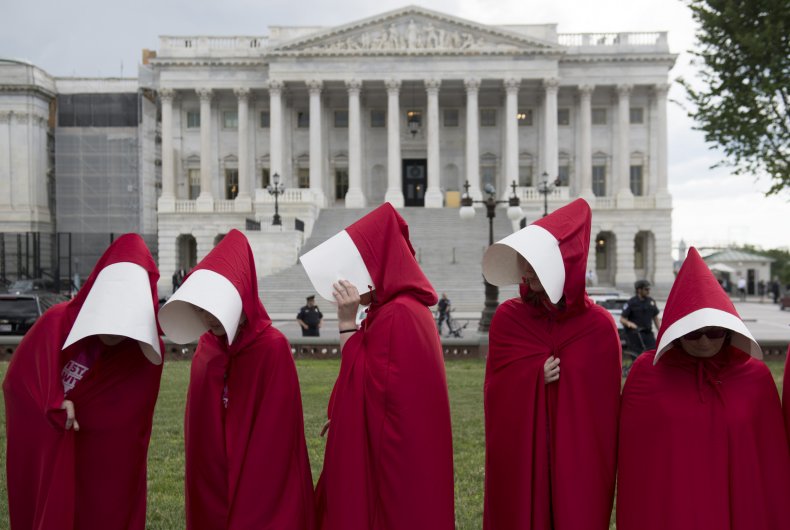 But some former members have described how "heads" and "handmaids"—now known as "leaders"—can play a huge role in the lives of members, such as directing their choice of partner, where they live and how they raise children.
One former member, Emily DeClerq Flannery, told The Tribune that she was thrown out of the group for dating a male member.
She also said that she had gotten into trouble with the group for drinking alcohol and that women in a group meeting had reported her when she spoke about her coming to terms with her sexuality.
"They're very watchful of their people. They report things to your heads if they see you out doing things you're not supposed to be doing. It's very much a Big Brother type of thing," she said.
Lent told The Tribune that any person who admits to homosexual activity, or any other "ongoing, deliberate, unrepentant wrongdoing," would be expelled.
People of Praise believes that only married couples should have sex, and that marriage is only between a man and a woman, Lent added.
Amy Coney Barrett's connection to People of Praise
While he refused to comment on Barrett in 2018, who at the time was in the running to be picked as Trump's nominee before Brett Kavanaugh was ultimately chosen, Lent said that the group stays out of politics (although he said it opposes abortion) and does not attempt to influence its members' professional lives.
Nevertheless, concerns have been raised that Barrett's ties to the group as would influence her decisions on the Supreme Court.
"These groups can become so absorbing that it's difficult for a person to retain individual judgment," Sarah Barringer Gordon, a professor of constitutional law and history at the University of Pennsylvania, previously told The Times.
And while the People of Praise group was never brought up in Barrett's 2017 confirmation hearing for her current post, Senator Dianne Feinstein told Barrett: "The dogma lives loudly within you." Barrett told the senators that her faith would not affect her decisions as a judge.
In recent days, abortion rights groups have expressed concern that if put on the Supreme Court, Barrett, a darling of the religious right, could help overturn the landmark 1973 Roe v. Wade decision that legalized abortion.
People of Praise and Barrett, through the Notre Dame Law School where she is on the faculty, have been contacted for comment.
Correction: This article's headline originally stated that People of Praise inspired 'The Handmaid's Tale'. The book's author, Margaret Atwood, has never specifically mentioned the group as being the inspiration for her work. A New Yorker profile of the author from 2017 mentions a newspaper clipping as part of her research for the book of a different charismatic Catholic group, People of Hope. Newsweek regrets the error.