Merriam-Webster Dictionary Adds 'Offensive' to 'Sexual Preference' Definition After Amy Coney Barrett Uses Term in Hearings
The Merriam-Webster dictionary updated its definition of the word "preference" on Tuesday, to include that the word is considered offensive when referring to someone's sexual orientation.
The change came following Amy Coney Barrett's use of the term during day two of her Supreme Court confirmation hearings, and was noticed immediately by journalist Steve Krakauer, who took to Twitter to highlight the recent update of the definition.
"As recently as last month, Webster's Dictionary included a definition of 'preference' as 'orientation' or 'sexual preference.' TODAY they changed it and added the word 'offensive.' Insane—I just checked through Wayback Machine and it's real," Krakauer tweeted on Tuesday.
On Merriam-Webster's online dictionary, a slew of meanings are listed under the noun "preference," including "the act of preferring: the state of being preferred"; "the power or opportunity of choosing"; "one that is preferred"; "the act, fact, or principle of giving advantages to some over others"; "priority in the right to demand and receive satisfaction of an obligation" and lastly, "offensive: ORIENTATION sense."
Take a quick scroll down the page and you'll find the dictionary's explanation regarding the "offensive" usage of the word. For that sense, Merriam-Webster notes, "used to refer to sexual orientation is widely considered offensive in its implied suggestion that a person can choose who they are sexually or romantically attracted to."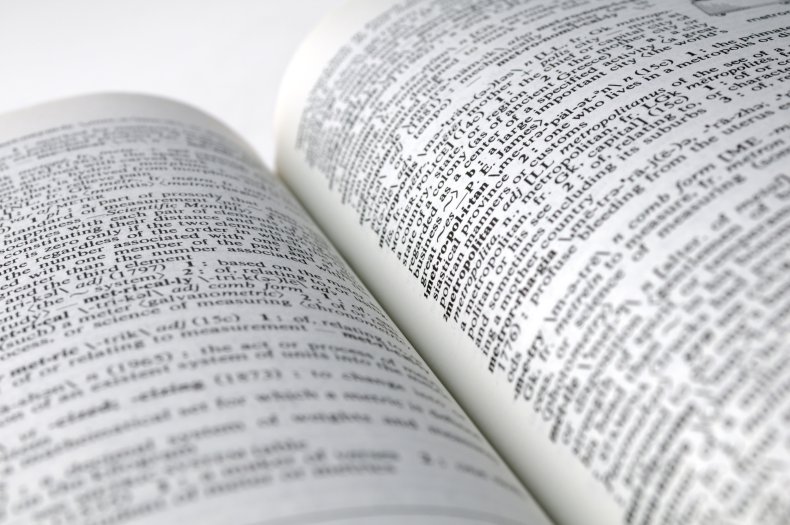 Peter Sokolowski, Merriam-Webster's editor at large told Newsweek in a statement that the dictionary revisions are a "routine part of the job."
"Our scheduled updates, which add new words and also add new definitions, usage guidance, and example sentences to existing dictionary entries, take place several times per year. From time to time, we release one or some of these scheduled changes early when a word or set of words is getting extra attention, and it would seem timely to share that update: the public is implicitly asking us a question by looking up a word, and we are immediately able to provide additional information. This is something that we also did in March for terms connected to the COVID-19 pandemic," Sokolowski said.
In regards to the update to the word "preference," Sokolowski said the company "noticed that the entries for preference and sexual preference were being consulted in connection with the SCOTUS hearings. A revision made in response to an entry's increased attention differs only in celerity—as always, all revisions reflect evidence of use."
The term was on the tip of people's tongues after Barrett used the word when speaking about the Obergefell v. Hodges Supreme Court case that brought the legalization of same-sex marriage in the United States in 2015. While appearing before the panel on Tuesday, California Senator Dianne Feinstein asked Barrett if she would "vote to roll back hard-fought freedoms and protections for the LGBTQ community," to which Barrett replied that she had "no agenda" when it came to the laws allowing same-sex marriage.
"I have never discriminated on the basis of sexual preference and would not discriminate on the basis of sexual preference," Barrett said.
The remark drew outrage from liberals and LGBTQ advocacy groups, who found her use of the phrase "sexual preference" offensive and implicative of sexuality being a choice. At least one Democrat present for the hearings pointed this perspective out to Barrett, and mentioned that the more generally accepted phrase is "sexual orientation."
"['Sexual preference'] is used by anti-LGBTQ activists to suggest that sexual orientation is a choice," Senator Mazie Hirono of Hawaii stated during the hearing, following Barrett's comment. "It is not. Sexual orientation is a key part of a person's identity."
Barrett responded with an apology, claiming that she "certainly didn't mean and would never mean to use a term that would cause any offense in the LGBTQ community."
Updated 10/14/2020, 12:50 p.m. ET: This article was updated to include comment from Merriam-Webster's editor at large.