Moms Just Can't Stop Calling Amy Coney Barrett 'Amy Baron Cohen'
Somewhere out there on this vast planet called Earth, there is probably a woman named Amy Cohen Baron. However, that woman—whoever, and wherever, she might be—is not to be mistaken for Supreme Court nominee Amy Coney Barrett. Still, though, there seems to be a strain of people—moms in particular—who are under the impression that "Amy Baron Cohen" and Amy Coney Barrett are indeed the same woman.
Amy Coney Barrett is a mother of seven who was serving as a circuit judge on the U.S. Court of Appeals for the Seventh Circuit before President Donald Trump nominated her to replace the late Justice Ruth Bader Ginsberg. The Judiciary Committee wrapped its hearings with the Louisiana-born Barrett on Thursday, leading to the next round of debates over her appointment on Friday.
Amy Cohen Baron, on the other hand... well, it's unclear if that name belongs to a woman who actually exists.
The confusion over the names is understandable.
Amy Coney Barrett has been in the news daily since Trump gave his official nomination in September. All the media attention and Twitter chatter has only amplified since confirmation hearings began on October 12. And in the midst of all of this, Sacha Baron Cohen has also made national headlines thanks to his latest mockumentary, Borat Subsequent Moviefilm.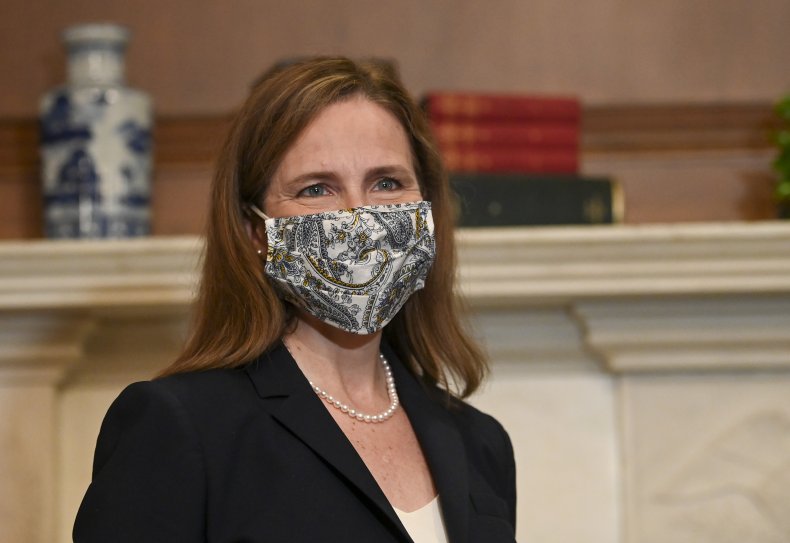 Amy Coney Barrett's Judiciary Committee hearing began on October 12, and the Senate finally reached a vote over the matter just a day after Sacha Baron Cohen made waves with the release of a clip from his new movie in which former New York City mayor and Trump attorney Rudy Giuliani was filmed in a compromising position with a young woman posing as a journalist.
The movie clip in question depicts Giuliani laying on a hotel bed and reaching in his trousers while the actor starring as Borat's daughter—Maria Bakalova—stands across from him. Bakalova's character is pretending to be a journalist during her meeting with Giuliani. Cohen, as Borat, abruptly interrupts the scene, saying, "She's 15. She's too old for you."
Naturally, the clip was discussed far and wide on cable and broadcast news, social media and all across the internet. All the while, journalists and news watchers were still closely following Amy Coney Barrett's confirmation hearings.
The similarities between the actor's name and the judge's have resulted in one heck of a tongue-twister, to the point where at least one political commentator has mistakenly referred to Amy Coney Barrett as "Amy Baron Cohen."
The kerfuffle surrounding Amy Coney Barrett's name should ease up soon, though. Sacha Baron Cohen's new movie officially released on Amazon Prime Video on Friday. Meanwhile, Amy Coney Barrett will likely remain in the spotlight until she is officially confirmed. Now that the 12 Republican members of the Senate Judiciary Committee approved her nomination 12-0, her nomination is up for a full Senate vote, which is likely to happen on Monday. If the Senate votes to confirm her, the swearing-in process will begin.