Judge Amy Coney Barrett said Tuesday that she would be able to set aside her Catholic beliefs when deciding cases if nominated to the U.S. Supreme Court.
In her second day of confirmation hearings with the Senate Judiciary Committee, Senator Lindsey Graham, a South Carolina Republican and the committee's chairman, explicitly asked Barrett whether she could "set aside whatever Catholic beliefs you have regarding any issue before you."
"I can. I have done that in my time on the Seventh Circuit," said Barrett, whom President Donald Trump successfully nominated in 2017 to serve on the U.S. Court of Appeals for the Seventh Circuit. "If I stay on the Seventh Circuit, I'll continue to do that. If I'm confirmed to the Supreme Court, I will do that still."
Barrett's Catholic faith has been a point of contention, particularly among some Democratic politicians who argue that Barrett's belief system could affect how she might approach cases on issues like same-sex marriage and abortion.
In 2017, during Barrett's appearance before the same committee for her lower court confirmation, Senator Dianne Feinstein, a California Democrat, grilled Barrett on her religion and whether it would inhibit her ability as a judge.
"The conclusion one draws is that the dogma lives loudly within you," Feinstein infamously said. "And that's of concern when you come to big issues that large numbers of people have fought for years in this country."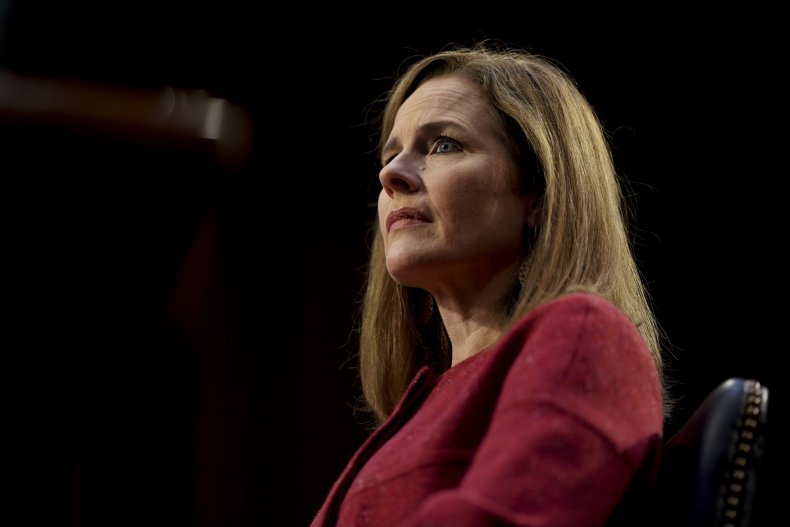 Graham, who has developed a strong anti-abortion voting record during his tenure in the senate, used part of his time allotted for questioning Barrett to make a plea to the country.
"What I want the American people to know, I think it's OK to be religiously conservative. I think it's OK to be personally pro-choice," Graham said. "I think it's OK to live your life in a traditional Catholic fashion and you still be qualified for the Supreme Court. So all of the young, conservative women out there, this hearing to me is about a place for you."
Graham used the late Supreme Court Justice Ruth Bader Ginsburg, whose seat Barrett could potentially replace, to illustrate his argument. Ginsburg was a "trailblazer" who "fought for better conditions for women throughout society," Graham said. She was also "devout to her faith," worked for the American Civil Liberties Union and was "proudly pro-choice personally."
"But all of us on this side, apparently when they voted, accepted that she was highly qualified," Graham said, referencing his Republican predecessors.
In his line of questioning Tuesday, Graham worked to establish the process by which a case reaches the Supreme Court, allowing Barrett to explain the lengthy nature of how issues make their way through the legal system.
"Judges can't just wake up one day and say, 'I have an agenda. I like guns, I hate guns. I like abortion, I hate abortion,' and walk in like a royal queen and impose their will on the world," Barrett said. "You have to wait for cases and controversies, which is the language of the Constitution, to wind their way through the process."