How Bette Midler, Alyssa Milano and Other Celebs Reacted to Amy Coney Barrett's Supreme Court Confirmation
Amy Coney Barrett was confirmed to the U.S. Supreme Court by the Senate Monday evening, replacing Justice Ruth Bader Ginsburg.
The final vote was 52-48 and almost entirely along party lines—Senator Susan Collins of Maine was the only Republican to object.
All 47 members of the Democratic Caucus voted against the conservative Trump nominee over concerns of the proximity to the election in just one week's time.
Never has a Supreme Court justice been confirmed this close to an election and Barrett's appointment will ensure a conservative-leaning court for years to come, heralding a major win for Republicans.
Unsurprisingly, Democrats are outraged by the entire process and has led to them urging Coney Barrett's confirmation to motivate voters at the polls come November 3.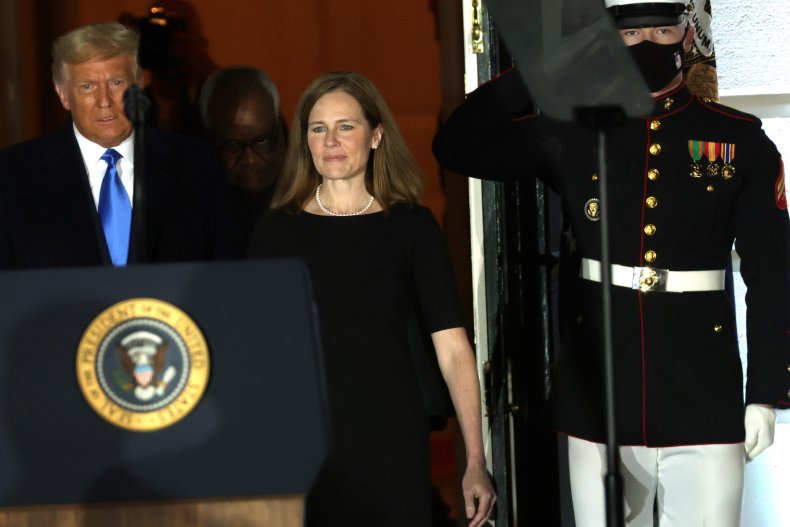 "The rushed and unprecedented confirmation of Amy Coney Barrett as Associate Justice to the Supreme Court, in the middle of an ongoing election, should be a stark reminder to every American that your vote matters," Joe Biden said in a statement on her confirmation.
Hollywood has been rallying behind the Democrats, urging their fans to get out and vote and expressing their outrage at Coney Barrett's rushed confirmation.
"This Supreme Court process has been a sham—women deserve better than Donald Trump," frequent Trump critic Alyssa Milano tweeted. "Get him out of office. Make a plan—and vote."
Another vocal Trump critic, Bette Midler did not hold back with her criticism of Coney Barrett's appointment.
"It's so stunning to believe that a man with absolutely NO moral compass, no ideas, no knowledge of the constitution, a man so stupid he had to pay someone else to take his SATS, a man who calls the military losers and suckers, has managed to appoint THREE SUPREME COURT JUSTICES!" she tweeted.
The Hocus Pocus actress added: "#AmyConeyBarret, on Board of a school that won't allow in a student with a gay parent, has been groomed for decades, the ultimate product of #theKochs, #TheFederalists, #TheHeritageFoundation. You working stiffs mean nothing to them. 5 days for one justice and no relief for you."
Music legend Cher was also deeply unhappy with the news.
The 74-year-old tweeted: "New Supreme Court Crazy's 1st Case,May Decide Presidency. One Week After Election She'll Vote Down Affordable Care Act,No Preexisting Condts.She'll Keep Trump's Taxes Hidden, Bring Up ROE V.WADE. Undo & Vote Against LGBTQ Rights,& ON& ON. VOTE NOW,OUR LIVES DEPEND ON YOUR VOTE."
Author Ari Berman wrote: "Never forget how outrageous this is: Senate GOP blocked Merrick Garland 237 DAYS before election & said American people should choose next justice. Now they're confirming Amy Coney Barrett 8 DAYS before Nov 3 when 60 MILLION already voted."
Supergirl actress Nicole Maines called Coney Barrett a "monster," tweeting: "Getting off twitter before I say something hateful. Like that Amy Coney Barrett is a monster and that all the senators who rushed her confirmation through are monsters too."
Avengers star Mark Ruffalo posted about the need for fairness in Supreme Court appointments.
"3 of the justices on the Supreme Court were put there by Presidents who lost the popular vote," he tweeted. "There was the unjust denial of Obama's pick in Merrick Garland and now the travesty of Amy Coney Barrett by a President 10 points behind in the polls. The Supreme Court needs balance."
Actor Rob Reiner called the confirmation "shameless corruption."
"Immediately after being sworn in, our latest Supreme Court Justice attends a campaign event for a disgraceful desperate Sociopath. The Corruption is shameless," he said.
"Look, you may not agree with Amy Coney Barrett's extreme views, but at least she's also unqualified," TV writer Jess Dweck said.
While author Roxanne Gay questioned Coney Barrett's qualifications.
"Who knew you could make it to the Supreme Court without ever trying a case and being a judge for only 3 years," she said. "White women finally get to fail upward too!"