Amy Cooper, White Woman Who Called Cops on Black Man in Central Park, Fired From Job at Franklin Templeton
Franklin Templeton, an investment management company, has fired Amy Cooper, a woman who was filmed calling the police on Christian Cooper, an African American man, after he asked her to put her dog on a leash in New York's Central Park.
After the video went viral, Franklin Templeton put Amy on administrative leave while an investigation was conducted. On Tuesday, the company confirmed on Twitter that she'd been terminated and said it does not "tolerate racism of any kind."
The video, which was posted Monday on Facebook, starts after Christian asked the woman to leash her dog in accordance with a rule in the Ramble, a wooded area in Central Park. She is seen asking him to stop filming her as she walks toward him. She then tells him that she's taking a picture and calling the police to tell them "there's an African American man threatening my life."
"I'm not a racist. I did not mean to harm that man in any way," Amy told CNN. "I think I was just scared. When you're alone in the Ramble, you don't know what's happening. It's not excusable, it's not defensible."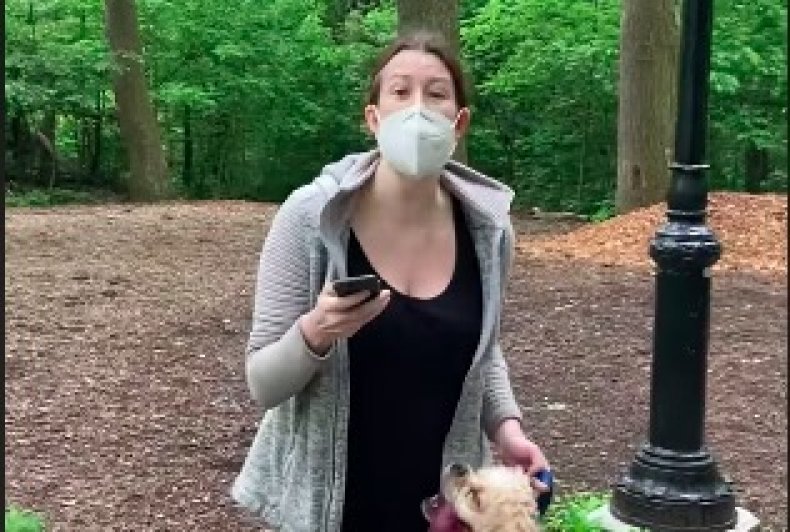 Christian, according to his Facebook post, told Amy if she was going to do what she wanted, "I'm going to do what I want, but you're not going to like it." Amy told CNN she didn't know what that meant, adding, "When you're alone in a wooded area, that's absolutely terrifying, right?"
Christian then pulled out dog treats. He told CNN he carries them as a tactic to get owners to put their dogs on leashes, because they hate it when a stranger feeds their pets. The two parties disagreed on whether he threw treats at the dog.
Christian, a self-described avid bird-watcher, told CNN that keeping dogs on leashes is important to birders because they know they can go to the Ramble to see ground-dwelling birds. He explained that he videotaped the encounter because he thought it was "important to document things."
"Unfortunately, we live in an era with things like Ahmaud Arbery, where black men are seen as targets. This woman thought she could exploit that to her advantage, and I wasn't having it," he said.
Amy adopted her dog from the Abandoned Angels Cocker Spaniel Rescue "a few years ago," according to the organization. On Monday evening, she voluntarily surrendered the dog to the rescue group. She told CNN that since the video was posted her "entire life is being destroyed."
On Tuesday, Mayor Bill de Blasio called the video "racism, plain and simple." Even though Amy was the one breaking the rules, he said, "she decided he was a criminal and we know why," adding, "She called the police because he was a black man."
Christian told CNN that if she's genuine in her apology and plans to keep her dog on a leash in the Ramble, "then we have no issues with each other."
Newsweek reached out to Franklin Templeton for comment, but the company said it had "no comment outside our public statement."