Amy Duggar Slams Anna Over Husband's Child Porn Trial: 'Daddy Is Not Safe'
Reality star Amy King (formerly Duggar) publicly criticized her cousin Anna Duggar's decision to stand by her husband Josh amid his upcoming sentencing hearing for possessing child pornography.
King, 35, posted a series of TikToks on Sunday directly calling out Anna for defending her husband and allowing her children to be around him. The videos accumulated nearly 2.5 million views and more than 5,000 comments.
The video of Amy King criticizing Anna Duggar can be found here.
"If a man is cheating on you, if he is looking at things that you are not aware of or that you're not comfortable with, if he is lying to you in any type of way and making you feel inferior or hushing you up or making you feel scared of what's going to come or what he's going to do next, he's using you," King said. "He doesn't truly love you."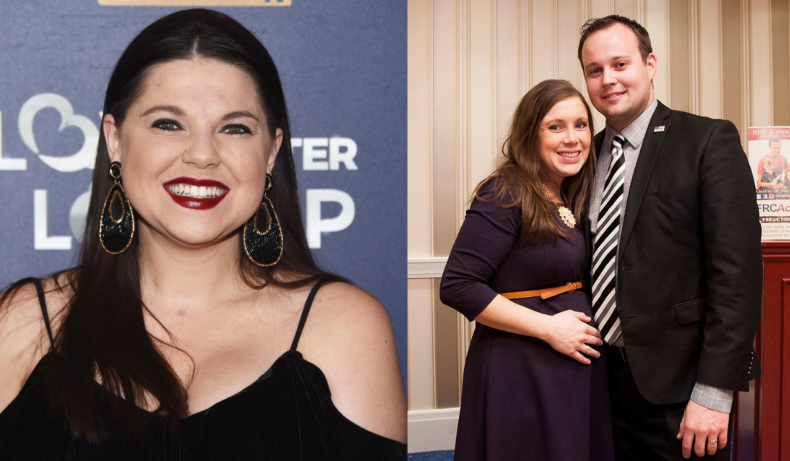 In December 2021, 33-year-old Josh Duggar was convicted of downloading and possessing child pornography and could face up to 20 years in prison.
Anna, 33, has continued to defend Josh and is choosing to stay with him, according to King.
On May 11 the prosecution recommended a maximum of 20 years while the defense requested a five-year sentence.
In November 2021, Anna gave birth to the couple's seventh child. The announcement came just days before Josh went on trial for the child pornography charges.
In another video, King continued to slam Anna's decision to stay with Josh.
"Anna, I love you, I have loved you since day one you've entered into our family," King said into the camera. "But let me tell you something, you are showing women all over the world that follow you that it is okay to have an abuser in your home, around your beautiful children."
"It breaks my heart that you're sitting there and you're allowing your kids to 'want daddy home' when the daddy is not safe," King said. "He's not a safe person, he deserves to be locked up, he deserves to be away from your kids and you deserve better."
King continued, saying Anna needed to "have more self-respect" and stop defending Josh. King also brought up allegations that Josh was on Ashley Madison, a dating site for people who are married or attached.
"You're showing everyone that it is okay to cheat, it's okay to use me as a ragdoll," King said. "Ashley Madison, hello! It breaks my heart that he did that to you."
Josh was also in the headlines back in 2015 after it was reported that he allegedly molested several underage girls, including his sisters.
"It's really sad you're showing women all over the world that it's okay to be with an abuser. I'm gonna use my page to show them that it's not."
King also criticized the matriarch Michelle Duggar's character reference letter in which she referred to Josh as having a "tender heart" and being a "good provider" for his family.
Josh's sentencing hearing is set for May 25, 2022 at 9:30 a.m.
Newsweek reached out to Amy King for comment.