Amy Kennedy, the wife of former Congressman Patrick Kennedy, defeated Brigid Callahan Harrison in New Jersey's primary elections on Tuesday. Kennedy will now face Jeff Van Drew, a former Democrat who became a Republican in 2019.
Kennedy garnered 54.7 percent of the vote, with 30 percent of all precincts reporting, according to the New York Times. It was enough of a lead that Harrison decided to concede the victory to Kennedy.
"While this is not the outcome I had hoped for, I am proud of the campaign we ran," Harrison wrote in a Facebook post conceding her defeat on Tuesday. "It is now time to move forward and focus our efforts on beating Jeff Van Drew!"
Harrison also called Kennedy "the choice of the Democratic party" in a concession video posted Tuesday. "It is time for all of us to step up and support her," Harrison added.
A former public school teacher, Kennedy ran on a platform of expanding mental health care, fighting climate change and increasing pay for teachers.
Kennedy criticized Van Drew's decision to leave the Democratic party and throw his support fully behind President Donald Trump. "Jeff Van Drew betrayed the people of South Jersey and left our communities behind," Kennedy said in a statement. "No politician should ever pledge their undying support to anyone other than the people they are elected to represent."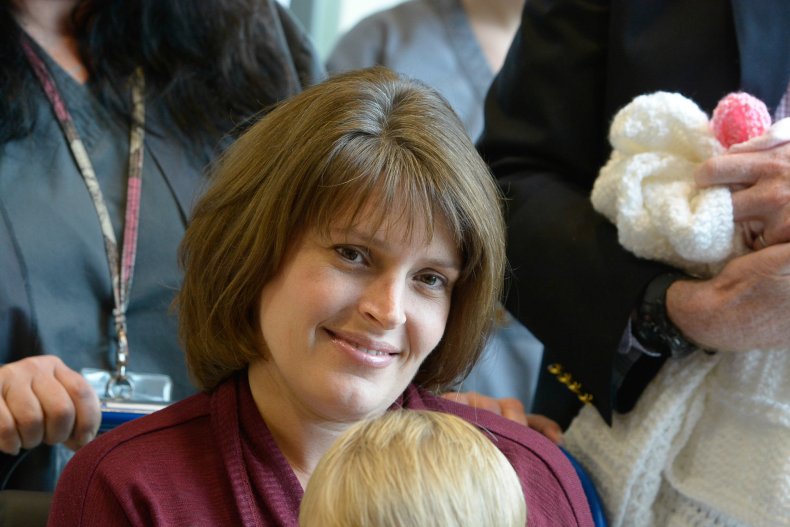 In her victory speech Tuesday, Kennedy said that South Jersey was "ready for change." Kennedy also said that her message to Van Drew was that "we have had enough and we demand better."
New Jersey Governor Phil Murphy endorsed Kennedy's campaign in June, calling Kennedy "the type of leader who'll bring progressive change to South Jersey."
According to reporting from the Associated Press, Van Drew won the New Jersey Republican primary. Van Drew obtained 81 percent of the vote with 36 percent of all precincts reporting. Former Trump senior adviser Robert Patterson only garnered 19 percent of the vote.
Van Drew voted against Trump's impeachment in 2019. In 2019, Van Drew told reporters he felt the invocation of impeachment articles against Trump was used "inappropriately."
"This isn't about liking or not liking Donald Trump," Van Drew said. "This is about the proper and appropriate use of one of the most serious actions to be taken in the United States of America."
Van Drew left the Democratic Party afterward, making an appearance with President Trump in the Oval Office. During the meeting, Van Drew said he believed the Republican Party was a "better fit" for him. In response to Van Drew's change of allegiance, 12 of his Congressional staff members quit.