Amy Klobuchar Reportedly Used Her Comb to Eat a Salad, Then Made Her Staffer Clean It
Democratic Senator and presidential candidate Amy Klobuchar has faced allegations of treating her staff poorly that stem back more than a decade, including an incident where she reportedly used her comb to eat a salad and proceeded to force one of her staffers to subsequently clean it.
The Minnesota senator has been accused by numerous former aides, most of whom have remained anonymous, of being mistreated by her and controlling her Washington, D.C., office with "fear, anger and shame," throwing objects around her office at staffers and earning rebuke from then-Senate Minority Leader Harry Reid in 2015.
New allegations from more than two dozen former Klobuchar staffers and internal emails further paint the image of a lawmaker who consistently berates and dehumanizes those who work for her, according to The New York Times. Such a reputation could make staffing a presidential campaign difficult, as The Times reports some possible recruits have already shied away.
In 2008, when an aide hopped onto an airplane during a South Carolina trip with Klobuchar and forgot a fork for her salad, he was instantly scolded, four people familiar with the incident told The Times. This, her former staffers said, and internal emails showed, was normal. What wasn't, was that Klobuchar proceeded to eat the salad with a comb she pulled from her bag, followed by the freshman senator ordering the aide to clean it.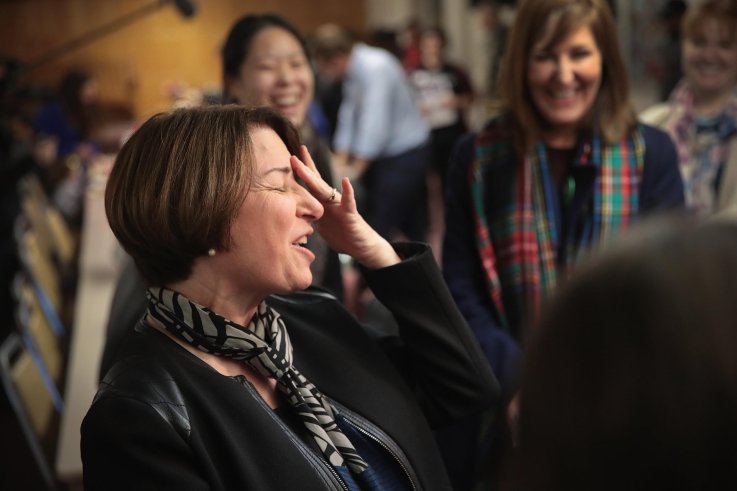 In other instances, low-level employees were reportedly told to wash dishes and perform other cleaning tasks. Emails to various staffers from Klobuchar reviewed by The Times revealed a pattern of criticism, constantly pinning the blame on her employees for various incidents. The senator reportedly even blamed one former aide for "ruining" her marriage, said others were responsible for unflattering press coverage, claimed they were ruining her future political career and spoke poorly to potential future employers of her staffers.
During a private gathering one day at the Capitol, Klobuchar reportedly told one of her employees: "I would trade three of you for a bottle of water."
Klobuchar has addressed previous reports of her mistreatment and being a "tough boss" toward staffers. She's pointed toward longtime staffers and campaign employees as examples that not everyone who's worked for her had a poor experience. Still, the senator has had a large staff turnover since taking office.
"Am I a tough boss sometimes? Yes," Klobuchar said in a CNN town hall earlier this week. "Have I pushed people too hard? Yes. But I have kept expectations for myself that are very high. I've asked my staff to meet those same expectations. I want the country to meet high expectations."
Neither Klobuchar's presidential campaign nor her press office immediately responded to Newsweek's request for comment. In a statement provided to The Times, campaign spokeswoman, Carlie Waibel, said: "The senator has repeatedly acknowledged that she can be tough and push people hard. But these anonymous stories — some of which are just plain ridiculous — do not overshadow the countless experiences of people on the senator's team who she has been so proud to work with."
The Times reported that their sources asked to speak on condition of anonymity out of "fear of reprisal from the senator."
Some former staffers did say their time with Klobuchar was more enjoyable than the experiences described by others, such as former communications aide Erikka Knuti. She told The Times that when the senator did snap at her in one incident, Klobuchar apologized.
"The 'Minnesota nice' thing is also kind of a double-edged sword," Knuti said. "In the Midwest you have to be outwardly nice and congenial. But these are tough people. Male senators yell quite a bit. But if a woman yells at you, it's like, 'I got yelled at by my mom.'"
Amy Klobuchar Reportedly Used Her Comb to Eat a Salad, Then Made Her Staffer Clean It | U.S.