Amy Klobuchar Once Wanted To Build A Fence At The Border—Where Does She Stand Now?
Democratic presidential candidate Sen. Amy Klobuchar is facing backlash over the resurfacing of video capturing comments she made more than a decade ago on the need for heightened border security–including the construction of a "fence" between the U.S. and Mexico.
Claiming that a fence would bring "order at the border," Klobuchar appeared to make the comments during an election debate in October 2006, as part of her bid to join the Senate. The next month, she would become the first woman to be elected U.S. Senator from Minnesota.
In video of the debate, Klobuchar says: "I do believe that we need more resources at the border and that that includes a fence."
"What we have now, we have people waiting to come in legally, thousands of people waiting to come in legally to this country and we have people coming in illegally," she says. "That's not right. We need to get order at the border."
While Klobuchar's views appear to have transformed over the nearly 15 years that have passed since she made the comments, the Minnesota senator has previously faced scrutiny over her apparent willingness to entertain President Donald Trump's own border barrier ambitions.
In November 2018, Klobuchar suggested that she was open to negotiating with Trump on his campaign promise to see a border wall built between the U.S. and Mexico. However, she had made clear to stress that "border funding" should go towards more than simply the construction of a physical barrier.
"Remember when we talk about wall funding," she said on ABC's This Week Sunday, "we're talking about border funding, we're talking about personnel, we're talking about a whole grouping of things that protect security."
With that in mind, she said she would be willing to approve some funding for Trump's border security plans "to get an agreement and to make sure we do something on immigration form."
While Klobuchar did express a willingness to negotiate with Trump, she had also been outspoken at the time in condemning some of the president's other immigration policies, including his "zero tolerance" family separation policy, which saw more than 2,500 children separated from their parents at the U.S.-Mexico border.
Speaking to 5 EYEWITNESS NEWS in June 2018, Klobuchar had said that her heart went out to the children who were separated from their family's under the Trump administration's widely condemned rule.
She also said she believed "the president and those who supported the separations know that it was wrong."
Noting that Trump had signed an executive order stopping the separations that he had begun, Klobuchar said Congress needed to pass legislation preventing border separations "to make it lasting policy."
If elected president, that is something Klobuchar has continued to vow to do, with the 2020 Democratic hopeful asserting that she would issue an executive order "putting an immediate end" to the government being able to take children away from their parents and "ensuring children are reunited with their parents without delay."
Her 2020 platform includes progressive initiatives, including seeking to "jump-start negotiations for comprehensive immigration reform," including a "pathway to citizenship" for undocumented immigrants in the U.S.
Klobuchar would also put an immediate end to the Trump administration's travel ban, which is expected to be expanded later this month.
When it comes to immigration detention, she has vowed to "end the for-profit detention of asylum seekers and reduce the size of the immigration detention system" in addition to limiting ICE's detention budget and expanding alternatives to detention.
Klobuchar would also shut down the current administration's efforts to overrule the Flores Settlement Agreement, which prevents the prolonged detention of children and seeks to ensure that children held in custody have their basic needs met.
While much of Klobuchar's platform centers around undoing many of the "mean-spirited" immigration initiatives the Trump administration has overseen, when it comes to the border wall, the Democrat's stance is not entirely clear.
Klobuchar does state that she would put an end to the government's use of military construction funds to build Trump's border wall by rescinding the national emergency declaration the president used to divert military funding to his border wall bid.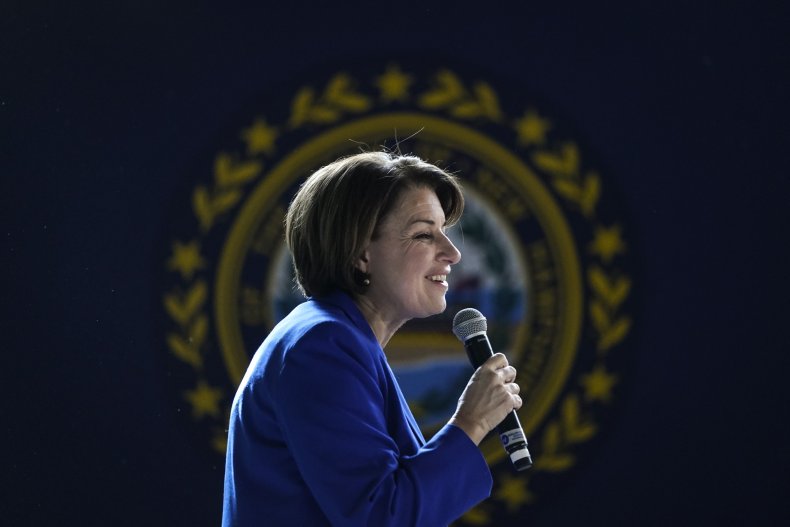 However, her platform does not say where she stands on the border wall effort itself, only stating that her "comprehensive immigration reform" bid would include promoting "border security."
Newsweek has contacted Klobuchar's campaign team for clarification on what she would do about Trump's border wall if elected president. Would she look to continue construction on the border wall project if it is not complete by the time she took office? Or would she bring the border wall project to a complete halt.
While Klobuchar has made clear that she is against diverting funds from other programs she deems necessary for the border wall project, she has also stressed that she does not support "open borders."
On ABC's This Week last summer, Klobuchar said comprehensive immigration reform would allow the U.S. government to put money towards "better order at the border."
"I don't support open borders...I support different enforcement priorities," she said.
In the months leading up to November's election, however, the Democratic hopeful is likely to face more pressure to make clear exactly what those border enforcement priorities are.