Amy Klobuchar Defends Liz Cheney Amid GOP Dissension, Admires Her Moral 'Courage'
Senator Amy Klobuchar, a Minnesota Democrat, defended Representative Liz Cheney, a Wyoming Republican, as she appears set be ousted from her leadership role in the House GOP due to her condemnation of former President Donald Trump.
Cheney, the chair of the House Republican Conference, was one of the 10 Republicans to vote with Democrats to impeach Trump after he allegedly incited his supporters to attack the U.S. Capitol on January 6 in a bid to overturn the 2020 presidential election results. Since then, the Wyoming lawmaker has repeatedly condemned Trump in public comments, drawing the ire of the former president and his many loyal GOP supporters. Now it appears she will be ousted from her role as the No. 3 House Republican.
"As Liz Cheney said in that very important piece that she wrote for The Washington Post, the number one thing is the prosecutions, and letting those go, with political involvement, making sure they continue and the investigations continue of the people involved in this," Klobuchar said in defense of Cheney during an interview with PBS News' Firing Line on Friday.
"And we don't want history to repeat itself. And I really admire, and the courage she's had here to stands up to say that along with Mitt Romney and a few others," the Democratic senator said.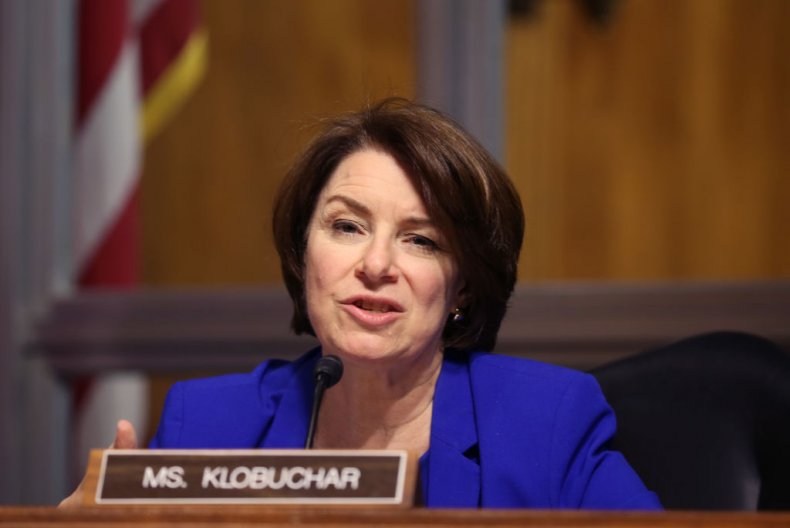 As Klobuchar mentioned, Cheney penned an opinion article for the Post last week, defending herself and pushing back against the lies and conspiracy theories promoted by the dominant pro-Trump faction of the Republican Party.
"The Republican Party is at a turning point, and Republicans must decide whether we are going to choose truth and fidelity to the Constitution. In the immediate wake of the violence of Jan. 6, almost all of us knew the gravity and the cause of what had just happened—we had witnessed it firsthand," Cheney wrote in the article published on Wednesday.
"History is watching. Our children are watching. We must be brave enough to defend the basic principles that underpin and protect our freedom and our democratic process," the GOP congresswoman concluded.
Trump and House Minority Whip Steve Scalise, a Louisiana Republican, have endorsed Representative Elise Stefanik, a New York Republican, to replace Cheney in House GOP leadership. House Minority Leader Kevin McCarthy, who previously backed Cheney, has suggested he supports her ouster as well.
Meanwhile, Representative Adam Kinzinger, an Illinois Republican, has vocally defended Cheney, slamming GOP leaders for turning against her for telling the truth.
"Hey there @GOPLeader and @SteveScalise is this the 'unity' you're advocating for? This seems more like a demand for capitulation," Kinzinger tweeted last week, sharing a statement from Trump that took aim at Cheney, former Vice President Mike Pence and Senate Minority Leader Mitch McConnell, a Kentucky Republican.
Trump and many Republican supporters continue to spread misinformation and conspiracy theories about the 2020 election, baselessly claiming it was "rigged" or "stolen" by Democrats. These lies spurred Trump's supporters to attack the Capitol on January 6, after he gave a speech nearby urging them to "march" to the Capitol and to "fight like hell."
Dozens of election challenges filed by the former president and his supporters have failed in state and federal courts. Even judges appointed by Trump and other Republicans have dismissed or rejected the often bizarre claims. Meanwhile numerous audits and recounts in key battleground states—including in places where elections were overseen by Republicans who supported Trump—have reaffirmed Joe Biden's victory.
Former U.S. Attorney General William Barr, who was widely viewed as one of Trump's most loyal Cabinet members, said at the beginning of December that there was "no evidence" of fraud that would change the election's outcome. And the Cybersecurity and Infrastructure Security Agency at the Department of Homeland Security, which was led by a Trump appointee at the time, said in mid-November that the 2020 election was the "most secure in American history." The agency asserted that there was "no evidence that any voting system deleted or lost votes, changed votes, or was in any way compromised."
Newsweek reached out to Cheney's press secretary for comment.