Amy Klobuchar Has A Plan for That, Too: 'To be a Progressive You've Got to Make Progress,' Campaign Says
Presidential hopeful and Minnesota Senator Amy Klobuchar rolled out an abitious plan Tuesday morning for her first 100 days in office. The 18-page document outlines 137 policies her administration would prioritize, should she take the White House. They run the gamut from immigration reform, to cyber security to prescription drug prices.
The plans, some more detailed than others, set Klobuchar up to be the center-left version of Senator Elizabeth Warren who has come to separate herself from the back of 20-plus Democratic 2020 candidates through her plethora of detailed policy proposals. The pair will square off on the same debate stage next week.
"As Senator Klobuchar often says, to be a progressive you've got to make progress. This is her plan for action on the urgent problems we're facing," Max Steele, Klobuchar's rapid response director, told Newsweek over email.
Klobuchar's plans largely focus on using executive order power, and does not depend on passing legislation through the Senate which could likely be Republican-majority in 2020.
"After four years of Donald Trump, a new president can't wait for a bunch of congressional hearings to act," Klobuchar said in a statement. "The urgent problems our country is facing require immediate action."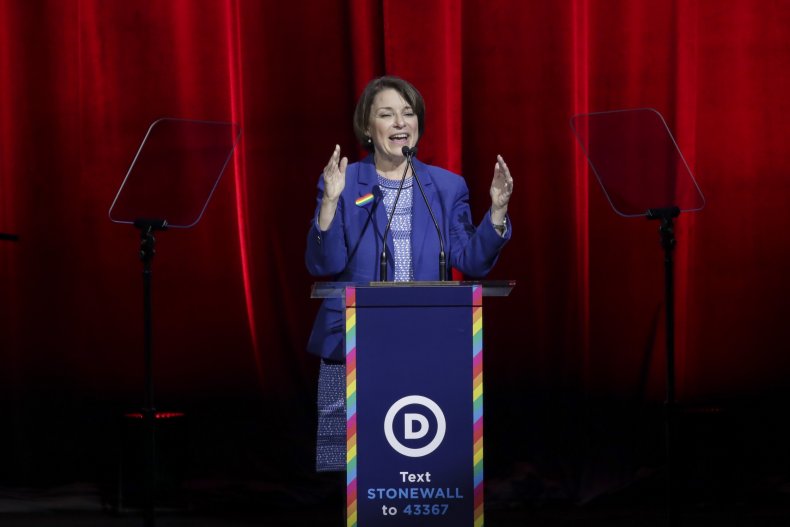 Klobuchar, who gained national attention during a heated exchange with Supreme Court Justice Brett Kavanaugh during his confirmation hearing, has been struggling to pull ahead in the Democratic primaries. The candidate has been polling solidly at 1 percent, stuck toward the bottom of the race alongside Julian Castro and Andrew Yang.
But this document clearly lays out Klobuchar's agenda and allows her to say she's put in the work to have a cohesive platform to challenge Trump. Klobuchar's team said the goal of the agenda was to overturn Trump's executive orders while reinstating the efforts of former President Barack Obama.
Klobuchar's document prioritized climate change, her first point of order being to "Get the United States back in the International Climate Agreement on day one." She also promised to create "a cabinet-level taskforce on election cybersecurity" and "introduce gun violence legislation including putting universal background checks in place, closing the gun show loophole and banning bump stocks, assault weapons and high capacity magazines."