Amy Klobuchar Jokes About Enjoying Salad With 'a Pinch of Dandruff' During Gridiron Dinner
During an appearance at a white-tie dinner in Washington D.C, Sen. Amy Klobuchar attempted to laugh off recent reports that she has mistreated staff in the past and once ate a salad with a comb, jokingly asking attendees: "How did everyone like the salad?"
"I thought it was okay, but it needed just a bit of scalp oil and a pinch of dandruff," the presidential hopeful riffed at the 134th Gridiron dinner at the Renaissance Washington Hotel, according to NPR. The event — which has faced criticism for encouraging reporters to hobnob with elected officials—brings together the media elite, politicians and officials for an evening of jokes and speeches.
Klobuchar's self-deprecating remarks referenced a widely-circulated report from The New York Times that cast scrutiny on her treatment of her staff. In addition to detailing allegations of career reprisal and claims that she fostered a hostile work environment, the report stated that the senator from Minnesota once asked an aide to wash a comb after she used it as a utensil when no fork was available.
Of her temper, Klobuchar joked that she was asked whether she cared to use a microphone while delivering her speech or if she preferred to yell. "I said microphone," she quipped.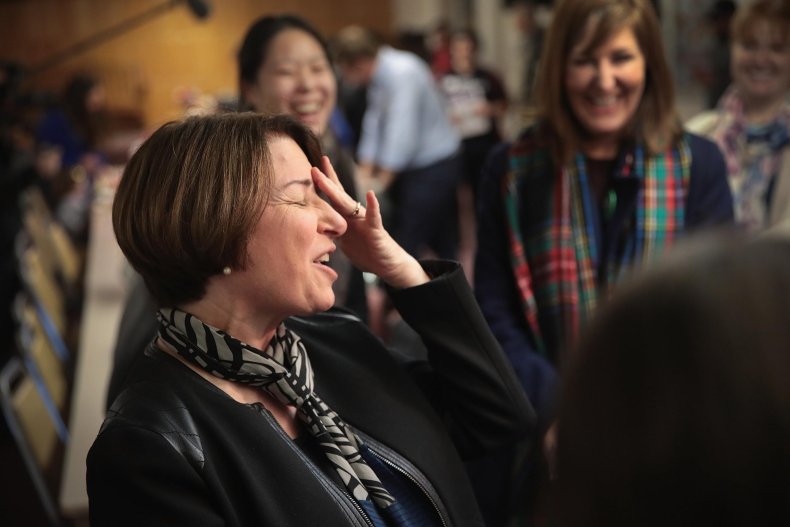 The presidential hopeful also cracked a joke about her chances in the 2020 election: "I will win this election because I'm a woman and all the powerful people in the room told me it's a sure thing. What could possibly go wrong?"
The Times report was followed by articles from BuzzFeed and the local Minnesota paper Star Tribune, all of which noted that Klobuchar has among the highest rates of staff turnover in Congress and quoted former staffers claiming the politician cultivated a vitriolic atmosphere.
"You'd wake up to a string of four, five, six, seven, eight e-mails of increasing anger, with everybody copied," one former staffer told the Star Tribune. "It was, 'This is the worst thing I've ever seen. Naive. Stupid. Awful.' It was just this vitriol. You didn't wake up to it every single day, but it was enough that my stomach just clenched every morning the second I woke up."
Her self-effacing speech at the white-tie dinner came after a more somber statement to Star Tribune.
"I'm incredibly proud of the work our staff has done and I would not be here without amazing staff," Klobuchar said in the statement. "I know I can be tough, I know I can push people too hard, and I also know I can do better — and I will."