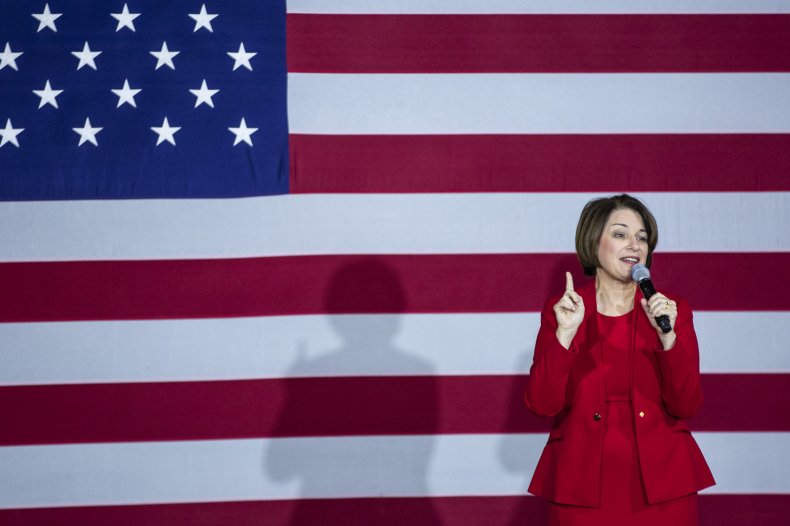 Minnesota Senator Amy Klobuchar is among the many critics of President Donald Trump who have openly mocked his decision to take controversial anti-malarial drug hydroxychloroquine as a preventive measure against COVID-19. But what Klobuchar hasn't widely discussed is that her husband also took the drug when he had the disease.
"They say that hydroxychloroquine can lead to hallucinations," Klobuchar posted on Twitter May 20, in response to a seemingly random tweet from the president about the Democratic primary several weeks after it had already ended with former Vice President Joe Biden as the presumptive nominee.
But Klobuchar's husband, John Bessler, is among patients who were prescribed hydroxychloroquine to treat severe symptoms after contracting COVID-19, she said in an April 7 interview with SiriusXM's Michael Smerconish that's received relatively little mainstream attention.
"I listened to the science there," she said. "I think that we have to listen to the science and you have to listen to your doctors with what is going to work in each individual situation."
She said about hydroxychloroquine specifically: "Sometimes you might have other conditions that make it so you can't take certain drugs. Sometimes your own condition with the virus wouldn't demand. I think people have to look at what works."
Klouchar, a potential Democratic vice presidential contender, took another dig at Trump's push in favor of the drug: "I believe in science—something this president has not been listening to."
A spokesman for Klobuchar declined Newsweek's request for comment or an interview to provide more details.
Klobuchar did speak widely about her family's ordeal with COVID-19 after her husband had to be hospitalized for a week, but she has said little about the role of hydroxychloroquine—even as the drug became a lightning rod amid the pandemic and Trump's frequent mentions of it. Klobuchar's comments during the radio interview were prompted by a question from the host about the drug.
The circumstances are not the same as the experience that has been shared by Trump, who said he took the controversial drug as a preventive measure with a doctor's prescription while keeping meetings and public events at the White House for two weeks after his personal valet and a spokeswoman for the vice president tested positive for the coronavirus. The drug's prophylactic effects are unproven and the FDA has cautioned against people taking it outside of hospitals or clinical trials because it could cause heart problems.
But Trump's supporters have seized on Klobuchar's remarks, sharing them through social media and conservative outlets.
"If Democrats didn't have double standards, they wouldn't have standards at all. Senator Klobuchar berates President Trump on Twitter for use of hydroxychloroquine when her husband used it in his recovery from coronavirus," Trump campaign spokesman Ken Farnaso told Newsweek.
Trump has repeatedly defended his decision to take hydroxychloroquine and vocal support of its use by others as a COVID-19 treatment during the outbreak.
"It's had a great reputation, and if it was somebody else other than me, people would say, 'Gee, isn't that smart?'" Trump told reporters after a recent meeting with GOP senators on Capitol Hill.
Bessler played an active role in Klobuchar's unsuccessful campaign for the Democratic presidential nomination. Klobuchar reportedly remains on a shortlist for Biden's possible vice presidential picks, after endorsing him shortly after she got out of the race. Biden is expected to announce his running mate later this summer.
During the interview on SiriusXM's POTUS Politics, Klobuchar discussed the difficult time her family faced while her husband was in the hospital.
"When they're in the hospital, you can't visit them, you can't be by their bedside, you can't hold their hand," she said. "It's one of the hardest things with this disease."
She also discussed her husband's experience in an interview with the Minneapolis Star-Tribune in late March. The article doesn't mention that Bessler was treated with hydroxychloroquine.
"There was a point where he just wasn't getting better," she told the Minnesota newspaper. "I never said it to him because I couldn't go see him. But you start to wonder. You just go on with your day because you can't be there. So you say, 'OK, I'm going to go vote on this. I'm going to do this and that.'
"Then they say, 'You know, it's getting worse. The oxygen is getting worse.' And you can't go there to see it yourself. You can't even go to thank the health care providers who are there. Everything is over the phone. So it feels so distant. And it makes it, in a way, scarier."