Amy Klobuchar Reveals Her Husband Tested Positive for Coronavirus
Former Democratic presidential candidate Amy Klobuchar announced on Monday morning that her husband, John Bessler, had tested positive for the coronavirus.
Klobuchar, who has endorsed Democratic front-runner Joe Biden, published a Medium post revealing the family's news, noting the emotional toll her husband's infection was taking on her. The Minnesota senator pointed out that she is not able to be by her husband's side, as he has been quarantined.
"I have news that many Americans are facing right now: my husband John has the coronavirus. We just got the test results at 7 a.m. this morning. While I cannot see him and he is of course cut off from all visitors, our daughter Abigail and I are constantly calling and texting and emailing," she wrote. "We love him very much and pray for his recovery. He is exhausted and sick but a very strong and resilient person."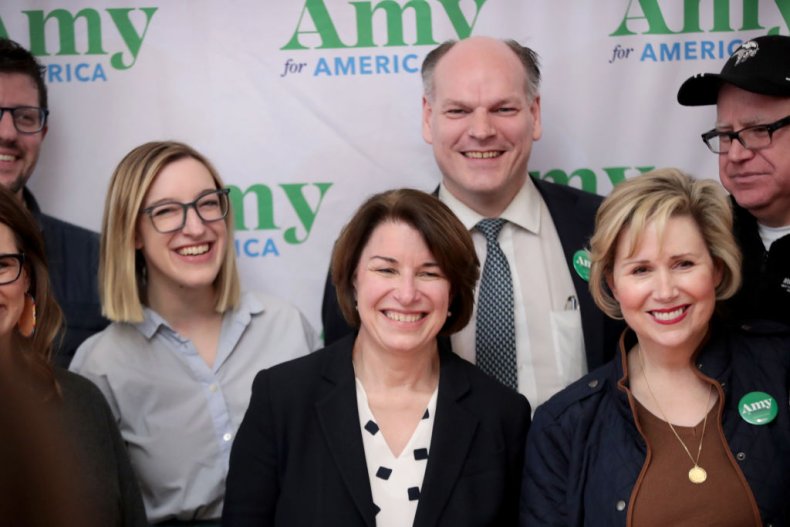 Klobuchar said her husband initially thought he had just a normal cold. However, out of caution, he quarantined himself right away, knowing there was the possibility it could be the coronavirus.
"He kept having a temperature and a bad, bad cough and when he started coughing up blood he got a test and a chest X-ray and they checked him into a hospital in Virginia because of a variety of things including very low oxygen levels which haven't really improved," she wrote. "He now has pneumonia and is on oxygen but not a ventilator."
The senator said that being forced to stay apart from her husband while he battles COVID-19 "is one of the hardest things about this disease."
"I hope he will be home soon. I know so many Americans are going through this and so much worse right now. So I hope and pray for you, just as I hope you will do for my husband. Meanwhile I am working in the Senate to get help to the American people," she wrote.
Several members of Congress, including Republican Senator Rand Paul, have also tested positive for the virus. Paul revealed on Sunday he was infected and went into quarantine.
GOP Senator Lindsey Graham of South Carolina expressed his support for Klobuchar and Paul in a Monday tweet.
"Thinking of Senators @RandPaul and @amyklobuchar during these times. Thoughts and prayers for a quick recovery for them and their loved ones battling #coronavirus. We are all in this together," Graham wrote.
Former Democratic presidential candidate Kamala Harris also voiced her support for Klobuchar, replying to her colleague's announcement on Twitter.
"Amy, I am so sorry to hear about this. [My husband] Doug and I are sending prayers to John, you, and the rest of your family during this difficult time," the California senator tweeted.
This story has been updated with additional information.