Amy Klobuchar Says She'd Support Bloomberg for President and He 'Should Be on' the Debate Stage
Democratic presidential candidate Senator Amy Klobuchar said that she would support fellow presidential hopeful Mike Bloomberg if he received the party's nomination, while also arguing that he should appear on the debate stage.
Bloomberg, a billionaire businessman and the former mayor of New York City, launched an unconventional presidential campaign in late November. He decided to forego campaigning in the early voting states, instead focusing on spending big in Super Tuesday states. He has already shelled out hundreds of millions from his own fortune to pay for television ads targeting voters.
Progressive candidates Senators Elizabeth Warren and Bernie Sanders have argued that Bloomberg is essentially trying to buy the election. The former mayor has also faced substantial criticism for his previous defense and expansion of the highly controversial "stop-and-frisk" policing strategy, as well as reported misogynistic comments about women.
Speaking with NBC News Meet the Press on Sunday, Klobuchar reiterated that she will support whoever the Democratic nominee for president is. "I would support him [Bloomberg]," she said. "I still do not think he is the best candidate for our country."
During the interview, the Minnesota senator was also asked about Bloomberg appearing in the upcoming Democratic debates. The Democratic National Committee (DNC) received significant criticism after it released new guidelines earlier this month for the forthcoming debates that would potentially allow Bloomberg to qualify to be on the debate stage.
Bloomberg, who is worth about $60 billion, has foregone accepting grassroots contributions, choosing to self-fund his presidential campaign. The previous DNC debate qualifications required candidates to meet polling thresholds, in addition to securing a specified number of contributions from across the country. But the new debate requirements were adjusted by the DNC, and candidates are now only required to reach specific polling thresholds, or to have won delegates in New Hampshire or Iowa, to qualify.
As Bloomberg has recently donated a sizable sum to the DNC, many raised concerns that he had attempted to buy his way onto the debate stage. But the DNC has insisted this was not the case. Thus far, Bloomberg has not reached the polling requirements or won any delegates to qualify for the debates.
"He just can't hide behind the airwaves. He has to answer questions," Klobuchar told Meet the Press, referring to the hundreds of millions Bloomberg has spent on television ads. "Of course, I think he should be on that debate stage, which eventually he will be, because I can't beat him on the airwaves. But I can beat him on the debate stage."
"I think people of America deserve that to make a decision," she said.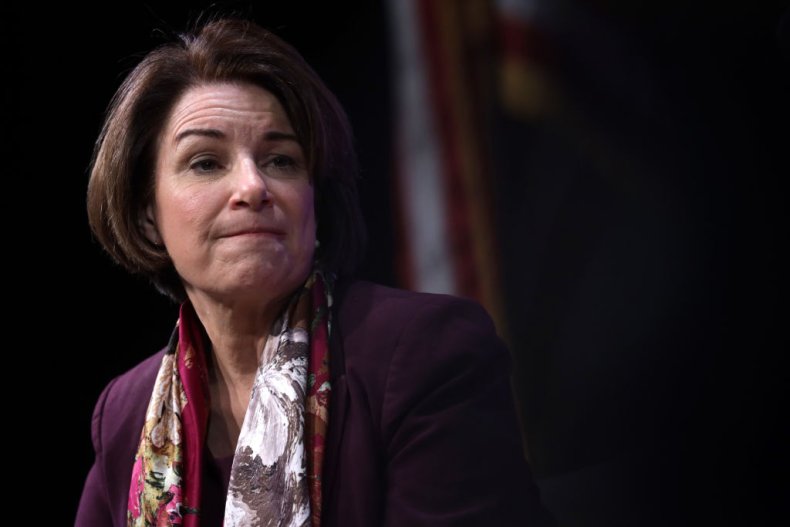 Sanders, who has emerged as the front-runner in the Democratic primary with most national polls showing him in the lead after success in New Hampshire and Iowa, has been much more critical of Bloomberg. Speaking at a Saturday event, he called out the billionaire's former support for "stop-and-frisk," suggesting it would be difficult for him to win with such political baggage.
"We will not create the energy and excitement we need to defeat Trump if that candidate pursued, advocated for, and enacted, racist policies like stop-and-frisk, which caused communities of color in his city to live in fear," Sanders said during a Nevada event.
He again took aim at Bloomberg on Sunday, tweeting: "Billionaires shouldn't be able to buy elections in the United States of America."