Amy Klobuchar is 'Troubled' By Having Democratic Socialist Bernie Sanders Possibly Lead the Presidential Ticket
Minnesota Senator Amy Klobuchar, a candidate for the Democratic Party's 2020 presidential nomination, said in an interview with CBS News Monday that she was "troubled" by the prospect of a democratic socialist like Vermont Senator Bernie Sanders becoming the nominee.
Klobuchar made the statement in an interview with Ed O'Keefe just after an event in New Hampshire, which will hold its presidential primary on Tuesday, CBS News reported. O'Keefe brought up the fact that, at the presidential debate held on Friday, Klobuchar was the only candidate to raise their hand to admit that they would be bothered with having a democratic socialist representing the Democrats in November's general election.
"The question should be why didn't everyone else raise their hand?" Klobuchar told O'Keefe in the interview. "But they didn't, because people are looking at each other, and it may not be popular, and you're going to anger some people, but I believe in leading and doing what you think is right, and that's why I raised my hand, because I am troubled by having a socialist lead our ticket."
Later in the interview, the Minnesota senator said that the Democratic nominee must be one who can "unite" the country if they want to stand a chance at defeating President Donald Trump, whom she called "the divider-in-chief."
"We need a candidate whose focus is on bringing decency back and understanding that while this is an economic check on this president because we don't have shared prosperity, it is also a decency check and a patriotism check," she said. "That's how you bring independents and moderate Republicans with you."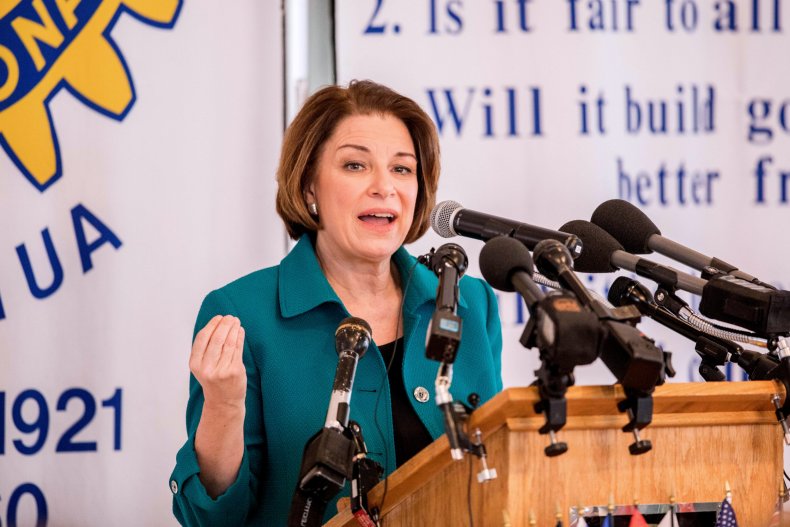 In the past, Klobuchar herself has been touted as the moderate voice that could bring independent and lean-Republican voters to the Democratic side in the 2020 general election.
In their dual endorsement of Klobuchar and Senator Elizabeth Warren in January, the editorial board of The New York Times referred to Klobuchar as the "standard-bearer for the Democratic center."
Likewise, Sanders does self-identify as a democratic socialist—as have other left-leaning American politicians, such as Rep. Alexandria Ocasio-Cortez of New York, Rep. Rashida Tlaib of Michigan and Rep. Ilhan Omar of Minnesota.
Sanders has been met with some criticism from conservatives for this reason, some of whom conflate democratic socialism with the communism of the Soviet Union and contemporary countries like Venezuela.
But Newsweek previously reported that while democratic socialism is often conflated with communism, Dr. Eileen Hunt Botting, a professor of political science at Notre Dame University, said that Sanders' proposed policies are more along the lines of those implemented in Scandinavian countries.
Thus far in Iowa caucuses results, Klobuchar has earned one pledged delegate, while Sanders is in second place with 12 delegates, behind Pete Buttigieg.
Preliminary poll results ahead of the New Hampshire primary election, set to take place Tuesday, February 11, have shown Klobuchar behind both Sanders and Buttigieg.