Amy Klobuchar Tells Trump 'Goodbye' after He Says He Will 'Never Come Back' to Minnesota If He Loses
Democratic Senator Amy Klobuchar of Minnesota said "goodbye" to President Donald Trump after the commander-in-chief said he was "never coming back" to her home state if he failed to win it at the 2020 election.
Appearing before hundreds of supporters in Duluth, Minnesota on Wednesday night, Trump said: "If I lose Minnesota, I'm never coming back. I don't care—I'm never coming back."
Rally-goers laughed at the president's remarks, but the Democratic National Committee sought to capitalize on the comments, posting footage of the statement and pointing voters to party's voter registration website.
Reacting to the president's remarks on Thursday morning, Senator Klobuchar simply tweeted: "Goodbye." At the time of writing, her post has been shared and liked more than 18,000 times.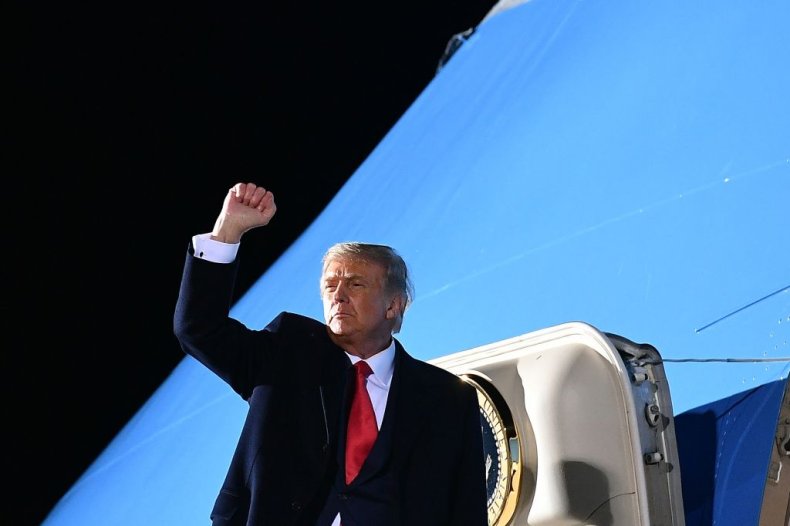 The Minnesota Star Tribune reported that thousands of supporters were in attendance at Trump's latest campaign rally at Duluth International Airport, which got underway less than a day after the first presidential debate aired on Tuesday night.
Speaking for more than 40 minutes, the president launched familiar attacks on Democratic presidential nominee Joe Biden and rebuked remarks he made at the previous night's debate. He also whipped up the crowd against Democratic Representative Ilhan Omar of Minnesota, sparking chants of "lock her up" amid allegations of ballot harvesting.
"How the hell did Minnesota elect her?" Trump said. "What the hell is wrong with you people?"
Minnesota is expected to be a key swing state in November's presidential election after Trump came within two points of beating then-Democratic candidate Hillary Clinton in the state during the 2016 election.
According to FiveThirtyEight's Minnesota tracker, Biden has consistently held an average lead over Trump in the state since May this year. At the time of writing, a little more than eight percentage points stand between the two candidates.
Two battleground state polls from Minnesota, published last week, revealed that Biden had a slightly narrower 6-point lead over the president with a little more than a month to go until polling day.
But another survey released by ABC News and The Washington Post in mid-September found a large 16-point gap had opened up between the Democratic nominee and Trump among likely voters in the state. Fifty-seven percent told pollsters that they would back Biden on November 3, while 41 percent favored Trump.
Newsweek has contacted the Trump campaign for further details on the president's rally last night. This article will be updated with any response.