Amy Klobuchar, Under Scrutiny in VP Stakes, Calls for Prosecution of Minneapolis Cops
Sen. Amy Klobuchar (D-Minn.) called for the prosecution of the Minneapolis police officers involved in the death of George Floyd in her Tuesday appearance on CNN's Cuomo Prime Time.
Klobuchar appeared on the program to talk about the now-viral video showing officers kneeling on Floyd's throat. Floyd can be heard in the video telling the officers he can't breathe; later, he appears to lose consciousness. He was pronounced dead when an ambulance took him to a local medical facility.
Though Klobuchar, former Democratic candidate for president and potential vice presidential nominee, called for the officers in the video to be prosecuted, she has a reputation from her time as a prosecutor of going after light sentences for police officers charged with killing citizens. This reputation has cost her support in African American communities.
"I spent the day talking to the mayor, talking to Attorney General Keith Ellison talking to our African American leaders, and this is the first step," Klobuchar said on Cuomo Prime Time, calling the Minneapolis police chief's decision to immediately fire the officers "the right thing to do."
"These cases can be considered immediately, fairly but swiftly, for criminal charges because you just can't have something like this. He was pleading for his life and outsiders were telling the officer, very clearly, 'He can't breathe, he can't breathe.' This was not a sudden mistake or procedure gone bad," she added.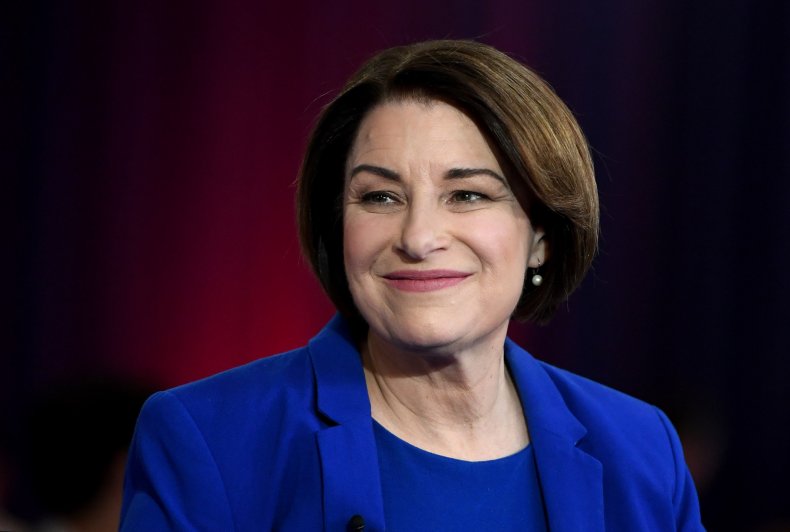 Klobuchar also referenced the shooting death of Philando Castile, a man killed by police in Minnesota. In that case, Castile was shot by Officer Jeronimo Yanez after informing Yanez that he had a legal firearm. Castile was shot five times by Yanez after reaching to give the officer his license and registration. In that case, though Yanez was fired, he was acquitted of all charges.
"I supported that prosecution. The jury didn't agree with the prosecutor in that case, but I think what is happening right now is that finally people are starting to see videos of some of these cases. I think over time that changes minds, but it is not enough time to change the life [of the victim]," she said.
Though Klobuchar is now calling for the prosecution of the officers involved in Floyd's death, when she was prosecutor, she was often seen as taking officers' side. Nekima Levy Armstrong, a Minnesota civil rights attorney who protested Klobuchar, told Newsweek she felt that Klobuchar's time as prosecutor was marred by a "failure to hold law enforcement officials accountable for shooting and killing African-Americans."
Klobuchar has been named a potential running mate for former Vice President Joe Biden, however, during the primary, Klobuchar also didn't receive much support from the black community. She received 3 percent from black voters in Nevada, and 1 percent support from black voters in South Carolina.
In 2002, as prosecutor, Klobuchar called for, and won, a life sentence for Minnesota teen Myon Burrell for the death of an 11-year-old black girl named Tyesha Edwards. After an investigation by the Associated Press that found several major inconsistencies in the case, Klobuchar asked for an independent investigation into the case in March 2020.
Newsweek reached out to Klobuchar's office for further comment. This article will be updated with any response.