Amy Klobuchar Tells Audience 'You're Supposed to Cheer,' Twitter Cringes: 'She's Jeb of the Left'
Presidential hopeful Amy Klobuchar was mocked on social media after she pleaded with a studio audience to clap while she outlined her pitch for the presidency.
The Democratic senator from Minnesota was asked during a CNN town hall on Monday night how she planned to win the support of those who backed President Donald Trump.
She let her track record do the talking, and cited her election victories in a "purple state."
"Every single time I have won, I have won every single congressional district in my state, including Michele Bachmann's, OK?"
Expecting a round of applause, there was an awkward silence, which she then broke with the words: "That's when you guys are supposed to cheer, OK?"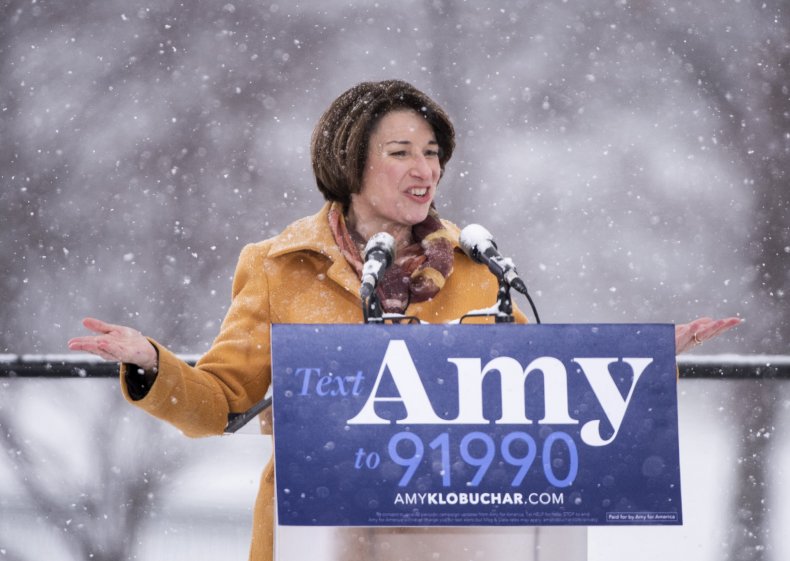 After she received the applause she sought, she told the audience she did not win "by selling out on my principles" but by "going not just where it's comfortable, but where it's uncomfortable."
Soon afterward, #PleaseClap appeared as a hashtag on Twitter and the moment was compared to a similar one experienced by a previous presidential candidate.
Jonathan Lockwood, the Oregon Senate Republican spokesman, tweeted: "She's Jeb of the Left. Always taking things to an extreme. He said #PleaseClap, she demands CHEERS for winning in @MicheleBachmann's district."
His comment referred to the time when Jeb Bush, then the governor of Florida, was on the 2016 presidential campaign trail. Bush described how he wanted to help make "a more peaceful world" and was met with silence. Fox News dubbed Bush's "please clap" response as the "cringeworthy moment of the 2016 campaign," The Daily Mail reported.
The Intelligencer noted that Klobuchar handled the awkwardness "with more poise and humor than Bush," who uttered the phrase in a "desperate, defeated tone." But, the publication pointed out, "it's not the ideal comparison for a candidate who's currently winning just 2 percent of Democratic-primary voters."
This refers to figures by Real Clear Politics showing that as one of the 20 Democratic candidates vying to take on Trump, Klobuchar had only 1.8 percent support among likely voters.
On Klobuchar's "cheer" comment, one person tweeted: "A politician saying #PleaseClap is the death knell of their run." Another tweeted: " And that's the ballgame for her. Say goodnight @amyklobuchar."
Scott Villa tweeted: "When you need to tell the audience to cheer you need to pull out. Ask JEB!!!"
During the town hall, Klobuchar said she would keep the Affordable Care Act, better known as Obamacare, but make it less expensive. She does not support a "Medicare for All" plan.
In another lighthearted moment that seemed to call up the previous presidential campaign, as she discussed how to tackle climate change, the candidate told host Chris Cuomo that she wanted to finish what she was saying before he interrupted.
"I feel you creeping over my shoulder, I don't know…not in a Trumpian manner," she said, referring to Hillary Clinton's accusation that Trump was a "creep" for approaching her from behind when they were debating as presidential candidates.