Amy McGrath Accuses Mitch McConnell of Using 'Doctored Audio' to Mislead Kentuckians in Heated 2020 Senate Race
Kentucky Democrat Amy McGrath accused Senator Mitch McConnell of using "doctored audio" in a new set of attack ads to mislead voters about her policy positions in their heated 2020 Senate race.
McGrath and McConnell are vying for one of the state's two Senate seats and while Kentuckians won't be casting their vote for another 16 months, both candidates have already launched political ads against one another. McConnell's latest set of ads, which will appear online and on radio, took aim at McGrath's position on reproductive rights.
The video features a clip of McGrath saying, "I am further left, I am more progressive than anybody in the state of Kentucky." The ad also includes a soundbite of the Democrat telling a local talk show host that she doesn't think "government should be involved in making a decision on a woman's body" when asked if she supported abortion through the ninth month of pregnancy.
McGrath fired back quickly with a set of her own ads, according to the Lexington Herald Leader, in which she asserted that McConnell's campaign purposely distorting the audio in order to make her seem more extreme to voters. It's a page from President Donald Trump's playbook, as he attempts to cast the Democratic Party as socialists in the 2020 presidential election.
"It's doctored audio. He cut out half the sentence. You should release the whole recording senator," McGrath says in the ad. She then goes on to say that she doesn't support late-term abortions.
"Mitch McConnell is cutting out my words and lying to you. Senator, you've spent 34 years in the Washington swamp but I took an oath as a Marine fighter pilot and a national security advisor to always tell the truth. I've been a registered independent, spent 20 years in the Marine Corps and married a Republican. That's a long way from the far left," she added.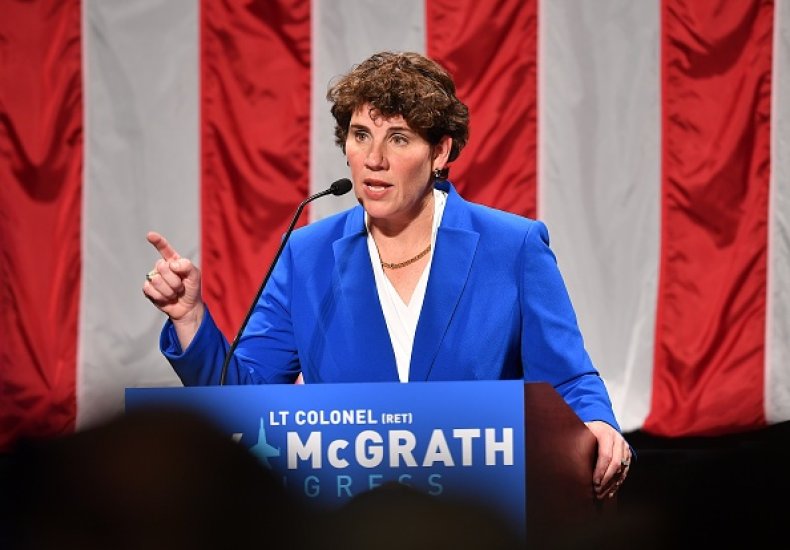 This Senate race is expected to be one of the most expensive in the 2020 election cycle. McGrath raised a record $2.5 million in the first 24 hours of her congressional bid and $5 million in the first few days after she entered the race in the beginning of July.
But McConnell is one of the biggest fundraisers in the Republican Party. In his last re-election bid in 2014, McConnell spent more than $30 million. He ended up winning the election by more than 15 percentage points. McConnell's 2020 team says the Senate majority leader has already raked in over $11 million in donations and has another $7.9 million on hand.
McGrath entered the national spotlight in her 2018 congressional race against Republican Andy Barr. Before launching her political career, McGrath served in the Marines for two decades and was the first female pilot to fly a fighter jet into combat.
After McGrath launched her 2020 bid, McConnell's campaign manager called the Democrat an "extreme liberal" who is "out of touch" with Kentucky voters. But her 2018 race was nearly the biggest upset of the election cycle. In a district that overwhelmingly voted for Trump in 2016, McGrath lost by just three percentage points.
McConnell, on the other hand, has become the least popular senator in the country. According to polls from Morning Consult, just 36 percent of Kentuckians approve of McConnell while 50 percent disapprove.