Amy McGrath and Charles Booker Turn Up the Heat Ahead of Kentucky Senate Primary
Kentucky Democrats Charles Booker and Amy McGrath are turning up the heat in their Senate race to take on Mitch McConnell, spending millions of dollars on advertisements in the final week leading up to the June 23 primary.
On Tuesday, both campaigns released new ads addressing racial injustice. Demonstrations have blanketed the state in the wake of killings of two residents by law enforcement: 26-year-old EMT Breonna Taylor and restaurant owner David McAtee.
Booker, the youngest black lawmaker in Kentucky, has used the opportunity to criticize McGrath's absence at the protests in Louisville. The 30-second ad shows McGrath admitting during a recent primary debate that she wasn't present at the demonstrations. The second half of the clip shows Booker taking on a leading role in the action.
"I stand before you as your brother, as your cousin, as your neighbor, as your fellow good troublemaker," Booker tells a Louisville crowd in the ad.
The 35-year-old state legislator has emerged as an insurgent candidate as he's gained momentum from taking on a front-line position at Black Lives Matter protests. Al Cross, a longtime Kentucky political commentator, previously told Newsweek that Booker was the "candidate of the moment."
Booker's ad, which HuffPost reported is backed by a $640,000 statewide buy, is only his second of the entire campaign cycle. He spent $400,000 last week on his first ad buy, in which he attacked McGrath as a "pro-Trump Democrat."
McGrath, on the other hand, has spent $3 million on television and radio advertising in this last week ahead of the primary, according to the political ad tracker Medium Buying. The tracker reported that she is closing in on $10 million spent in local markets on advertisements.
"The amount that she is spending in the last week is indicative of how much she is aware that we are overtaking her," Colin Lauderdale, Booker's campaign manager, told Newsweek.
In her ad released on Tuesday morning, McGrath said she would "never forget watching the murder of George Floyd" by Minneapolis police officers. Floyd's death on May 25 sparked nationwide protests and unrest as video footage showed him telling officers he couldn't breathe and crying out for his mother.
McGrath also criticized President Donald Trump for threatening to send military troops to areas with large protests. McGrath, a former Marine fighter pilot, said as a senator she would "stand up to any president who treats people as less than human."
But her ad made no mention of Taylor or McAtee—which Booker quickly criticized. In a tweet, Booker said McGrath was "exploiting our pain."
"Instead of tweets and narrated videos, I am standing on the front line for Kentuckians. For my family. This moment demands leadership for Breonna, Mr. McAtee, and all of you. Say her name," he wrote.
McGrath's campaign manager Mark Nickolas defended McGrath, telling Newsweek in a statement that she has "talked with African-American mothers about the pain and fear they feel after the murders of George Floyd, Breonna Taylor and David McAtee."
"While these events have inflicted immense pain in the African-American community, this has been a long-needed wake-up call for all of us and that is what she is talking about in the television spot," Nickolas said. "This is an American problem. We are all affected by this injustice. You see the diversity of America hurting by it. We need to reject partisan politics and come together to heal our nation and elect leaders who will never forget and work on needed changes, and she rejects attacking a fellow Democrat in the process."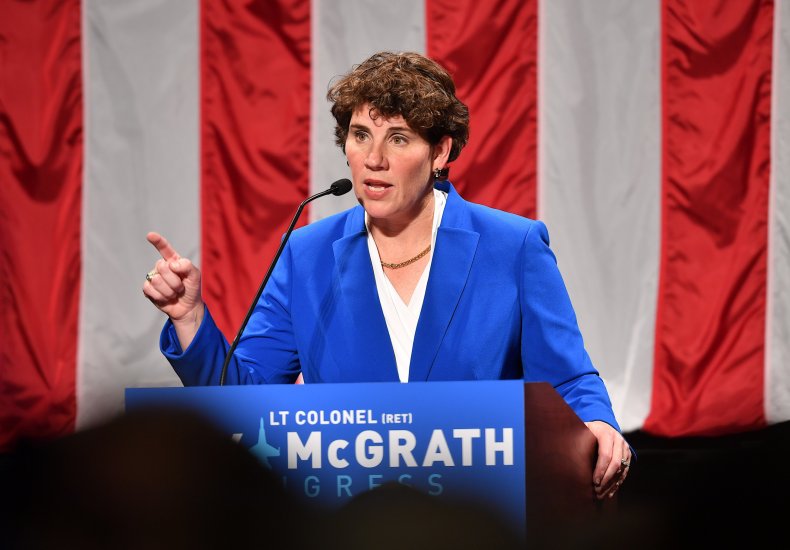 While there's been no public polling of the primary, McGrath has long been presumed the front-runner. She's backed by the Democratic Senatorial Campaign Committee and has more cash on hand than all other candidates in the race—including McConnell— combined. The latest campaign finance filings showed she still had $19 million in the bank. She also had two more ads that were released on Tuesday, one in which she explained why she is a Democrat and the other featuring an endorsement from former NASA administrator Charles Bolden.
While McGrath is ahead in cash and advertising, Booker has been the one gaining momentum in the final weeks before the election. Last week, he received a wave of endorsements from Senator Bernie Sanders, Representative Alexandria Ocasio-Cortez and two of Kentucky's highest-circulation newspapers. Booker has pointed to the endorsements as evidence that he's putting out "the right message at the right time."
On Tuesday, former Kentucky Secretary of State Alison Lundergan Grimes also gave Booker her endorsement. Grimes is one of the state's most prominent Democrats who ran against McConnell in 2014.
Internal polling from the Booker team has shown he's gained ground on McGrath. The survey, which was released over the weekend, showed him behind the front-runner by 10 points. Of the 300 people polled, 49 percent said they would back McGrath and 39 percent said they would vote for Booker.
Update (6/16/20, 3:00 p.m. ET): This story has been updated to include comment from Booker's campaign manager Colin Lauderdale.