McConnell Challenger Amy McGrath Makes 'Closing Argument' as Kentucky Polls Show Democrat Firmly Behind
Democratic Senate candidate Amy McGrath made a last ditch pitch to voters in her flagging bid to replace the Republican Majority Leader Mitch McConnell in Kentucky over the weekend as polls showed her trailing the incumbent.
Writing an op-ed for the Lexington Herald Leader that she dubbed her "closing argument," McGrath set out her plans to back state-level investment projects and vote for further COVID-19 bailout funding should she be elected.
The Democratic challenger was also critical of McConnell, arguing that the Senate Majority Leader had "avoided" providing financial assistance to Americans by failing to hold votes on unemployment benefit extensions and further stimulus checks.
"In the middle of a national crisis, his inaction is a dereliction of duty," McGrath wrote. "Sen. McConnell could find $500 billion for a slush fund for big corporations and $250 billion in tax cuts for the wealthiest Americans, but apparently there are no resources for Kentucky as families and small businesses continue to struggle."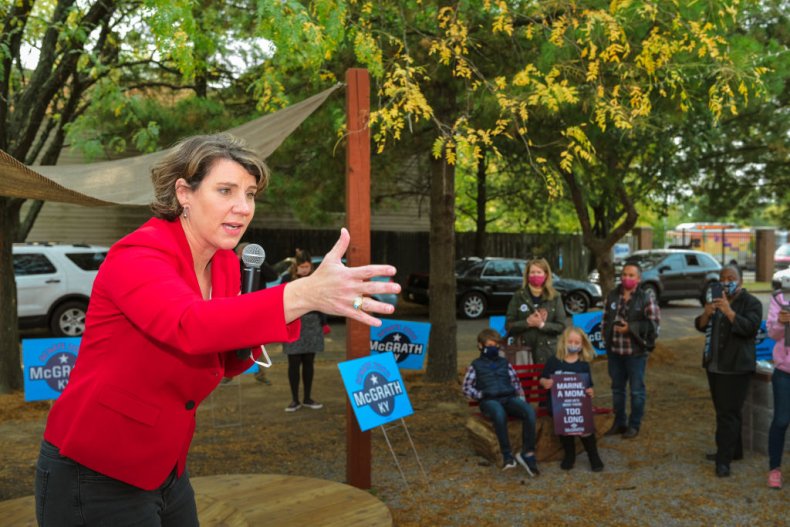 She later added that "our democracy's future" relied on local voters "getting rid of Sen. McConnell" in a little more than one week's time. The Democrat also accused the Senate Majority Leader of "trying to take away health care" from Kentuckians.
"The good news is that over the next few weeks, we have a chance to vote for the positive change our commonwealth desperately needs," McGrath added. "Sen. McConnell is right about one thing: I'm a Marine, a mom, and he's been there too long. This election is about the future of Kentucky, our democracy, and our country. Let's work together to rebuild Kentucky stronger than before."
Newsweek has contacted Sen. McConnell's office for comment. This article will be updated with any response.
The Democratic candidate published her closing argument as several state polls showed her trailing McConnell by wide margins, despite her campaign's significant fundraising efforts.
One survey released by the pollster Cygnal last week found McGrath 10 points behind McConnell with 40 percent of state voters saying they would back her on election day. A Mason-Dixon Polling & Strategy poll published the day before showed the Democratic challenger was a similar nine points behind the GOP incumbent.
According to a Quinnipiac University survey published in mid September, McGrath trailed McConnell by an even wider margin of 12 percentage points, having won the backing of just 41 percent of Kentuckians.
The latest Federal Election Commission finance data shows the Democratic challenger is firmly behind McConnell having raised more than $90 million in donations throughout the 2020 cycle—more than $75 million of which has been spent.