Amy Mcgrath's Longshot Campaign Against McConnell Costs Democrats in Tighter Senate Races
Amy McGrath's bid to oust Senate Majority Leader Mitch McConnell from his Kentucky seat could pull funds from tighter races which might support Democrats' wider goal of controlling the upper chamber, strategists have suggested.
McGrath closed in on McConnell in early polling, though recent polling has seen the gap surpass double digits.
A poll from Morning Consult put McConnell ahead by around 15 points, with 52 percent of those asked September 11 to 20 backing McConnell compared to 37 percent for McGrath.
A Quinnipiac September 10 to 14 poll of 1,164 likely voters in Kentucky gave McConnell a 12-point lead, with 53 percent for the incumbent senator, compared to 41 percent for McGrath.
In her bid to oust McConnell, McGrath has conducted one of the most successful fundraising campaign of any Democrat candidate for the Senate.
By the end of June, McGrath had raised near to $47 million.
According to a ranking from Open Secrets, this made her the highest raising Senate candidate between 2019 and 2020 so far.
This amount saw her outraise Democrat candidates in races against incumbent Republicans which are deemed to be toss ups by The Cook Political Report, such as Georgia, Iowa, Maine, Montana and North Carolina. Kentucky in contrast is rated likely Republican. She also added $8.7 million to her funds in August, according to her campaign.
Newsweek has contacted McGrath's campaign for a fundraising update.
"Amy McGrath is running a fantastic campaign to unseat McConnell," Democratic strategist Jennifer Holdsworth told Newsweek.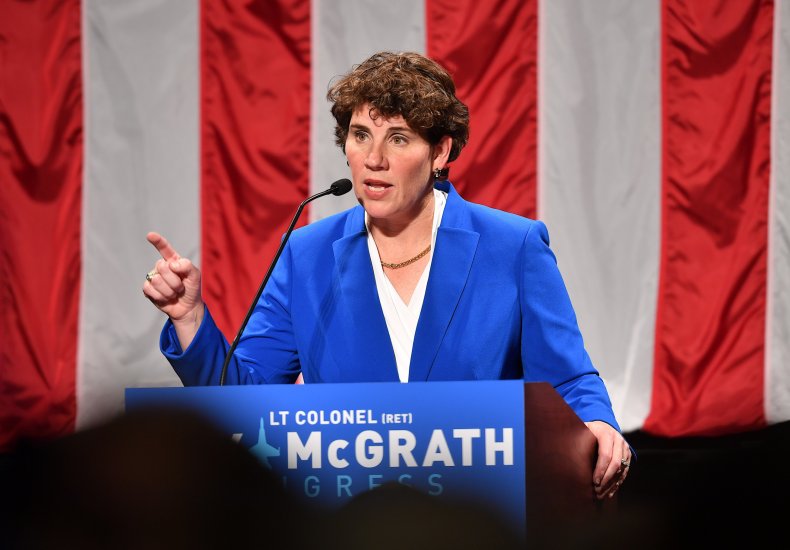 However, she conceded this is now an "uphill battle" to defeat McConnell, with McGrath having seen the gap in polling between her and the Senate majority lead widen.
Polling earlier this year even put the race tighter with a poll in June having given McGrath a slight advantage, though this has since slipped.
"I've donated to her, and I've encouraged others to do so, but by October, we are going need to turn our complete attention to winnable races," Holdsworth said.
Douglas Heye, former communications director for the Republican National Committee, told Newsweek he thinks Democrats would be better placed spending money on tighter races as opposed to McGrath's, to facilitate the overarching goal of wanting to control the Senate as opposed to boosting a "marquee race" against McConnell.
"Republicans have been saying this for a while," he said, while conceding Democrats might be hesitant to take the advice of those linked to the opposing party.
"Any dollar given to defeat Mitch McConnell in Kentucky is a wasted dollar, that potentially comes at the expense of other candidates who can win. Because they're not running a marquee race, they're not getting it," he said.
"The people who are donating to McGrath are making an emotional donation as much as they are financial."
In contrast, Kelly Dietrich, CEO of the National Democratic Training Committee, suggested McGrath's campaigning could have long-term benefit even if she does not win the seat this time out.
"With less than six weeks until Election Day, every candidate should aggressively advocate for their own race until the very end. We want Democrats to compete everywhere," he said.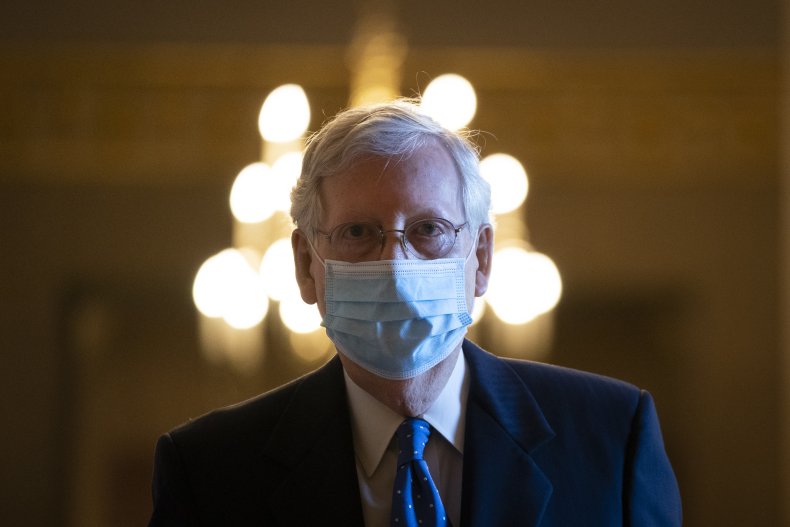 "Democrats build power in red and rural areas not overnight, it take years and it takes money and may take many attempts, McGrath's ability to give Mitch McConnell a real challenge builds Democratic power across Kentucky for long-term."
Her campaign can force Republicans to spend more money in Kentucky, which might be to the party's detriment, while it might also galvanize people to support Democrats nationwide, he added.
"The more competitive we can make each race the more it forces the GOP to spend in a state they consider safe, that is only a win for Democrats," he said.
"Amy McGrath is energizing thousands of donors across the country to give not just to her, but get active in Democratic politics overall."
Hans Noel, an associate professor in Georgetown University's department of government, also told Newsweek that the campaign could benefit future goals if it does not secure a victory this year.
However, he did suggest Democrats might be more astute to target taking McConnell's majority in the Senate as opposed to his seat directly.
"Even if a candidate can't win in the short term, maybe an investment now will bear fruit in the future," he said.
"But it does make sense to try to target support in places where it will do the most good. Amy McGrath is among the least likely challengers to win in this cycle's Senate races.
"Meanwhile, there are many races where Democrats might flip a seat. So a small nudge in those states would be a better use of their funds. If Mitch McConnell is the target, it's not necessary to deny him his seat. Democrats would be just as effective if they denied him a majority."
Democratic campaign consultant Douglas Schoen however told Newsweek he can understand why Democrats believe in targeting McConnell, who he described as leader of the Republican's "polarizing and divisive policies."
"McConnell is the symbol of Republican intransigence and obstinate to any sort of reasonable bipartisanship," he said.
Newsweek has contacted the McGrath and McConnell campaigns for comment.