Amy Poehler Says Racism is Why Desi Arnaz is 'Underappreciated' Compared to Lucille Ball
Amy Poehler is making sure Desi Arnaz gets his dues alongside Lucille Ball in her new Prime Video documentary Lucy and Desi.
The perfect accompaniment to the recent Oscar-nominated movie Being the Ricardos, Poehler directs the documentary that tells the story of how Ball and Arnaz met and formed one of the most powerful partnerships in television history.
It's available to watch from Friday, March 4. Ahead of its launch, Poehler spoke to Newsweek about how I Love Lucy shaped television today, why Desi was underappreciated and why she hopes the "robots are kind" when they direct her documentary in 50 years.
Why Lucy and Desi deserved a doc
"We use words like trailblazer and icon and stuff to explain the incredible rise and success of Lucy and Desi," Poehler told Newsweek, "but I think as people they were these very interesting, complicated humans."
Poehler was approached "years ago" by studios Imagine Documentaries and White Horse Pictures to create a documentary based on the lives and careers of Lucille Ball and Desi Arnaz. Because of their world-famous show I Love Lucy, they became one of the most frequently filmed couples in the 1950s, meaning there's a wealth of material for Poehler and the team to work with.
"I loved all the home videos, I loved watching Lucy older and I loved watching her on set," Poehler said. "But most of all I loved watching Lucy in charge, frankly, and a lot of that comes in the footage of her on set."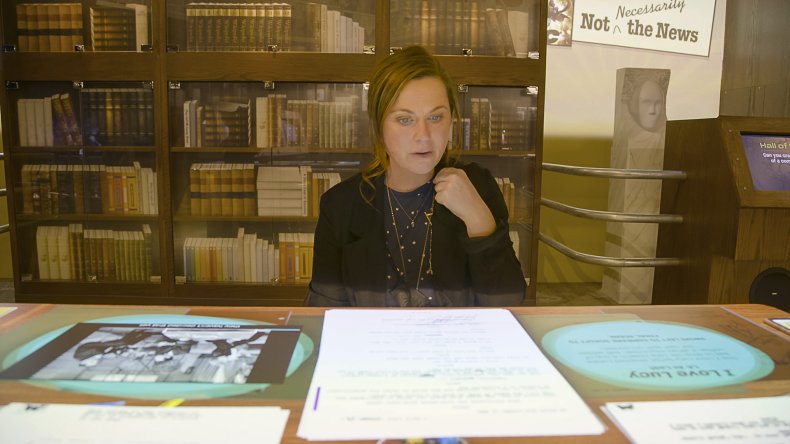 While many people may think they know the story of Lucy and Desi, much of which was told and condensed in Aaron Sorkin's biopic Being the Ricardos, Poehler was sure to approach this documentary with an open mind. "I do not in any way consider myself a historian," she said.
Poehler continued: "And I do think that when you're dealing with people that are so known, you have to be careful not to create a project that is just like a list of their accomplishments, or even a depiction of them as being these ... once in a lifetime, terminally unique, genius, astronaut, time travelers."
For that reason, Poehler said she wanted to focus Lucy and Desi's story on their human experience, and all the complicated and messy emotions that come with that.
Reminding the viewers of Ball and Arnaz' emotional impact, the documentary features new interviews with their children Lucie Arnaz Luckinbill and Desi Arnaz Jr., as well as future comedy stars Bette Midler and Carol Burnett, whose careers Ball helped launch.
Crediting Desi Arnaz
Ball's name was everywhere during their relationship as it was used to market their various comedy shows, but Poehler believes her husband was "definitely underappreciated."
"I don't think people understood the kind of choices that Desi made that still affect the way we make television," she said, "whether it be shooting a three-camera setup and shooting in front of a live audience." Both are still classic sitcom tropes. "Frankly, he and the producers of I Love Lucy created the rerun."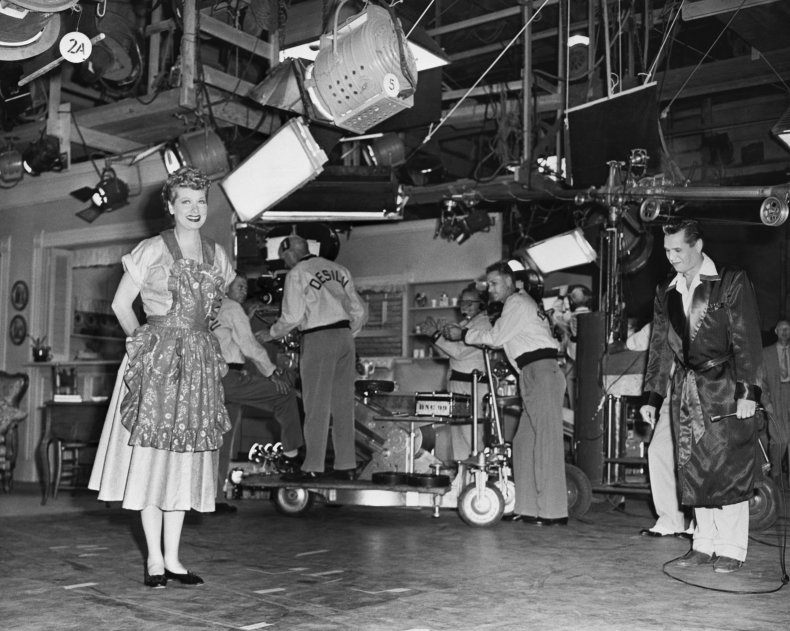 "Television does not look that different than how Desi helped make it look [in the 1950s]. Desi was just like Lucy, really ahead of his time, and also very, very, very good at what he did," Poehler said. "He was also an incredibly skilled musician."
While it may seem obvious to everyone now just how talented Arnaz was, Poehler believes race may have played a part in why he wasn't as widely credited as Ball. "I'm hoping that as he gets his due, and certainly we can speak to the bigger issues of why we tend to minimize or leave out the incredible accomplishments of people of color constantly," Poehler said.
Poehler's projects and her own documentary
Somer of Poehler's most recent big projects have been from the director's chair. Her last two movies were the Netflix originals Wine Country (2019) and Moxie (2021), both of which she directed and starred in. Now with Lucy and Desi on the horizon, Poehler acknowledges she's diversifying her skills.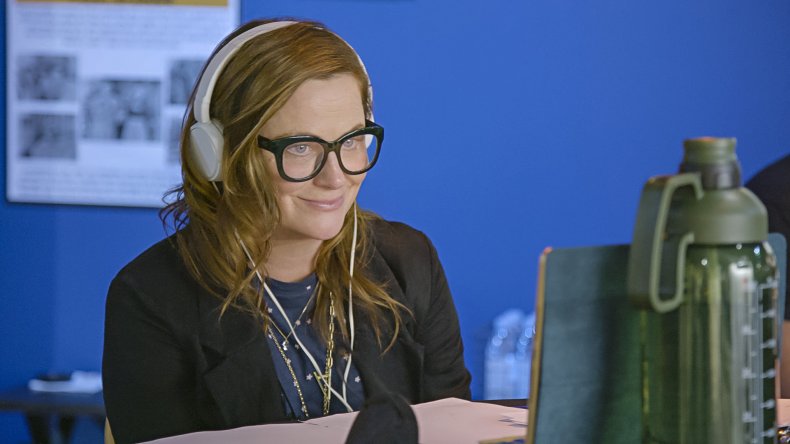 "Those are three very different projects that I've come out with over the past couple of years," she said. "I look to see what feels like an interesting creative next step."
Poehler made her name in front of the camera in the likes of Saturday Night Live and Parks and Recreation, but she may pursue more of a backseat role in future projects. "I really, really enjoy directing and hope to keep doing it more, but all the aspects of directing and producing and writing and acting are all really interesting to me."
With so many successful roles and accomplishments, Newsweek asked Poehler what she'd like the documentary of her life to look like in 50 years.
"I hope when the robots decide to tell my story, they're kind," she stated. "But I fear that in the future, when robots make documentaries, it's going to be a lot of bleep blorp."
"I hope when the robots get together, before they blast us all to pieces, they interview the right people from my high school," Poehler joked.
The new documentary Lucy and Desi will be available to watch on Prime Video from Friday, March 4, 2022.