Amy Robach's Daughters Show Support for Andrew Shue's Son Amid 'GMA3' Drama
Amy Robach and Andrew Shue's respective children have shown they still have love for each other, despite their parents going their separate ways.
The former GMA3: What You Need to Know co-anchor and the Melrose Place star were married from 2010 until their separation in late 2022.
When they wed, Robach and Shue had biological children from their first marriages. Robach was mom to daughters Ava and Annie, who would have been around 8 and 4 when their mom remarried. Shue was the father of three boys, Nate, Aidan and Wyatt, who are now 26, 24 and 19, respectively.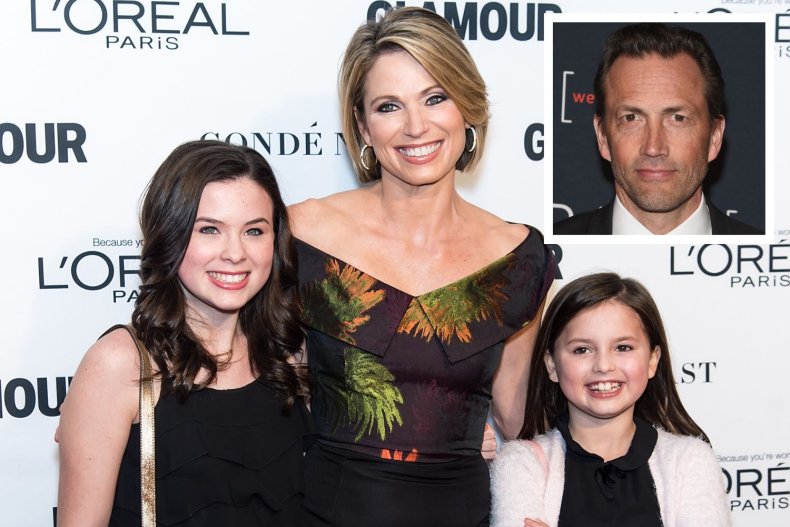 Having been in a blended family from such a young age and during their formative years clearly gave the three a strong bond, and the two girls celebrated Nate's recent career success.
Nate is following in his dad's acting footsteps and starred in the film Sense, about a couple isolating together in their home after testing positive for the coronavirus. He also co-wrote the short film alongside his co-star, Alexandra Punch.
He shared an Instagram post with a series of stills from the film and highlighted the various film festivals where Sense had been an official selection or won an award, including the European Short Film Festival.
"So proud," he captioned the post, tagging all of the crew and actors.
His stepsisters then shared that post to their Instagram Stories, and he then posted those shout-outs into his own Stories.
"For big brother," wrote Ava alongside a clapping-hands emoji. Annie wrote: "Proud lil sis" and also added clapping hands with several red love-heart emojis.
The siblings' blended family came apart last year when Robach and Shue split, and Robach has found new love with her former GMA3 co-host, T.J. Holmes.
They made headlines in November last year when they were photographed on a weekend trip and cuddling up in a New York City bar.
ABC News later yanked the pair off the air as it conducted an internal investigation. In late January, it was announced that the two would be leaving the network.
ABC News President Kim Godwin first confirmed the news in a memo to staff, and then ABC News released a public statement
"I know that this has been a distraction for so many of us, but let's not forget all the great work that continues to make ABC News the #1 news network in America, and that's because of you," Godwin wrote in the memo. "I want to thank you again for your patience and professionalism during this time."
Later an ABC News spokesperson said in a public statement: "After several productive conversations with Amy Robach and T.J. Holmes, about different options, we all agreed it's best for everyone that they move on from ABC News. We recognize their talent and commitment over the years and are thankful for their contributions."
Since leaving the network, Holmes and Robach have been spotted canoodling in Los Angeles and during a Valentine's Day vacation to Cabo San Lucas in Mexico.
Holmes filed for divorce from his estranged wife, Marilee Fiebig, this past December after getting married in 2010. They are parents to a daughter, Sabine, 10. Holmes is also dad to Brianna and Jaiden, from his marriage to his first wife, Amy Ferson.