Amy Schneider Hopes 'Jeopardy!' Success Will Remove 'Bad Taste' of Mike Richards Scandal
Jeopardy! champ Amy Schneider has expressed hope that her ongoing success on the show will help remove the "bad taste" of the scandal involving Mike Richards.
Following a months-long search for a new host to replace beloved late presenter Alex Trebek earlier this year, then-executive producer Richards was announced on August 11 as the one who had landed the coveted job.
However, things quickly unraveled, with Richards facing scrutiny over reports surrounding previous sexual harassment and discrimination lawsuits he faced while serving as a producer on The Price Is Right.
Matters soon got worse, when The Ringer published an article detailing a number of offensive comments he had made on a now-defunct podcast several years ago.
On August 20—just nine days after his appointment had been announced—Richards stepped down from his presenting role. By the end of August, he was also out of his job as executive producer of Jeopardy! and Wheel of Fortune.
In an interview with the Daily Beast, engineering manager Schneider—who currently boasts a 15-day winning streak with $606,200 in earnings—expressed hopes that the show can move on from the scandal, which she said had "tarnished" the show's image.
She said of her success on the show: "For one thing, I hope that this can get the bad taste of Jeopardy!'s last year out of everyone's mouth and get them more into what Jeopardy! has always been about."
Schneider previously revealed to Newsweek that she had attempted to get on Jeopardy! for more than a decade—before facing another delay of a year due to the pandemic.
Speaking to the Daily Beast, she said that the delay proved to be something of a blessing in disguise, as it guaranteed that she didn't shoot during Richards' stint.
"I'm glad that they pushed me back a year and I didn't have to be directly involved with any of it," she said. "I'm glad that the old guy is gone and there's no point in my talking too much about it, because it's all kind of done at this point.
"But, I think that it's disappointing to see such an institution be a little bit tarnished. It was not fun to witness. But I do feel like it's getting back on its feet. I think Ken [Jennings has] been a great host."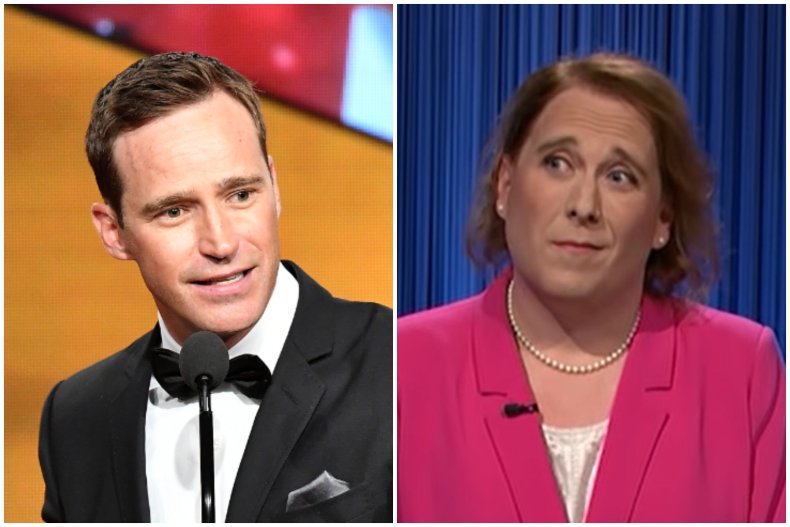 While Schneider revealed to Newsweek that she had previously backed LeVar Burton to be the next Jeopardy! host, she has enjoyed her time on the Los Angeles set with Jennings, who is the syndicated show's all-time champ.
"He gives us all the same general tips at the beginning of every show, which is, 'Relax, have fun and have a good time," Schneider said. "The hard part is over; you're here. You get to be on the show. It's really cool, and it's over really fast. So enjoy it.'"
Following Richards' unceremonious exit from his role as Jeopardy! host (during which he shot only the first week of Season 38 at the lectern), Mayim Bialik was drafted in as his replacement.
It has since been announced that Bialik and Jennings will share hosting duties for the remainder of the season, before a permanent decision is announced.
California-based Schneider previously told Newsweek that her delay in getting onto the show, thus preventing her from meeting Trebek before his November 2020 death from cancer, proved to be bittersweet.
She said: "It's sad, because I was originally scheduled to be on the show last year, and between COVID and, I assume, [Trebek]s] poor health, I was down there and they said, 'We'll have to reschedule. We'll get you back on.'
"It was really disappointing not to get a chance to be on the show with Alex. It was a bummer, but things happen for a reason. And I don't know that I'd have done as well last fall compared to now.
"I think for one thing, my girlfriend is much more into popular culture, so I feel like she's given me at least a little bit more knowledge in that category. And I've had such a great time."