Amy Schneider 'Overwhelmed' by Reaction to Her $1M Win on 'Jeopardy!'
Amy Schneider has described her record-breaking run on Jeopardy! as a "life-changing experience," after she became only the fourth person to earn more than $1 million on the show.
Schneider had already made history as the first transgender person to place in the show's Tournament of Champions and has the record for most consecutive wins by a woman.
During Friday's episode, Schneider extended her winning streak to 28 games, earning $42,200 which brings her total winnings to $1,019,600.
After her latest win, she said, "it feels amazing, it feels strange," adding that it was "not a sum of money I ever anticipated would be associated with my name."
Afterward the latest show aired on Friday, she tweeted: "I just want to acknowledge how overwhelmed I am by the things being written about me, and about what this run means.
"This has been a life-changing experience, thank you all so so much for your kindness and support."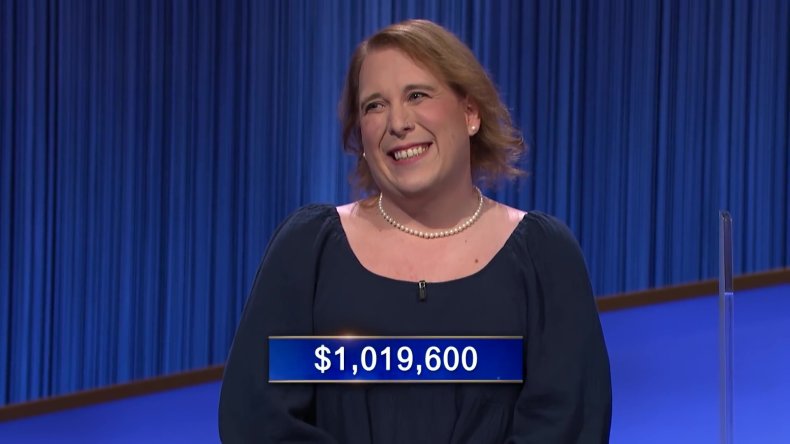 Her quick-fire answers and sharp intellect have won her many fans on the syndicated show, and her popularity has been considered a boost for the LGBTQ+ community.
The Washington Post described her as "one of the most famous trans women in America," and noted social media users have reported that older relatives have become more open-minded about trans people after watching her.
In an editorial, the paper said she "didn't ask to become a trans icon" and just "wants to be judged for her talents, just like everyone else."
During her incredible run on the show, Schneider has also faced critics on social media.
Schneider, an engineering manager, teased those critics in a New Year's Eve 2021 tweet.
"I'd like to thank all the people who have taken the time, during this busy holiday season, to reach out and explain to me that, actually, I'm a man," she wrote evidently with sarcasm.
"Every single one of you is the first person ever to make that very clever point, which had never once before crossed my mind."
In November Schneider also wrote: "I don't actually think about being trans all that often," describing it as an "important" but at the same "relatively minor" part of who she is.
"I also didn't want it to seem as if it was some kind of shameful secret," she tweeted, adding that "while it's gratifying to know that people didn't necessarily know I was trans until they read about it, I do want people to know that aspect of me."
Before Christmas, former Jeopardy! champion Larissa Kelly praised Schneider when she overtook her to become the highest earning female contestant, tweeting, she had "set new standards for excellence, on the show and off."
Schneider's record of success now only trails that Matt Amodio, who won $1,518,601 over 38 games, James Holzhauer, who got $2,462,216 after 32 victories, and Ken Jennings, who earned him $2,520,700 over 74 games.
Earlier this month, Schneider revealed that she had been robbed at gunpoint in Oakland, California, where she lives in an incident in which she lost her phone and credit cards.