Amy Schneider Reveals She Tried To Get on 'Jeopardy!' for Over a Decade
Jeopardy! champ Amy Schneider's time on the show was a long time coming as she had tried to get on the show multiple times for over a decade.
The engineering manager, who resides in Oakland, California, enjoyed a momentous win during last Wednesday's installment of the hit quiz show, when she became the new champ during Trans Awareness Week.
After sealing her third consecutive victory—and boosting her winnings to $110,200—on Friday night's episode, Schneider revealed to Newsweek that her attempts to compete on Jeopardy! date all the way back to the aughts.
"I'm not sure quite how long [ago I first applied], but I remember trying out when I still lived in Ohio, and I've lived in Oakland since 2009, so it has to have been at least that amount of time."
Of the factors that may have affected why she was initially unsuccessful in her attempts, Schneider conceded that "a few things" were at play, explaining: "One is that when you take the first online test, no matter how good you do it's a random chance whether they look at you to go any further. So that's part of it.
"The reality is that for the first few years of that, when I was trying out, I was, as far as any of us knew, a standard white guy. And there's just more competition for those slots on Jeopardy!
"They're making a TV show, they don't want everybody to look the same, and looked a lot like many of the other contestants, and I think that definitely made it a little tougher for me at that time. I would have got on eventually—I was never gonna stop trying!"
Her determination to make it onto the syndicated show proved to be successful, not least because she currently sits just two wins away from qualifying for the "Tournament of Champions."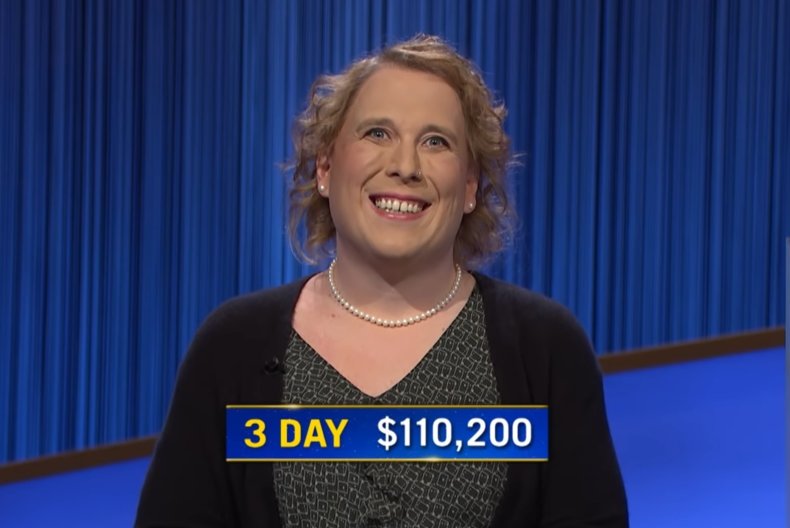 "It is strange, I have to say," Schneider noted of her televised quiz run, which she branded "really cool" for falling in the midst of Trans Awareness Week. "Three wins isn't outside of the realm of what I thought was possible, but just seeing it actually happen on TV is such a strange feeling. It's so bizarre."
On winning her debut episode, in which she defeated five-time champ Andrew He, Schneider took to her Twitter account where she shares detailed analyses of each Jeopardy! game, and the University of Dayton grad paid homage to another contestant.
"FYI, I am not the first out trans person to appear on Jeopardy (a few friends have asked)," wrote Schneider, who observes June 30, 2017, as the date she started openly living as herself. "There have been a handful before, including one, Kate Freeman, who was the first out trans champion on 12/16/20. My thanks to all of them for blazing the trail!"
Still, she has been revered as a trailblazer herself on Twitter, with many praising the positive visibility that her run on the show has provided—a factor that "feels really good" to an affable Schneider.
Inspirational Figures
"I know that in my life, [it's great] to see trans women out there, not being the sort of freaks or prostitutes, or other things that until only a few years ago was all you ever saw them as," she said. "So as that changed, as I've been able to see them in other contexts—as the human beings that they are—that's been really important for me. And so I'm just really glad to be able to do that same thing for other people."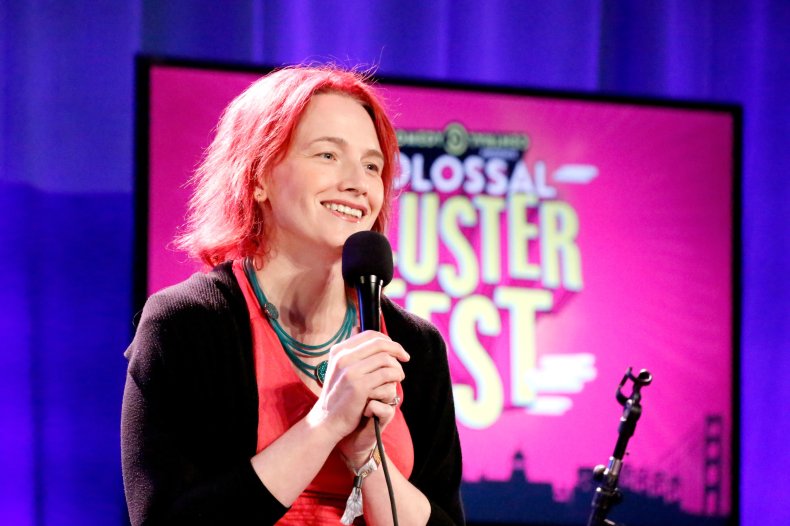 While she has become an inspiration to so many, who did Schneider look up to? "Some of them were the sort of people, like Laverne Cox, who were inspirational to a lot of people," she said, before adding that one figure "really specifically" in her life is "a great comedian called Natasha Muse who I got to know a bit and was just a fun, great person and a trans woman.
"Seeing her as a woman who was smart, who was funny, and also just a normal person with a wife and kid, that was one of the first people I knew in person that made me really understand what it actually meant to be trans, which is just being your own person."
Computer Connection
It's worth noting that all-time Jeopardy! champ Ken Jennings, who is currently hosting the show, studied computer science at university, much like Schneider. Second-placed Matt Amodio is studying for a Ph.D. in artificial intelligence at Yale.
Could there be a connection with that area of study and Jeopardy! greatness? "I hadn't really thought about it," admits Schneider.
After mulling how it might apply, she said: "I've always said about what I do is translate. I translate between computer and human. I think to be good at that you have to have a sort of mindset that's curious and interested in looking at things from a lot of different angles and all that sort of thing, which I think is likely to make you somebody that's kind of got a wide range of interests."
Budding contestants hoping to emulate Schneider's success on the show may be disappointed to learn that she doesn't employ much of a strategy while playing (save for tackling her weaker categories—such as popular music and celebrity relationships—first, so that she isn't gambling a large amount if she uncovers a Daily Double).
However, there is one past champ whose style of play she has avoided. "The Matt Amodio thing of answering with the minimum information possible... Obviously, it worked for him, but I think it's misleading," she said. "Most people's brains, that's not how they work.
"When I think of Scarlett Johansson, I don't think of the words Scarlett and Johansson separately. I just think of her name. So it's actually, to me, more work for my brain to chip off the Scarlett in that little unit of knowledge."
Career Plans
That said, Schneider, who has a background in stand-up comedy, could well become a pop culture Jeopardy! clue at some point in the future as she considers a new career direction in light of the exposure the show has given her.
"My kind of feeling is that I don't really know what opportunities might come out of this, and so I'm sort of gonna play it by ear," she said. "But is something that I'm definitely keeping in mind.
"I overheard Ken Jennings, when he was doing interviews, say that he was a computer programmer, didn't really know what to do with his life and now he's a professional former TV show contestant.
"So if things go well enough, maybe there's something to do there. Maybe something on TV or something, or maybe writing a book. Who knows what it might be. But it's definitely something I'm keeping an open mind about [it.]"
Embracing Fame
A fiercely proud native of Dayton, Ohio ("the actual home of aviation! Kitty Hawk was just windy—the Wright brothers were from Dayton!"), Schneider is enjoying the local celebrity status her Jeopardy! run has afforded her.
"My phone has been nonstop," she revealed. "My family and close friends, we had a watch party for the first episode, 10-12 people. But beyond that the thing that's been great is all the people that I haven't talked to in decades, perhaps, that have been reaching out. A lot of people from high school that I'd kind of reconnected with a little bit. That's one thing that has been really gratifying about [it]."
Beyond that realm, please don't be offended if you count yourself among her more than 2,000 (and growing) Twitter followers, but have yet to receive a response.
"I never had a Twitter with however many followers [before]," she told Newsweek. "I just had to turn off the notifications on my phone because it wouldn't stop buzzing! I wish that I could engage a little bit more with the people who are on there, but I just don't have the bandwidth to do that. I've still got my job and other stuff!"
Schneider will be seen vying for her fourth Jeopardy! win on Monday night.