Amy Schumer and Emily Ratajkowski Among Hundreds Arrested Over Kavanaugh Protest at Senate Building
Comedian Amy Schumer and model-actress Emily Ratajkowski were among the more than 300 people arrested during protests against Supreme Court nominee Brett Kavanaugh near the U.S. Capitol in Washington, D.C.
Hundreds of demonstrators were detained after they stormed the Hart Senate Office Building, which is across the road from the Capitol Building, where they staged a sit-in to protest the potential confirmation of the judge to the highest bench in the U.S. ahead of a crucial Senate vote today.
U.S. Capitol Police said in a statement that 293 people were arrested and charged with crowding, obstructing or incommoding during the protest at the Hart Senate Office Building, with nine others charged with the same offense following a demonstration on the fourth floor of the Dirksen Senate Office Building.
"The individuals arrested are being processed on site and released," the statement said, reported The Hill. "At this time, we are unable to confirm the names of those arrested due to the large number being processed."
Kavanaugh had faced a series of sexual misconduct allegations, including claims that he sexually assaulted Christine Blasey Ford in 1982 and was present at parties where girls' drinks were spiked so they could be "gang raped." He denied all the accusations against him.
Video shared on social media shows U.S. Capitol Police approaching Schumer while she was inside the Hart Senate Office Building as hundreds of protesters chaned and waved placards reading "Kavanaugh Lies" and "Trust Women." The officers asked the 37-year-old if she wanted to be arrested, to which she replied "yes."
Ratajkowski, who appeared alongside Schumer in the movie I Feel Pretty, also said she was arrested. "Today I was arrested protesting the Supreme Court nomination of Brett Kavanaugh, a man who has been accused by multiple women of sexual assault," she tweeted. "Men who hurt women can no longer be placed in positions of power."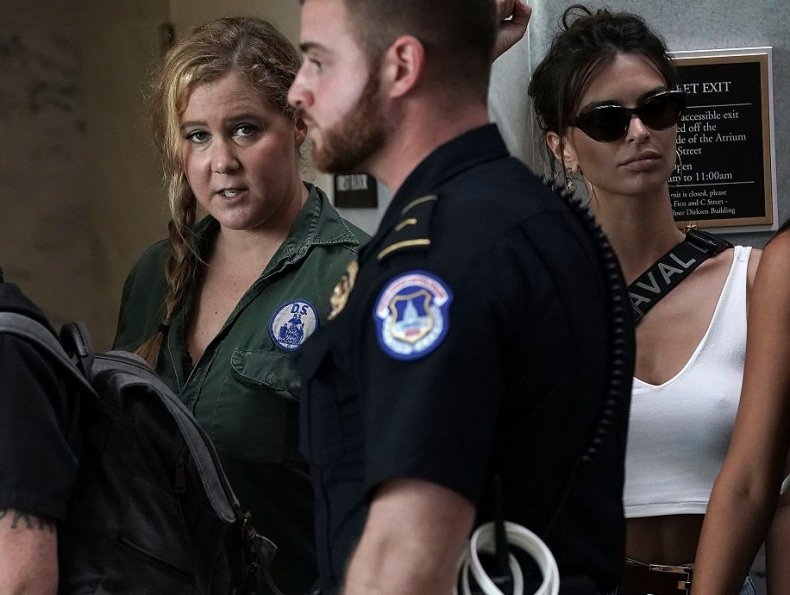 Before the sit-in, Schumer appeared with Ratajkowski to give a rallying cry to the large crowd before the demonstrators stormed the building.
"We're going to keep showing up and no matter how this goes they cannot keep us down," Schumer said, reported Sky News. "We will win. A vote for Kavanaugh is a vote saying women don't matter. Let's say it together: let's fight! Let's keep showing up!"
Ahead of the Senate vote on his nomination, Kavanaugh admitted that he "might have been too emotional" during his highly charged Senate Judiciary Committee appearance in which he angrily denied the allegations from Ford.
"I know that my tone was sharp, and I said a few things I should not have said. I hope everyone can understand that I was there as a son, husband and dad," Kavanaugh wrote for The Wall Street Journal. "I testified with five people foremost in my mind; my mom, my dad, my wife, and most of all my daughters."
One copy of the FBI review of the allegations leveled at Kavanaugh was made available for senators to view before the vote. The review has been criticized for its lack of scope, given that neither Kavanaugh, Ford nor accuser Julie Swetnick were not among those interviewed for the investigation.