Watch: Amy Schumer Asks Police to Arrest Her During Brett Kavanaugh Protest at Hart Senate Building
Comedian Amy Schumer was arrested on Thursday while protesting President Donald Trump's Supreme Court nominee Brett Kavanaugh in Washington, D.C. She, along with model Emily Ratajkowski, were among the dozens who were detained at the Hart Senate Office Building on Capitol Hill, MSNBC reported. Hundreds of people attended the protest of Kavanaugh's nomination after he was accused of sexual assault by multiple women. California professor Christine Blasey Ford was the first to make the accusation against him last month.
According to a video posted by Daily Caller reporter Benny Johnson, Schumer said she wanted to be arrested when she was asked by an officer.
"No matter how this goes, they cannot keep us down," Schumer said during the protest, according to Variety. "We will win. A vote for Kavanaugh is a vote saying women don't matter." She did not immediately take to Twitter after being detained. Ratajkowski, however, issued a statement.
"Today I was arrested protesting the Supreme Court nomination of Brett Kavanaugh, a man who has been accused by multiple women of sexual assault," she tweeted. "Men who hurt women can no longer be placed in positions of power."
Thursday's protest wasn't the first time Schumer got political. She's been an active voice in the #MeToo movement and encouraged women to speak out after the accusations against Kavanaugh were levied.
"The best tool we have to #StopKavanaugh is our voices. Two senators have not yet stated their plans to confirm Kavanaugh. We need your voices and stories, Alaska and Maine! Please join me in demanding Senators Collins and Murkowski #HearUsNow," she tweeted September 25.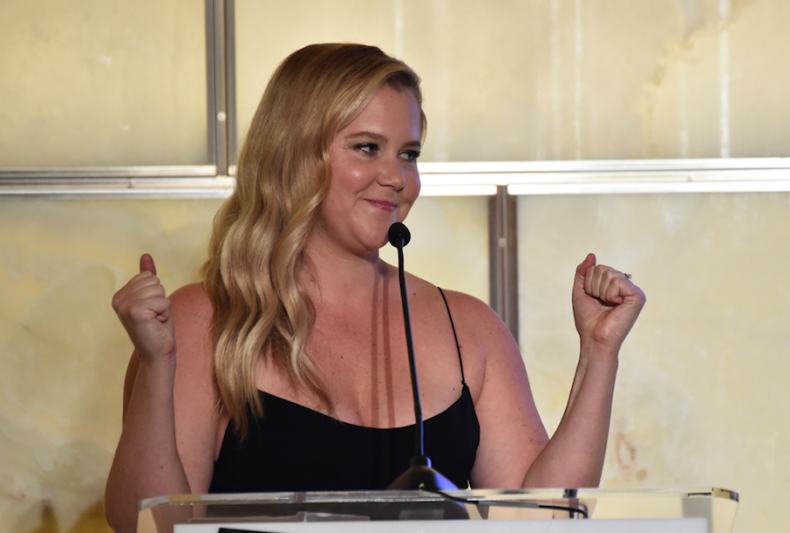 Schumer promoted the protest on September 28. "We #BelieveSurvivors and refuse to accept Brett Kavanaugh as our next Supreme Court Justice. Join us in making our voices heard Friday at noon local time. Find or host an event near you: https://www.cancelkavanaugh.com," she tweeted. "Today, @JeffFlake did the right thing by asking for the FBI to re-open its background investigation into Judge Kavanaugh. Now it's time to make sure ALL GOP senators join his ask, especially @SenatorCollins & @lisamurkowski. TELL THEM!" she added referencing the key Senate voters.