Comedian Amy Schumer recently changed her 11-month-old son's name, because she realized that it sounded like "genital fissure," and in a new interview with Howard Stern, she said that it was not intentional.
Schumer's son, Gene Attell Fischer, was born on May 5, 2019, but she revealed in an episode of her podcast 3 Girls, 1 Keith last week. Her son's name is a tribute to Schumer's friend, comedian Dave Attell, who appeared in Schumer's film Trainwreck and Schumer appeared in his Netflix special Bumping Mics.
Schumer explained that she and her husband, chef Chris Fischer, made the change. "So do you guys know that Gene, our baby's name, is officially changed? It's now Gene David Fischer," the comedian told her co-hosts. "It was Gene Attell Fischer, but we realized that we by accident named our son genital. 'Gene Attell' sounds like 'genital.'"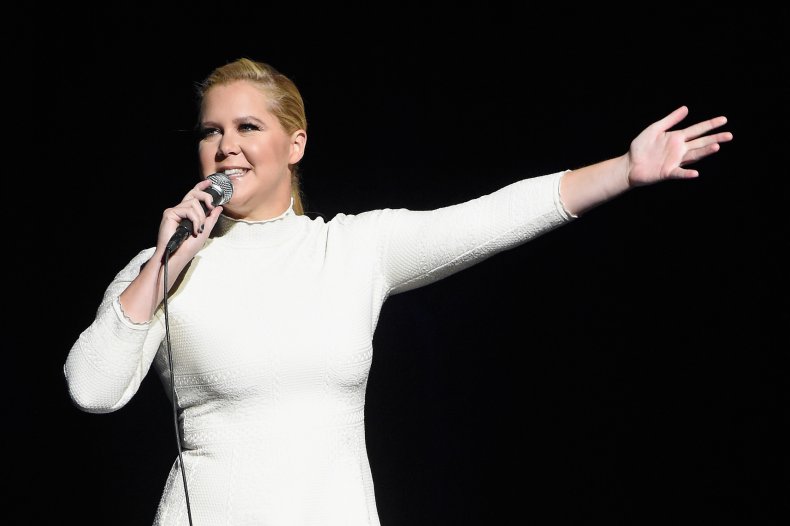 Her co-hosts jumped in to point out the "genital fissure" sound-alike. Her co-host Keith Robinson asked if she'd spoken to Attell about the change, because the comic had been honored that Schumer named her son after him. "His middle name is now David, which is also after Attell, and my dad's middle name is David," she said.
During an appearance on The Howard Stern Show, Schumer brought Fischer onto her webcam to meet Howard Stern and Robin Quivers. Schumer said that she doesn't plan on telling Gene David about his former middle name.
Schumer explained that her husband and her realized their folly about a month into parenthood. The Trainwreck actor and comedian, who's known for raunchy material, said that the sound alike name had never occurred to her. "You're like the new parents, like just kind of tired and in ecstasy, and then, I don't know if some troll on the internet or somebody, and I read it, and I was like, 'Oh my god,'" she said. Despite some people saying that it wasn't a big deal, Schumer compared it to the situation put forward in the song "A Boy Named Sue."
"Everyone's like saying, 'I don't think it's a big deal. I don't think it's a big deal.' I'm like-what are you talking-I Boy Named Sue-d my son," she said.
When Stern said that he assumed that the comic was going for the laugh, she said that it was simply a mistake. "Everybody kind of gave me credit, and I was just like, 'no.' That is just a huge f--k up," she said.