Amy Schumer Impresses in Broadway Debut in Steve Martin's 'Meteor Shower'
Amy Schumer is making an impressive Broadway debut in Meteor Shower, a new comedy by Steve Martin at the Booth Theatre. While some performers haven't made the transition from other forms of entertainment to the stage, Schumer does, in spades. Clearly she is helped by a strong supporting cast and veteran director, Jerry Zaks, whose Hello Dolly! is setting a few box office records just down Shubert Alley.
Related: 'Come From Away,' an uplifting 9/11 musical, opens on Broadway
The plot is a tad messy: Schumer and Jeremy Shamos play Corky and Norm, a vanilla middle-class couple in Ojai, California, expecting guests to come watch a meteor shower. They have terribly polite conversations; and when they happen to cross each other, they take time out to get in touch with their feelings and to be completely honest with each other. It's as if they had been to one too many couples' therapy sessions. Then the guests show up.
Laura, (played by Laura Benanti) and Gerald, (Keegan-Michael Key)—arrive in full designer attire (Corky and Norm are wearing…well…clothes). And they treat party games as if they were blood sport. At times Meteor Shower feels like a mix of Who's Afraid of Virginia Woolf? –this time with the guests as the aggressors—and Eugene Ionesco—with one absurd twist after another. Role-play is played and tables are turned, and we even get a coda at the end that makes sense of everything—sort of.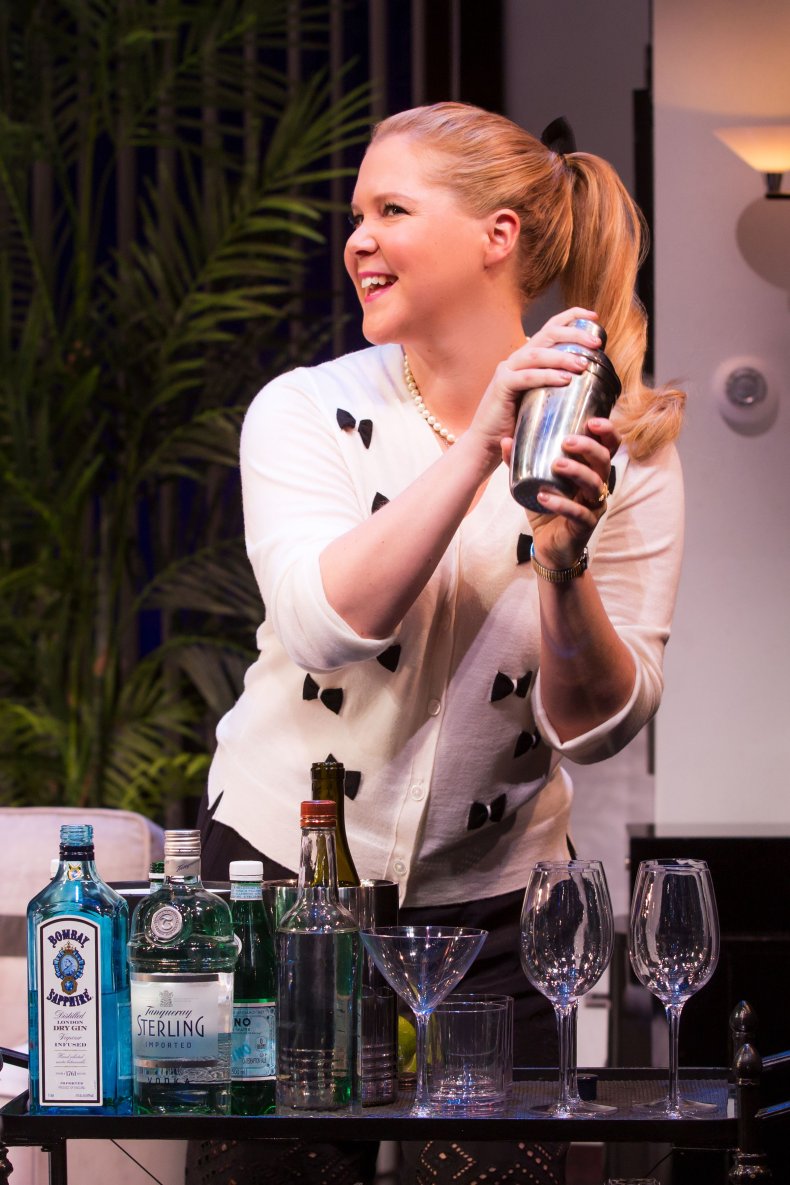 Schumer is a wonderful surprise as Corky. She is always in character and always able to land a comic line. She is equally adept at playing things straight and letting others get laughs. Key seems capable of invading anyone's personal space at any distance. From the minute he comes onstage, he is in full-body man-spread mode. Benanti, who recently played Amalia in She Loves Me at Studio 54, is wonderfully bitchy as Laura. I can't reveal too much here, but she has a seduction scene with Schumer that stopped the show.
Norm is the most level-headed character—everything about him is close to the norm, even his name. Yet he experiences the titular meteor shower in the worst way, and for him it is a life-changing moment.
As I said, the plot is messy. Not all loose ends are tied up, but it is a fun kind of messy. The laughs, and there are plenty, make up for a lot of faults, which makes Meteor Shower, writing- and performance-wise, the funniest show on Broadway.
Meteor Shower is running through January 21, 2018, at the Booth Theatre in New York City.