Amy Schumer Is Writing a Memoir, and Her Advance Could Be Historic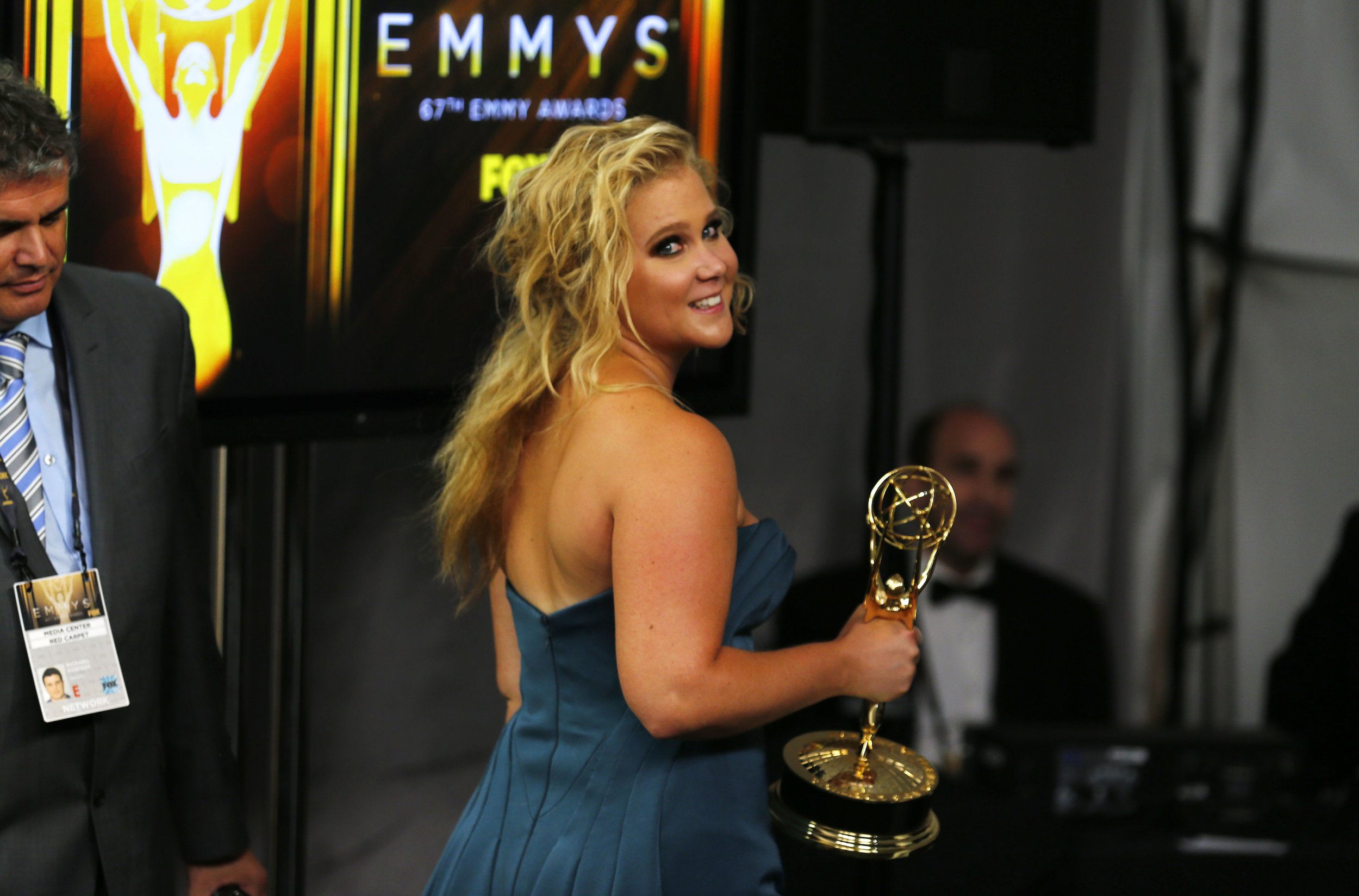 Two days after Amy Schumer won the outstanding variety sketch Emmy for Comedy Central's Inside Amy Schumer, Entertainment Weekly reported that the rights to publish the comedian's memoir had sold at auction for $8 million to $10 million. On Wednesday, a day after the initial report, Schumer announced that Gallery Books, an imprint of Simon and Shuster, was the winning bidder, and that the book would be released late in 2016.
The best part: The book will be titled The Girl With the Lower Back Tattoo.
Gallery Books told the AP that the book will "offer personal and observational stories from Schumer that range from the raunchy to the romantic, the heartfelt to the harrowing." After three seasons of Inside Amy Schumer, this summer's blockbuster romantic comedy, Trainwreck, which she wrote and starred in, and years of stand-up, one might assume Schumer has exhausted all of her autobiographical material. But this is far from the case. "Believe it or not, there's actually more I have to say," she said in a statement released through the publisher.
The exact financial details of Schumer's deal have yet to be released, but if she does receive the reported $8 million to $10 million, it would be an unprecedented sum for a pop culture icon. In 2012, Lena Dunham received a relatively scant $3.7 million to write Not That Kind of Girl for Random House. At the time, this was said to be an exorbitant number. The Huffington Post even published a piece titled, "Why Lena Dunham's Advance Is Not as Crazy as It Seems." Salon called the advance "absurd."
When Tina Fey was at the height of her popularity in 2008—due in part to her spot-on Sarah Palin impression—she received $6 million for Bossypants, which was eventually published in 2011. Little, Brown & Company reportedly paid Keith Richards over $7 million for his bestselling 2010 autobiography, Life. Bill Clinton pulled in $15 million for his 2004 memoir My Life. Other luminaries have drawn figures in the $8 million to $10 million range, but Schumer's pay day could be the most we've seen from someone who didn't lead the free world for eight years.
The high price tag comes as a result of the fail-safe nature of books published by funny, relatable celebrities (see: Dunham, Fey, Amy Poehler, etc.), but the currently surging popularity of books (yes, printed books) shouldn't be underestimated. According to a recent New York Times report, e-book sales are plummeting, while independent book stores are flourishing and publishers like Penguin Random House and HarperCollins are investing in expansion and looking for new ways to keep up with demand. This is all great news for readers concerned that technology might soon render their preferred medium obsolete. It's also great news for beloved celebrities the public can't get enough of who have yet to write a book.