Amy Schumer & 6 Other Celebrities Who Have Used IVF to Start Their Families
Comedian Amy Schumer recently opened up about her experiences with in vitro fertilization in a recent interview with Willie Geist. Other celebrities have spoken about their experiences with IVF in the past.
The Trainwreck actress said that the process was difficult and led her and her husband Chris Fischer to make the decision not have another child, at least not for the foreseeable future. "IVF was really tough on me. I don't think I could ever do IVF again. So I decided that I can't be pregnant ever again. We talked about a surrogate, but I think we're gonna hold off for right now," she said.
In February, Schumer posted an update about IVF on her Instagram. She said that she and her husband had one normal embryo from 26 eggs that were fertilized after 35 eggs were retrieved from Schumer. "We feel lucky we got 1," she wrote.
Schumer and Fischer currently have a one year old, Gene David Fischer. Schumer shared updates on that pregnancy throughout, According to the BBC, she was diagnosed with hyperemesis gravidarum, a more intense form of morning sickness. The diagnosis forced the comedian to cancel a number of tour dates.
Schumer's publicist did not respond to Newsweek's emailed request for comment in time for publication.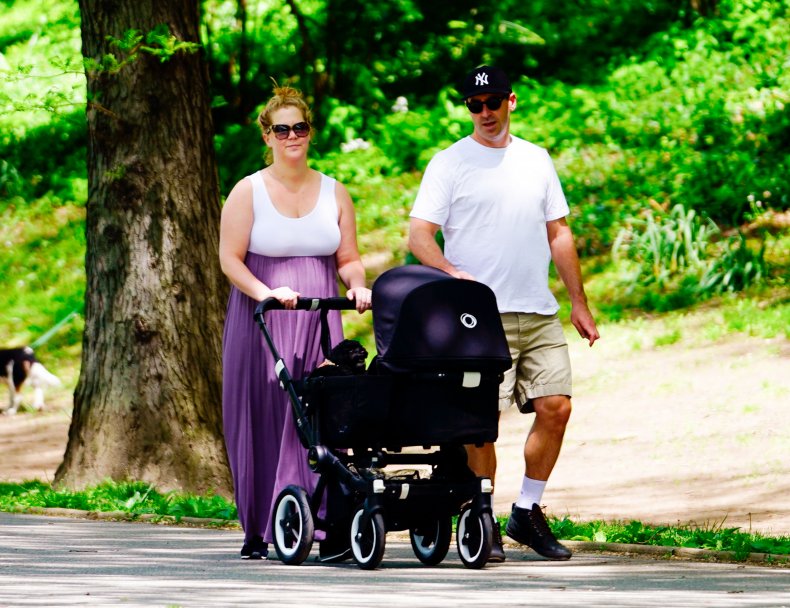 IVF has long been used by celebrities to assist them getting pregnant.
Courtney Cox
The Friends star spoke about her decision to do IVF after learning that she had antibodies that wouldn't let her maintain a pregnancy. She told Dateline that she did in vitro along with shots of heparin and baby aspirin in 2004. She gave birth to a daughter later that year.
Celine Dion
Dion went through several rounds of IVF both for her first child and twins, born a decade later. The "My Heart Will Go On" singer has opened up about her experiences with IVF several times, including in an interview on The Oprah Winfrey Show and Doctor Oz. "For me, it was not hard at all. It was not painful either," she said. "Can I block the pain? That I want it so much that I gave myself the shots."
Tyra Banks
The America's Next Top Model host spoke about her "emotional" experiences with IVF in an interview with People. She said that she and a former boyfriend had used IVF and failed to conceive. This led her to explore surrogacy, the mode through which she eventually had her son.

Chrissy Teigen
Teigen explained issues that she and singer-songwriter John Legend faced conceiving. "John and I were having trouble. We would have had kids five, six years ago, if it happened, but my gosh, it's been a process. We've seen fertility doctors," she said in an appearance on FABLife. In an interview with People, Teigen revealed that she and Legend had picked their first baby's sex.
Deborra-Lee Furness
The Australian actress' husband Hugh Jackman spoke about the couple's experiences with IVF in an interview with Good Housekeeping. The Les Misérables actor said that his wife had miscarried twice, while trying IVF. "You know how precarious it is and how much she's been through to get there. And [miscarriage] is a massive letdown. It's really difficult—and much harder for the woman," he said.
Brooke Shields
After trying artificial insemination at 36, Shields gave IVF a try. After miscarrying on her round, the Blue Lagoon actress toldFertility Today that she went through multiple courses of IVF to no avail, but the last one she was willing to try ended up working out for her. "I was about ready to call it quits. I was growing weary of the anticipation and the pressure, and Chris said he wasn't sure he could handle seeing me rip off another estrogen patch in frustration...at wit's end, we decided to try one more time," she told Fertility Today. Since going through the IVF treatment, Shields and her husband Chris Henchy have two daughters.