Amy Sherman-Palladino on 'The Marvelous Mrs. Maisel' Season 2 and the Latest on More 'Gilmore Girls' at Netflix
Fresh from its success at the Golden Globes in January, production on the second season of Amazon's new hit show The Marvelous Mrs. Maisel is already underway—in Paris.
That's right, Midge—played by newly-minted Golden Globe winner Rachel Brosnahan—and her parents Abe (Tony Shalhoub) and Rose Weissman (Marin Hinkle) are swapping their well-to-do Upper West Side apartment in New York City for a little French hospitality when Season 2 debuts later in 2018.
Newsweek visited the set of Mrs. Maisel's in Paris March 20, where we coaxed some gossip out of show creators Amy Sherman-Palladino and Daniel Palladino—and, yes, asked about more Gilmore Girls.
Why the Golden Globes was bittersweet
Mrs. Maisel's win for best comedy series and best actress in a comedy at the Globes in January was a big feat for the fledgling Amazon show. It also marked a level of validation for the Palladinos, whose earlier hit, Gilmore Girls, was perennially snubbed by the major awards shows.
In fact, Sherman-Palladino is still smarting over one snub in particular.
"Lauren Graham—what happened?" asked Sherman-Palladino. "The best thing [about winning] is that it's for everybody. The next time I make them run around at four o'clock in the morning in the freezing [cold], I'm like, 'But the Golden Globe, remember?' It's nice. I still think Lauren Graham deserves an award."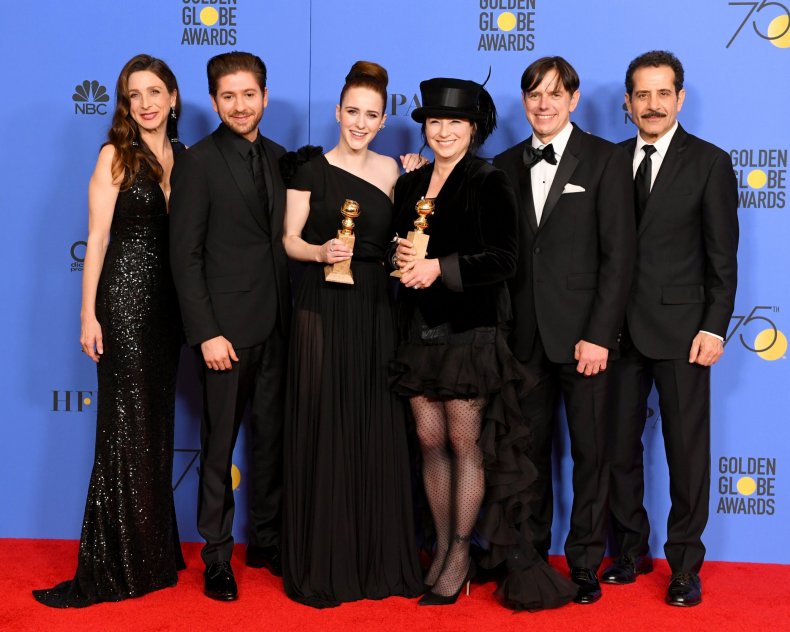 Why is Midge in Paris?
Mrs. Maisel's second season premiere will be set in Paris. But what brings Midge and company to the French capital?
You'll recall in the first season the tease that Midge's mother, Rose, is something of a Francophile, having visited and fallen in love with France as a young woman. That thread will be tugged on in the episode.
"One of our characters, Rose, went to school in Paris," said Palladino. "We didn't intend to shoot in Paris when we put that into the script. It just kind of made sense that she would wind up there at some point."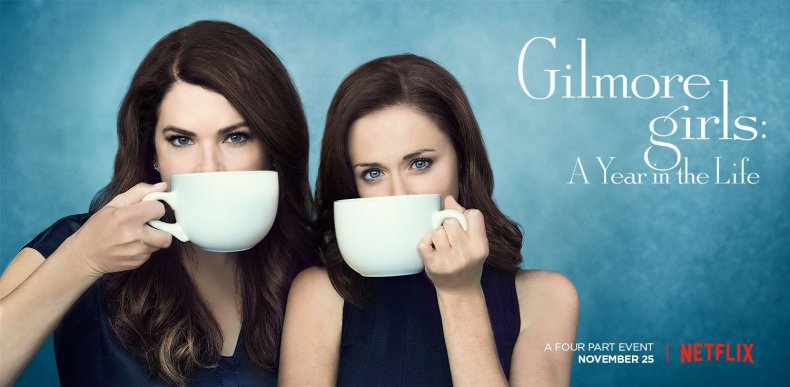 Will Netflix revisit Stars Hollow?
Now that the Palladinos are Golden Globe winners, has Netflix come calling about locking down another season of Gilmore Girls?
The streaming service revived the hit teen dramedy for four feature-length episodes in 2016, written by the Palladinos. Last year, the show creators told Newsweek that they had not spoken to Netflix about doing more episodes.
Has anything changed now that Mrs. Maisel is an award-winning hit?
"We sort of laid it out to everybody that if the time ever comes where [lead actors] Lauren Graham, Alexis Bledel, Kelly Bishop and us are in a bar together and we look at each other and feel like that's the moment, absolutely, we'd do it," said Sherman-Palladino.
"Netflix has made it very clear they would love it," she added. "We're all open to it. But there's no reason to do it just to do it. It has to be the right moment, the right story, the right format. We wouldn't want to do the same [four-episode format]. We're very tight with Lauren, Alexis and Kelly, so the communication is there."
The Marvelous Mrs. Maisel Season 2 premieres on Amazon Prime Video later this year.