Amy Winehouse's Signature Items to Be Displayed and Auctioned
For the first time ever, an exhibit of items owned and worn by late singing sensation Amy Winehouse will be featured at the Grammy Museum in Los Angeles with a four-month run from January 17 through April 13, 2020, prior to an auction the following year.
As the Associated Press reported Thursday, a collection of Winehouse's iconic outfits never-before-seen handwritten lyrics, home videos and journal entries will be taken from her family's estate for the exhibit titled "Beyond Black—The Style of Amy Winehouse."
Following its residency in Los Angeles, the exhibit will have similar tenures at museums in Chile, London and Ireland before those items end up on the auction block of Beverly Hills-based merchants Julien's Auctions in November 2021, according to Rolling Stone.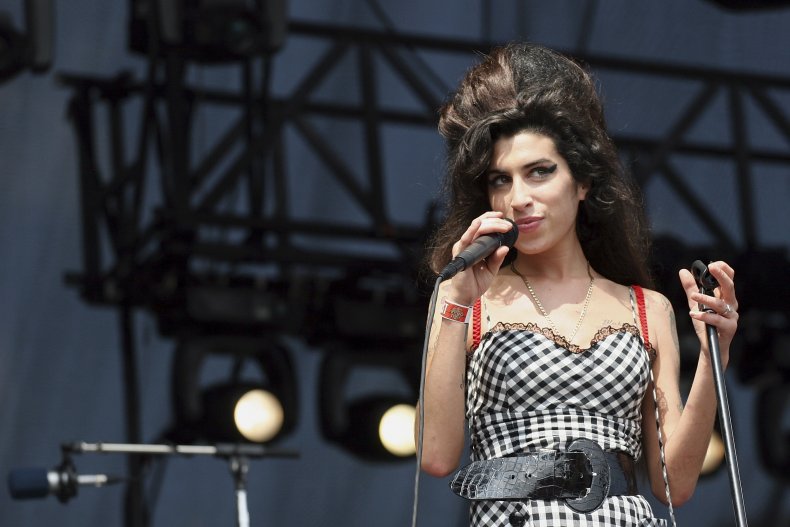 "Amy Winehouse is one of the rare and remarkable music icons whose incredible power and soulful expression in every word and note she sang with her distinct voice remains unmatched by no other artist in music history," Martin Nolan, Executive Director of Julien's Auctions, said in a statement. "We celebrate her singular talent and iconoclastic style in this collection of her most personal artifacts and wardrobe worn in her career defining moments."
In a press release, the auction house also noted that the items up for grabs would include the Back to Black vocalist's "mini-dresses, bustiers, scarves and accessories by designers Miu Miu, Fred Perry, Dolce & Gabbana, Moschino, Giorgio Armani, Hermes, Calvin Klein" and others.
Winehouse, who catapulted to international fame with the release of the 2006 hit "Rehab," was known for a retro-bohemian style complete with her signature beehive, a hair style popularized in the 1960s.
"Amy always credited my mother, her grandmother Cynthia, as a major influence, both stylistically — as she taught her the importance of grooming and having a look — and musically," her father, Mitch Winehouse said in a statement.
He continued: "She liked to call me a 'cab-driving Sinatra,' and her mother's side of the family were also musicians. Amy not only brought her gift of music to the world, but also her fashion. We're eager for people to see her bold, beautiful spirit through all forms of her creativity."
The singer's stylist, Naomi Parry, also weighed in: "She had a clear vision of who she was and what she wanted the world to see. "Working with Amy was one of my most satisfying and creative times in my career. I'm excited for the world to finally see the looks we created for what would have been her 2011 summer festival tour."
Winehouse died of accidental alcohol poisoning on July 23, 2011 at the age of 27. Over the course of career the singer-songwriter released two albums, Frank and Back to Black, earning five Grammys for the latter in 2008.
The Associated Press noted that proceeds from the auction, to take place on November 6 and 7 in 2021, will go toward the Amy Winehouse Foundation, a youth-oriented organization set up by the singer's family in September 2011 to combat the harmful effects of substance abuse.