Ana de Armas' Marilyn Monroe Accent in 'Blonde' Trailer Sparks Debate
Many actresses have played Marilyn Monroe on screen and now Cuban and Spanish star Ana de Armas is set to star as the late icon in the new film Blonde.
The full trailer for the Netflix feature film was released this week and it finally shows de Armas' Monroe in action, recreating some of her iconic looks and quotes.
However, the promo has also sparked a debate around de Armas' accent, with many viewers taking to social media to say they can hear her Cuban/Spanish accent coming through.
While some have been critical of this element of the movie, others are in favor of it and are praising de Armas' portrayal of the sexual and cultural icon.
Fashion watchdog Instagram account Diet Prada asked its followers: "Had to do a double (and triple) take at some of these clips from the new 'Blonde' trailer... like is that really Ana de Armas? Also, what do the haters who said her Cuban accent would be an issue have to say now?"
To which, one response from Instagram user Jessie Gurunathan reads: "You can still totally hear an accent but who cares. She is going to be amazing in this. Such a god actress and boy does she look and behave like her."
While another added: "I love that we are normalizing having actors from different backgrounds and cultures playing these roles. Everyone loved Marylin, all around the world. Why would we expect only American women to want to play her? She was an icon to all."
Meanwhile, on Twitter, one person posted: "They rly made that whole ass Marilyn Monroe movie and didn't hire Ana De Armas an accent coach."
While another added: "it looks good with no sound on. but ana de armas accent comes through so much for me it's off putting. a bit disappointed as it looks good besides that."
Another response said: "everyone seems fixated on ana de armas' accent in BLONDE but i think that only makes the film more interesting; it emphasizes the inherent artifice in biopics (and in acting overall), which imo is appropriate in a work seemingly dedicated to exploring artifice versus reality."
The movie has now been given a release date of Friday, September 28, 2022. This comes after nearly a decade of the project being stuck in development hell.
Ana de Armas leads a cast that also includes Adrian Brody, Bobby Canavale and Julianne Nicholson.
Previously actors such as Jessica Chastain and Naomi Watts were among those formerly attached to play the movie icon.
Blonde is based on the novel of the same name by Joyce Carol Oates and de Armas revealed earlier this year that she studied the book in preparation.
"I read Joyce's novel, studied hundreds of photographs, videos, audio recordings, films—anything I could get my hands on," de Armas told Netflix Queue.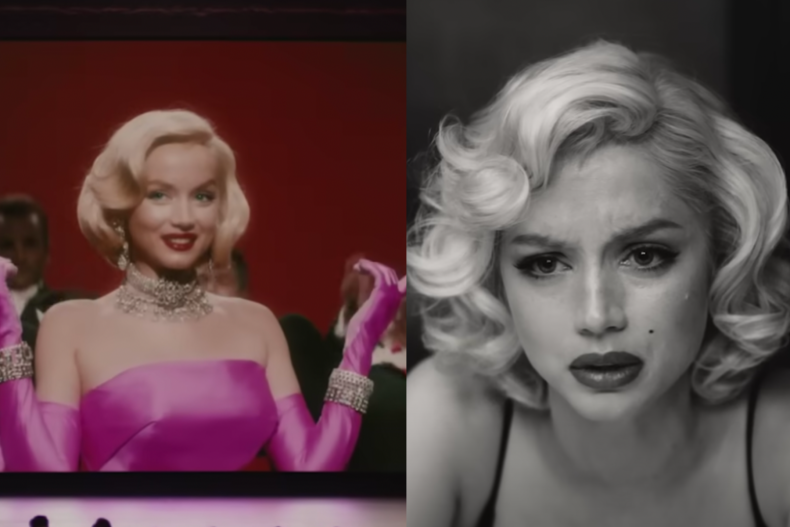 "Every scene is inspired by an existing photograph. We'd pore over every detail in the photo and debate what was happening in it," she said. "The first question was always, 'What was Norma Jeane feeling here?' We wanted to tell the human side of her story."
The official Netflix synopsis for Blonde reads: "Based on the bestselling novel by Joyce Carol Oates, Blonde boldly reimagines the life of one of Hollywood's most enduring icons, Marilyn Monroe. From her volatile childhood as Norma Jeane, through her rise to stardom and romantic entanglements, Blonde blurs the lines of fact and fiction to explore the widening split between her public and private selves."