CNN Commentator Roasts Eric Trump For Attacking Kellyanne Conway's Husband: "Your Father Cheated on Your Mom"
Political commentator Ana Navarro roasted Eric Trump on CNN today, after the President Donald Trump's son launched an attack on White House spokesperson Kellyanne Conway's husband for disagreeing politically with his wife.
On Monday, Trump's middle son took to Twitter to publically lambast George Conway, saying that his public criticisms of the president show his "utter disrespect" towards Kellyanne, who works for the Trump administration.
"Of all the ugliness in politics, the utter disrespect George Conway shows toward his wife, her career, place of work, and everything she has fought SO hard to achieve, might top them all. @KellyannePolls is great person and frankly his actions are horrible," Eric Trump tweeted.
During a segment on CNN Tuesday, Navarro defended George Conway and reminded Eric Trump that his father, whom he supports, has also shown disrespect for "every one of his three wives."
"Your father is Donald Trump, who cheated on every one of his three wives, including your mom. Who cheated on his current wife with a Playboy bunny, and cheated on the Playboy bunny with a stripper," she said. "Maybe, just maybe, talking about husbands being disrespectful to wives is not the alley, is not the one that you should be taking on."
"I can tell you it seems to me that George Conway has great respect for justice, for the truth, for the Constitution, the rule of law, for the role of the presidency, for the integrity of judicial proceedings, for the independence of the judicial branch," Navarro added. "For that, I think a lot of Americans respect him."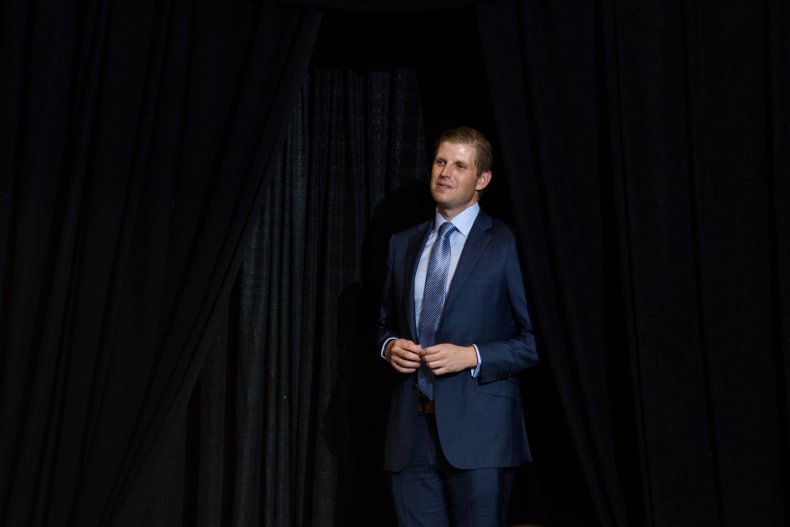 George Conway also fired back at Eric Trump on Tuesday by retweeting a post that references the president's alleged affair with adult film star Stormy Daniels.
"Wait. Did I miss something? Did George Conway pay money to have sex with a porn star right after his wife gave birth?" Reza Aslan tweeted.
Watch the CNN segment below: