Ana Navarro Insists Whoopi Goldberg Is Not an Anti-Semite Amid Furor
Ana Navarro has spoken out in defense of The View co-host Whoopi Goldberg, insisting she is not an anti-Semite after saying the Holocaust was not about race.
Goldberg, 66, sparked an uproar when she said during Monday's installment of the ABC daytime talk show that the Holocaust—during which 6 million Jews were murdered in the 1940s by the Nazis, who declared themselves to be a part of a superior "Aryan" race—was about "two groups of white people" rather than racism.
While the actress and TV personality later apologized for her comments, it was announced by ABC News President Kim Godwin on Tuesday that she had been placed on a two-week suspension from the show "to take time to reflect and learn about the impact of her comments."
While regular The View guest co-host Navarro challenged Goldberg's comments on the show, she is defending the Oscar-winning Ghost star's character.
Speaking to CNN, where she serves as a political commentator, Navarro said that she and her colleagues on The View "know what's in [Goldberg's] heart," adding that the she is "not an anti-Semite."
"When you have five women, discussing complex topics, in five-minute segments on unscripted, live TV, sometimes things come out the wrong way," Navarro said. "We are human and make mistakes. The difference between us and others is, we acknowledge it and try to correct it. Whoopi clarified and apologized without caveats."
Goldberg was also defended by former The View co-host Michelle Collins, who appeared on the show between 2015 and 2016.
Speaking on SiriusXM's The Michelle Collins Show, Collins, who is Jewish, said, per Entertainment Tonight: "When I was on that show, Whoopi Goldberg was one of the most supportive, nicest, people there to me.
"I know Whoopi fairly well. I know her family. I adore her. I look up to her. She's literally one of the icons of a generation. Whoopi is not only brilliantly smart, brilliantly talented, hilarious, but very loving and very lovely."
She said of Goldberg: "I know she's not an anti-Semite. She is someone who actually really appreciates other cultures and really learns about them."
Collins went on: "This language really is important. I think Whoopi knows that... Maybe this was a mistake. Maybe she really felt this way and is now seeing the other side."
While she defended Goldberg's character, Collins pointed out that she disagrees with the statement made by Goldberg, who has been on The View since 2007.
"I'm not defending what she said," Collins stated. "I don't agree with it. I think it's a learning moment. We should all learn about our brothers and sisters here on planet Earth, not just Jewish people, everybody, but also try to eradicate the hate that makes that sentence that Whoopi said sort of almost innocently so dangerous.
"That's the thing... [Whoopi's] not an evil person. But by putting that line out there, you make people who may have evil intentions stronger. That's what scares me."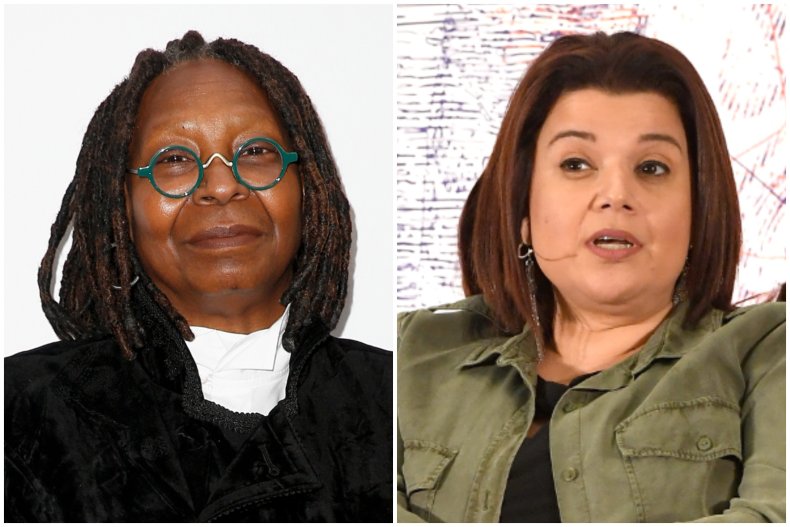 "I love Whoopi Goldberg," Collins concluded. "I'll end on that. Let's just please start thinking clearly. She apologized for what she said. I felt the apology was sincere. I know it was because she's not someone who would ever want to hurt the Jewish community."
Goldberg made the Holocaust comments as The View's panel discussed a Tennessee school board's recent decision to ban the Pulitzer Prize-winning graphic novel Maus, which is about the Holocaust. Nudity and profanity were cited by the board as the reasons for the ban.
Reacting to the news, Goldberg said: "I'm surprised that's what made you uncomfortable, the fact that there was some nudity. I mean, it's about the Holocaust, the killing of 6 million people, but that didn't bother you? If you're going to do this, then let's be truthful about it. Because the Holocaust isn't about race. No, it's not about race."
Continuing her train of thought, she said that the Holocaust was "about man's inhumanity to other man."
When Navarro countered that the Holocaust was about white supremacy, Goldberg responded: "But these are two white groups of people."
Co-host Sara Haines pointed out that the Nazis didn't see Jewish people as white, prompting Goldberg to say: "But you're missing the point! The minute you turn it into race, it goes down this alley. Let's talk about it for what it is. It's how people treat each other. It's a problem."
Goldberg later issued an apology on Twitter that read: "On today's show, I said the Holocaust 'is not about race, but about man's inhumanity to man.' I should have said it is about both.
"As Jonathan Greenblatt from the Anti-Defamation League shared, 'The Holocaust was about the Nazi's systematic annihilation of the Jewish people—who they deemed to be an inferior race' I stand corrected.
"The Jewish people around the world have always had my support and that will never waiver. I'm sorry for the hurt I have caused.
"Written with my sincerest apologies, Whoopi Goldberg."