What Is the Analogue Pocket? Specs, Price and Where To Buy
The Analogue Pocket gives you an easy and intuitive way to play your old Nintendo Game Boy cartridges.
If you are not familiar with Analogue, the company itself was founded in 2011 and has become a major name within the realm of gaming preservation. The company manufacture modernized equivalents of older consoles that can still support retro cartridges. While its products let enthusiasts take a trip through the past, it also simultaneously benefits from present-day conveniences like HDMI outputs, Bluetooth connectivity and SD card ports.
The company's latest offering is the Analogue Pocket, a handheld device that is capable of playing cartridges from the original Game Boy, the Game Boy Color and the Game Boy Advance. With extra adapters, you can also get it to play titles from Sega's Game Gear, the Neo Geo Pocket, and the Atari Lynx.
Speaking to Newsweek about the significance of this, Nintendo expert "Marionova" (who co-runs the Forest of Illusion gaming preservation group) said: "I think it's excellent that it gives an alternative way to play the giant Game Boy library. In the future Game Boys will become increasingly harder to find, so it's really amazing that you're able to just pop one of your old cartridges into an Analogue Pocket and just start playing".
Analogue Pocket Technical Specs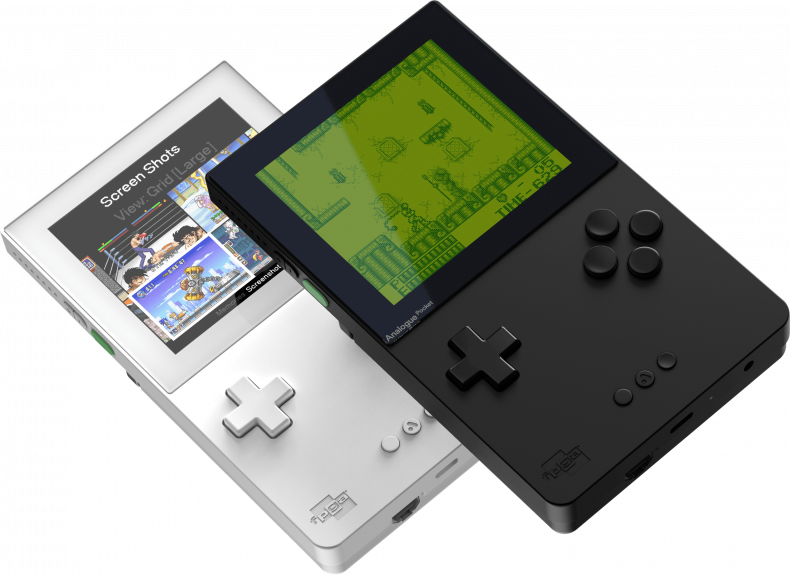 Before you commit to ordering an Analogue Pocket, you might want to know a bit more about its technical specs.
Out of the box, it can run Game Boy, Game Boy Color and Game Boy advance cartridges. If you pick up the relevant adapters (that are each sold separately) then you can also get it to play Game Gear releases, as well as those for the Neo Geo Pocket Color and the Atari Lynx. Support for other types of cartridges is also promised for the future.
In terms of controls, the layout mostly takes after the original Game Boy, but there are additional buttons that make it better suited to playing titles from the newer systems as well. The unit has a 3.5 mm output for headphones, Bluetooth support for using wireless controllers, a link-cable connector that's perfect for multiplayer sessions, a micro-SD card slot and a 16000x1400 LCD screen.
On that note, the various Game Boy systems did not have identical display resolutions, aspect ratios or color information. To accommodate these format differences, the Analogue Pocket has a series of filters that you can activate to better simulate the look of the original screens, so that whatever you are playing looks as it was originally intended to look.
Courtesy of the Analogue website, the official specs are as follows:
1080p HDMI output
Bluetooth & 2.4g support for wireless controllers
2 USB inputs for wired controllers
Up to 4 player support (4p Bluetooth, 2p 2.4g, 2p wired USB)
DAC compatible
Power Dock on from controller
Analogue Pocket Price and Where to Buy
At the moment, your best bet for getting a hold of the Analogue Pocket is to buy one from the hardware manufacturer itself, as all of the usual retailers like Amazon and GameStop do not have any supplies yet.
Even if you do visit the Analogue website, you are still likely to encounter difficulties, as the company is only taking preorders in intermittent bursts (Similar to how Valve is rolling out the Steam Deck). Those who managed to make a purchase from the initial launch batch — which went live on December 14 — will have their units shipped to them sometime in Q1 of 2022.
It's unknown when the next restock will occur, but this could likely end up being just as competitive (if not even worse due to the lack of supplies) than the PS5 and Xbox Series X situation.
As for the price, the Analogue Pocket is currently listed at $219, but this retail price has been increased before, as it was originally marketed at $199.