Analysts Say Continuing GM Strike Could Lower Fourth-Quarter GDP, Affect Key Economic Indicators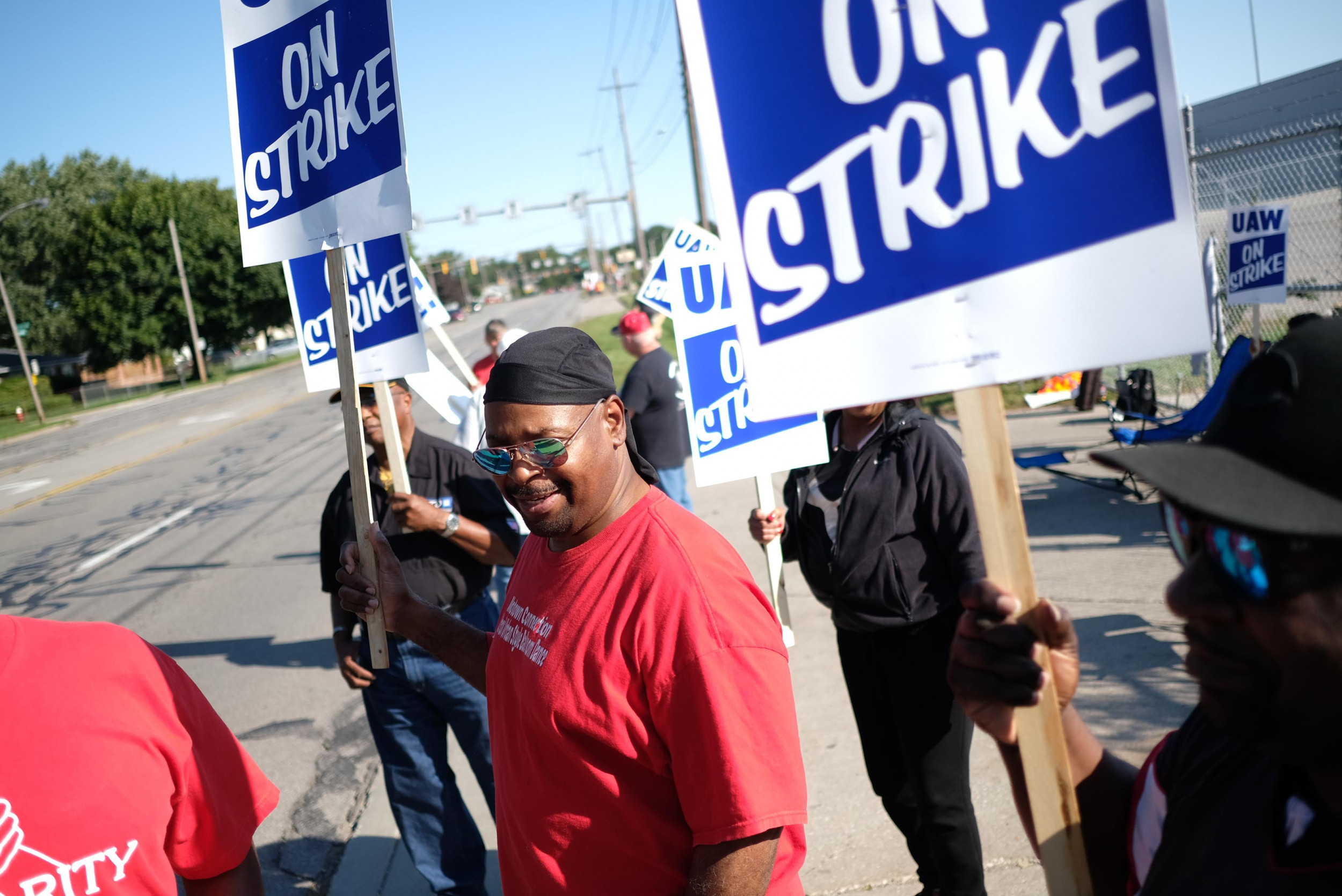 If the General Motors strike continues longer than another week or so, analysts told Newsweek, the economic impact could be significant—affecting key indicators including jobs, industrial production, durable goods and shipments as well.
The labor action—the largest against the automaker since 2007—entered a tenth day on Wednesday with no word of a potential settlement between GM and the United Auto Workers (UAW) union.
"If the strike lasts through the end of the year it will reduce fourth-quarter GDP by 0.2 of a percentage point. If the strike extends into next year, then the economic damage could become more significant," Moody's said in a research note.
Michael Cosgrove, principal at The Econoclast, echoed the thought. "If the strike did last two or three months, one could expect 4th quarter real GDP growth to slow from 2 percent to perhaps 1.8 percent," Cosgrove told Newsweek. "It would be surprising if this strike lasted more than 30 days," he added.
Because the strike started after the U.S. Bureau of Labor Statistics week in September, it will have no impact on September payrolls data. But if lasts until the week ending Oct. 12, the impact will start to show in the October payrolls data.
"If the strike remains in place, there would be a direct 49,000 subtraction from factory payrolls. There may be a smaller indirect hit from suppliers for GM, but some strikers may take other jobs that mitigates the effect. We would simply subtract 49k from our payroll forecast," Mike Englund, chief economist at Action Economics, said.
Nonfarm payrolls rose by 130,000 in August after a downwardly revised 159,000 in the prior period.
Analysts expect a small rise in the number of workers filing unemployment claims. In the research note, Moody's pointed out that even though striking workers aren't eligible for unemployment benefits, some of them may file anyway—and that number (not the number of those actually receiving benefits) could boost the new-filings count.
In addition, large strikes have an impact on other industries' or companies' jobs downstream, and those affected could file for unemployment. Jobs at companies dependent on sales to GM will contribute to the job data, Englund said.
The number of people filing for unemployment benefits rose to 208,000 in the week ended Sept. 14.
Industrial production data will likely see a dip as well, and analysts have trimmed their forecasts for the September release.
"The vehicle assembly rate in the industrial production report for September will see a drop, and the manufacturing component of industrial production should decline," Englund said. He expects the September industrial production figure to fall by 0.1 percent, after rising 0.6 percent in August.
"We trimmed our September estimate by -0.1 percent, with a -0.2 percent hit to our manufacturing output estimate for now. This assumes a resolution to the strike over the next week or so. Otherwise the hit could be bigger," Englund said.
Among other data releases, analysts expect a depressed reading of the shipments and inventory data in the durable and factory reports if the strike is not resolved in the next few days.
Although it is widely reported that GM has an inventory of 77 days, the strike will disrupt the sales and supply chain if it extends beyond two weeks, and GM could potentially lose its customers to the competition, analysts said.
Inventory is not spread equally across dealerships. "This means that after a couple weeks, some dealers will begin to experience shortages without the ability to obtain more supply on certain vehicles," said Michael Brisson, senior economist at Moody's. "This will push consumers into competitors' show rooms, the last thing that GM wants its usually brand-loyal customers to be doing."
"A week or two isn't a big deal, but a strike lasting longer than a month is where GM starts to lose larger amounts of sales. That's probably also around the time the difficulties increase more for those on strike," Yung-Yu Ma, chief investment strategist at BMO Wealth Management, said. "If the strike drags on, you can expect competitors to roll out promotions and advertising campaigns to take market share."
Industry specialists have said GM could lose anywhere from $50 million to $150 million every day the strike continues, and could significantly erode the automakers' shrinking profitability.
"For a company with net income of $11.7 billion last year, a protracted strike of more than two weeks would be damaging to the company," Robert Johnson, chairman and CEO at Economic Index Associates, said.
GM's credit rating is at risk as well. "Fundamentally, GM's credit profile is supported by its restructuring initiatives (primarily cost cuts), shift towards a high margin product mix, exit from unprofitable geographies, investment in emerging opportunities like EVs, and adequate liquidity," said Saloni Chadha, senior credit analyst at Frontline Capital Analysts. "An immediate risk is GM missing the upper end of its EPS guidance and a rating action landing it into the 'junk' category."
Alan Grujic, board advisor at Quantum Thought, sounded the same alarm. "If this goes on for a while, GM's bonds will go back to being rated as junk. With the UAW feeling GM owes them for their help during the bailout, things could be personal."