Alaska City Allows Homeless Shelter To Turn Away Transgender Women
A homeless shelter in Anchorage, Alaska can continue denying transgender women access after the city decided to settle with the shelter, even agreeing to reimburse the shelter $100,000 in legal fees. The saga started when a Samantha Coyle filed a complaint with the city's Equal Rights Commission after she was denied shelter because she's "biologically male," the homeless shelter's lawsuit stated.
Coyle visited the Downtown Hope Center in January 2018, where she was turned away for being transgender. The shelter alleged they refused her because of the organization's Christian values, even though the shelter's website shows no connection to a particular church or religious organization besides stating that it is "funded primarily by individual donors and churches." The shelter also has received over $100,000 in recent years from the Department of Housing and Urban Development (HUD).
Like many transgender people, Coyle struggled with her identity, telling Anchorage's KTUU that she's "known since I was six years old who I was" and that it "almost put me in my grave to be somebody else I am not."
"Well, I guess I'll go sleep in the woods," she told KTUU, describing the moment she was denied shelter. "Here I am. I have nowhere to go. It's cold. I'm hurting. I have medical issues," she said.
David Cortman, a representative from the group Alliance Defending Freedom (ADF) who represented the Downtown Hope Center in the matter, said Coyle came to the shelter after hours and was inebriated when she was turned away.
"This is for the women they are protecting," Cortman told KTUU, describing why the shelter turned Coyle away. "There are other shelters where this gentleman can go. And this one happens to be a women's only shelter and that I think is a great balance," Cortman continued, misgendering Coyle.
ADF, a conservative organization designated a hate group by the Southern Poverty Law Center, is notorious for representing clients in anti-LGBTQ cases, most recently the case of the funeral home who fired a woman for coming out as transgender. The Supreme Court will hear that case on October 8.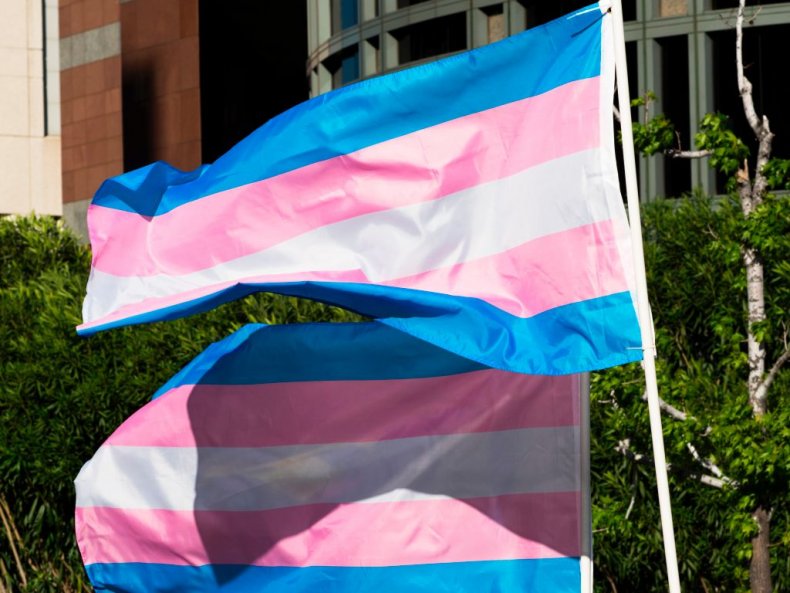 Alaska is one of 29 states in the United States that does not have non-discrimination laws for LGBTQ people, but the city of Anchorage does include LGBTQ people in their non-discrimination ordinance. Coyle filed a complaint with the city in February of 2018 to further investigate the matter.
While the city was investigating whether or not any discrimination took place, the Downtown Hope Center filed a federal lawsuit against the city in order to be religiously exempted from the city's non-discrimination ordinance in September of 2018.
"It would not only be dangerous and against common sense, but it would violate the Hope Center's sincerely held religious beliefs to admit biological men into its shelter and allow them to sleep side by side and disrobe next to women," the shelter's lawsuit claimed.
David Dinielli, Deputy Legal Director for the Southern Poverty Law Center, said there is "simply no evidence" to the claim that transgender people are dangerous, and in fact, transgender people are often "the most, if not the most likely to be targeted for abuse, sexual abuse and physical abuse."
"What they are doing is trying to use their own purported religious beliefs to impose them on others and kick LGBT people out from spaces, from schools, from bakeries and apparently in now in Anchorage, also from shelters," Dinielli told Anchorage's KTUU in September 2018.
Casey Reynolds, Communications Director for ACLU Alaska, told KTUU that protecting religious freedom is "one of our core fundamental rights," but that the shelter's lawsuit was not about religious freedom.
"You have to draw the line at which this is harming other people and society, and that is really what this is about," Reynolds said.
In August 2019, a federal judge issued a preliminary injunction to allow the shelter to continue running the organization according to their religious beliefs. That same month, the Anchorage Equal Rights Commission closed its investigation into the Downtown Hope Center, announcing Wednesday the city had settled with the shelter, saying it was not an "owner or operator of a public accommodation" and thus exempt from the city's non-discrimination ordinance. The city agreed to pay the shelter $100,000 in legal fees, which will likely go to ADF.
The shelter and ADF's stance is in line with Trump administration policy. The administration has rolled back Obama-era protections for transgender people seeking shelter in HUD-funded locations. Under Trump's new policy, shelters that receive HUD funding, like Anchorage's Downtown Hope Center, can use a "religious exemption" to deny shelter to people they deem out of line with their religious beliefs.
According to the National Center for Transgender Equality, one in five transgender people has been discriminated against when seeking a home and one in 10 have been evicted from their homes. Additionally, one in five transgender people have experienced homelessness at some point in their lives. Transgender people and their LGB allies represent the vast majority of homeless youth in the United States.
If you have thoughts of suicide, confidential help is available for free at the National Suicide Prevention Lifeline. Call 1-800-273-8255. The line is available 24 hours every day.