Ancient Anatolian Church Discovery Reveals Where Turkey's Earliest Christians Worshipped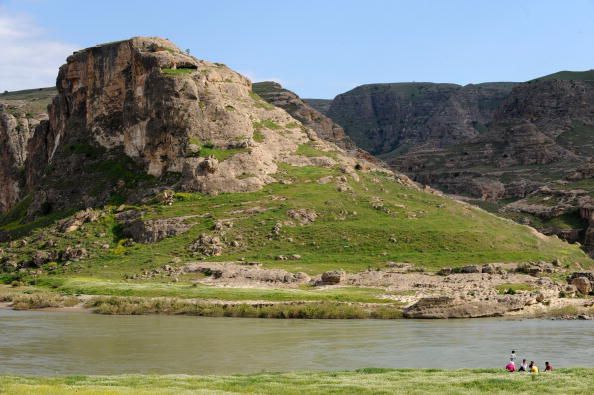 Archaeologists in Turkey unearthed the remains of a 1,500-year-old church last week that reveal the way ancient Christians lived and worshipped.
Discovered in the Black Sea province of Karabük, the church is believed to be one of the oldest in Anatolia.
"The find dates back to the mid-fifth century," Ersin Çelikbaş, a member of Karabük University's archaeology department, told reporters about the discovery. "When we take into consideration church architectures in Anatolia, we can say that this one is one of the earliest churches in Anatolia."
The church was discovered during the archeological excavation of the ancient city of Hadrianapolis, which is believed to have been settled in the first century A.D. and survived until the eighth. The church is around 22 yards long and is decorated with mosaics and floor coverings that depict the Tigris and Euphrates rivers. It is located on what is known to have been a popular pilgrimage route for the region's first Christians.
Archaeologists began excavating Hadrianapolis around 15 years ago, and they have since discovered two churches, two public baths, a theater, and rock tombs, among other structures.
Saint Alypius the Stylite, a seventh-century saint from the Greek Orthodox Church, was born and died in the city.
"With contributions offered by believers in [H]adrianopolis, Saint Alypius did build a church in the name of the Holy Martyr Euphemia, on the site of a dilapidated pagan temple infested by legions of devils," according to Orthodox Christian writings. "Beside the church, under the open sky, the saint erected a pillar over a pagan tomb. For 53 years Saint Alypius struggled upon the pillar, praying to God and teaching those who came to him."
Experts say the city is important for understanding Christian history in the region.
"We know very well that the Christians arrived in the Amasra Harbor during this era and visited Hadrianapolis," Çelikbaş told reporters. "Later they went to Istanbul for commercial purposes."
Excavation will continue on the church in coming weeks.