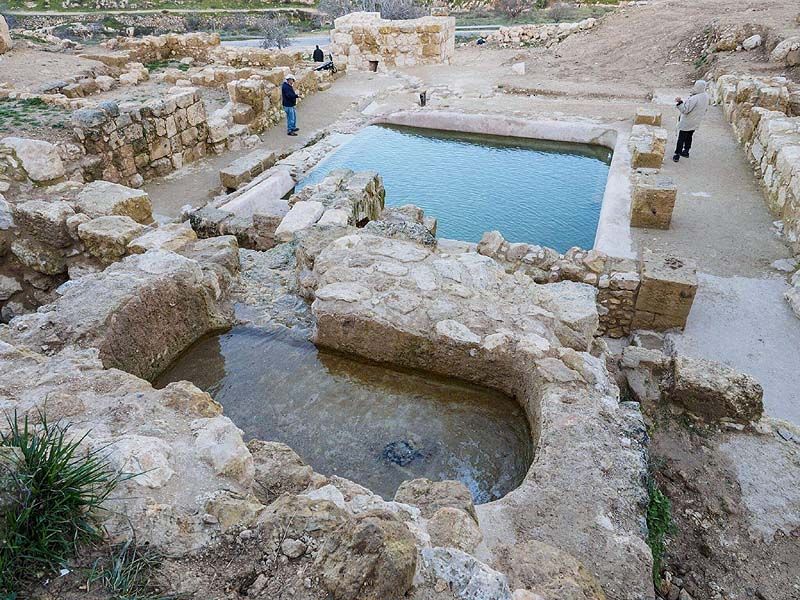 A wealth of archaeological relics found at an ancient Christian site in Israel includes a rare silver coin, the top of a column that likely belonged to a royal structure and a large pool that might have been used for anything from baptismal ceremonies to irrigation. The newly revealed finds span a number of different cultures and time periods, and the site itself corresponds to tales about Philip the Evangelist from the Bible.
A group of archaeologists has spent the past five years excavating Ein Hanniya (sometimes spelled as Hanya), which sits in the Rephaim Valley National Park, not far from Jerusalem. In addition to being the second-largest Judean Hills spring, Ein Hanniya is an important site from early Christianity, according to Times of Israel.
"Some early Christian commentators identified Ein Hanniya as the site where the Ethiopian eunuch was baptized," Jerusalem district archaeologist Yuval Baruch said, according to World Israel News. That tale—from the New Testament's Acts of the Apostles, in which Philip the Evangelist performed miracles on his way from Jerusalem to Gaza—is considered a key event in the spread of Christianity, according to World Israel News.
The coin is an ancient silver drachma, the currency used by Greeks all the way up until they transitioned to the Euro in 2001. It dates back to the fourth century B.C., which makes it one of the oldest ever discovered near Jerusalem, according to Jewish Press.com.
The column capital—the topmost part—discovered was designed in proto-Ionic style, a style typical of structures and estates belonging to kings from the First Temple period, according to World Israel News. Thisplaces the column, along with various other objects discovered, at around 2,400 to 2,800 years old, according to Times of Israel. The First Temple, also known as Solomon's Temple in the Hebrew Bible, was Jerusalem's ancient holy site.
"The most significant finding in the excavation is a large and impressive pool from the Byzantine period," said Irina Zilberbod, the excavation director working on behalf of the Israel Antiquities Authority, according to World Israel News. "It's difficult to know what the pool was used for—whether for irrigation, washing, landscaping or perhaps as part of baptismal ceremonies at the site."
The pool sits in the middle of a large complex where a church once stood. Its drainage system makes it unique. The water empties out through what World Israel News described as a network of channels that guide it to a fountain called a "nymphaeon"—the first such structure found in Israel.