Ancient Byzantine Mosaic Inscribed With Mysterious Greek Writing Unearthed in Israel Port City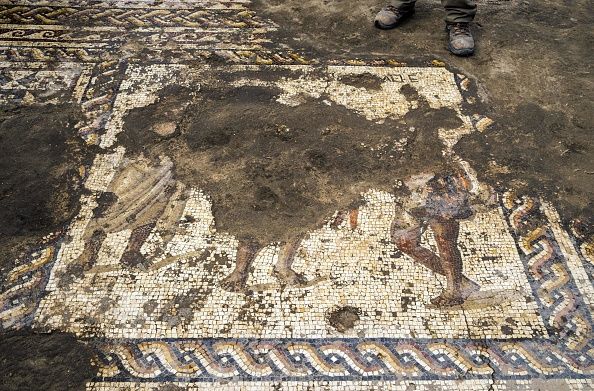 Archaeologists working in an ancient port city in Israel unearthed a rare, intricate Byzantine mosaic that dates back to the 2nd or 3rd century A.D. It's inscribed with a lengthy message written in ancient Greek—too badly damaged to read straightaway but currently being studied by experts hoping to reveal more, according to The Times of Israel.
The port was known as Caesarea, and it sits in what is now Caesarea National Park, not far from Tel Aviv. Experts from the Israel Nature and Parks Authority and the Caesarea Development Corporation collaborated to excavate the site as part of ongoing restoration work, according to The Jerusalem Post. The park is a major tourist attraction, and this project is the largest conservation and reconstruction project in Israel's history, according to CBN News.
The archaeologists uncovered a portion of a 1,500-year-old Byzantine-era building that was likely one component of a larger agora, the ancient Greek name for a public, open-air market and gathering place. And underneath that building, they uncovered an 1,800-year-old Byzantine mosaic.
The mosaic measures roughly 11.5 feet wide and 26 feet long and depicts three toga-clad men, who appear to represent members of the upper class. The remaining space was filled with bright, multicolored geometric patterns painstakingly composed of tiny pieces of stone known as tesserae—about 3,000 of them laid down per square foot, according to The Times of Israel.
"If the mosaic was part of a mansion, the figures may have been the owners," excavation directors said in a joint statement according to The Jerusalem Post. "If this was a public building, they might have represented the donors of the mosaic, or members of the city council."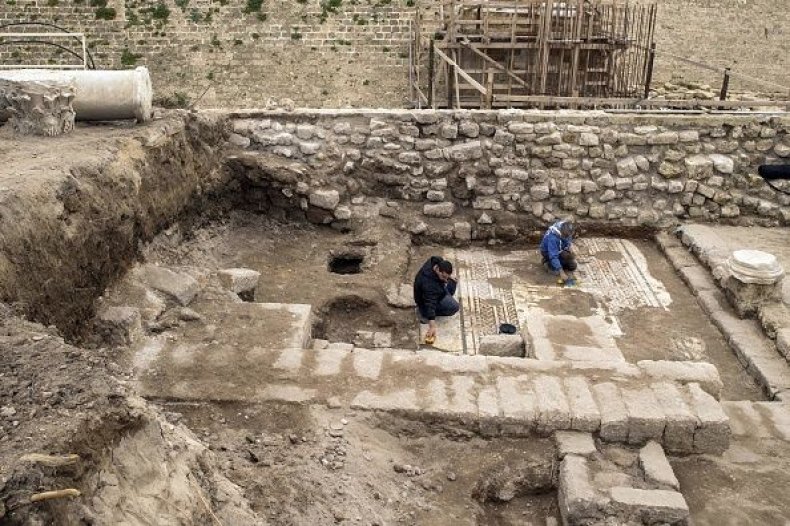 The inscription suffered damage when the 1,500-year-old building was constructed on top of the mosaic, according to The Times of Israel. It will take some more time to decipher and translate the message in full, since many letters are degraded, and some are missing entirely. Leah Di Segni, the expert from the Hebrew University's Institute of Archaeology whom the team contracted to analyze the inscription, has already sent a preliminary reading to the excavators; however, it will not be made public before further research is completed.
"The Israel Antiquities Authority Conservation Administration is now working to make sure the exposed parts of the mosaic are preserved and will not disintegrate over time," Jacques Nagar, head of the IAA's Art Conservation Department, said according to The Jerusalem Post.